Netflix is one of the first places I go when I'm ready to dig deep into learning something new. I am a huge fan of the documentaries section! Here are the 10 Netflix documentaries on sustainability and wellness that are at the top of my list.
---
Not gonna lie, there are few things I enjoy more on a blustery winter day than cozying up on the couch with my husband to watch a Netflix documentary.
These days, I have been gravitating toward just about anything in the realm of environment and social good. Just last week, Josh and I dug into the perils of the garment industry with "The True Cost," a documentary film that explores the impact of fashion on people and the planet. It absolutely blew me away.
Listed below are the ten Netflix documentaries on sustainability that are at the very top of my list. I've included the trailers so you can get a better idea of what each film is like. So break out that homemade popcorn, grab a blanket, and learn something new about the world we live in. I hope you enjoy them!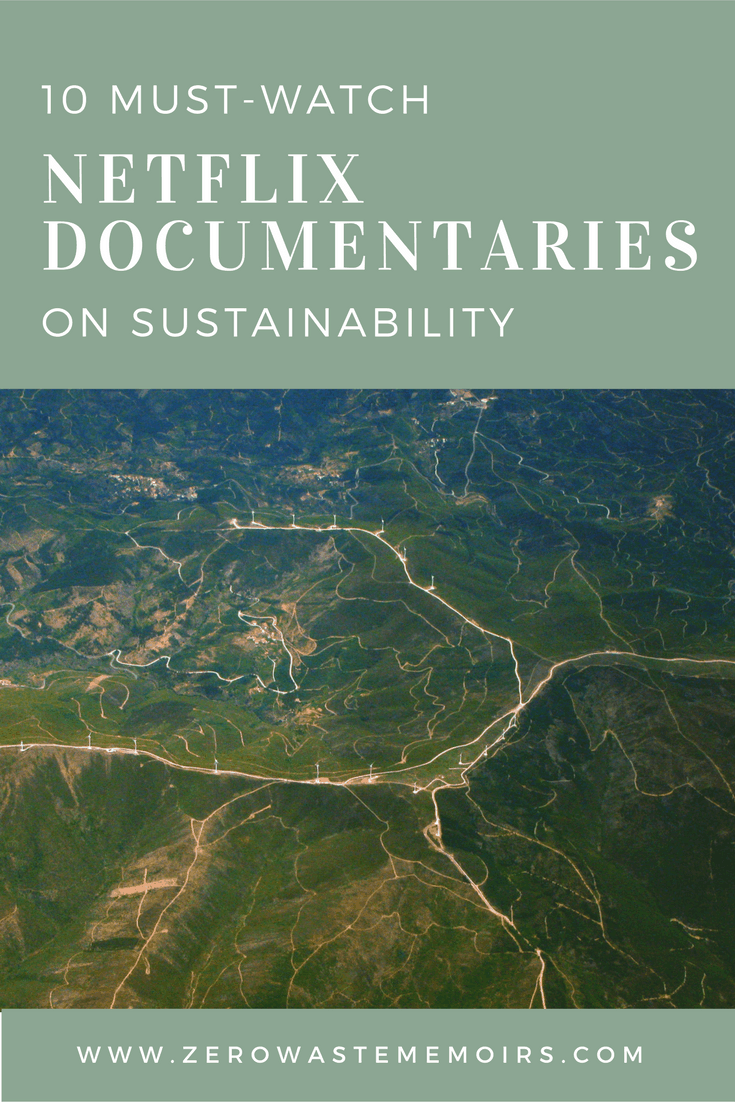 10 Best Netflix Documentaries on Sustainability

"The True Cost" pulls back the curtain on the fashion industry to give viewers an honest look at the human and environmental costs of producing clothing. I thought this documentary was genuinely eye-opening; I haven't been able to look at the clothes in my closet the same way since. Highly, highly recommend!
This David Attenborough documentary celebrates the amazing variety and beauty of the natural world. Filmed over four years and across 64 different countries, there are few films that compare in terms of scope. It's a classic for a reason!
I firmly believe that watching "Cowspiracy" should be a requirement for every environmentalist. Rather than taking a purely 'save the animals' stance on animal agriculture, "Cowspiracy" digs deep into its environmental impact as the leading cause of carbon emissions, global warming, deforestation, and just about everything else. Not gonna lie, this film challenged me to the point that I'm transitioning to a plant-based diet. Watch it!
"Happy" is one of those films that has everyone talking! In the film, filmmaker and director Roko Belic sets out to travel the world with the intention of discovering the meaning of happiness. Belic was inspired to make the film after coming across an article in The New York Times entitled, "A New Measure of Well Being From a Happy Little Kingdom." The article ranked the United States as the 23rd happiest country in the world. I'm looking forward to this one!
Did you know that if bees were to disappear from the globe, mankind would have only four years left to live? Not great. In "More Than Honey," Oscar-nominated director Markus Imhoof tackles the issue of why bees are facing worldwide extinction. I have a feeling it's our fault. Anyone else curious?
As a gal who is working her way toward a plant-based diet, "Forks Over Knives" has definitely stuck out to me. If you've ever struggled with a chronic disease like obesity, cardiovascular disease, or cancer, "Forks Over Knives" says you should blame processed animal-based foods. I'm really looking forward to this one.
This guy. Self-proclaimed "No Impact Man," Colin Beavan swore off plastic and toxins, turned off his electricity, went organic, and started riding his bicycle exclusively for an entire year. Reviewed as a "sensational, funny, and consciousness-raisin story," I think "No Impact Man" is a fun way to learn about zero impact living.
Leonardo Dicaprio fans, rejoice! And then cry, because "The 11th Hour" is no joke. This 2007 film explores how humanity has arrived at the 11th hour – the last possible moment that change is possible for our planet and its ecosystems. Featuring ongoing dialogues of experts including former Soviet Prime Minister Mikhail Gorbachev, renowned scientist Stephen Hawking, and sustainable design expert William McDonough, "The 11th Hour" is a dense film that is likely to rattle you. It sure got me!
I sat down with this film just a few days ago. Much lighter than the former documentary, "Minimalism" explores how our lives might be better with less by taking viewers inside the lives of minimalists from all walks of life. I'll just be honest here: I instantly started decluttering.
Did you know that there are 600,000 food items in America and that 80% of them have added sugar? Did you know that our current generation of youth is the first expected to live a shorter life than their parents? That's insane. Katie Couric and Stephanie Soechtig's film, "FED UP," will change the way you eat forever.
---
Which stick out to you? Do you have any additions for my list? Share in the comments!