The bathroom was one of the very first places I started transitioning to zero waste. In fact, one of my first DIY projects was making my own toothpaste!
Overall, switching to zero waste in the bathroom has been relatively simple. We still keep a little trash can in the corner to catch odds and ends that we haven't yet found solutions for (dental floss anyone?), but most of the time we rarely use it.
This article may contain affiliate links. See our full disclosure here.
Here are a few of the main swaps we've made to cut down on garbage:
We use compostable bamboo toothbrushes (instead of a normal plastic one)
I make our toothpaste using this recipe
We wash with package-free soap and moisturize with homemade lotions and face oils
I buy shampoo and conditioner in bulk at the Fort Collins Food Co-operative
Josh and I share a stainless steel safety razor which uses recyclable steel blades
We have been struggling to find a homemade deodorant recipe that doesn't make my underarms break out in little red bumps (I have really sensitive, Irish skin); but overall I feel good about our progress!
Here's a look at the rest of my bathroom.
Zero Waste Bathroom Hacks
Here's a look at our teeny little 40's era bathroom! We live in a rental, so the mirror and medicine cabinet are to be left alone, but overall I enjoy the vibe.
The little cabinet on the left shows all my makeup and our common toiletries (deodorant, face oils, etc). I store handkerchiefs in the "Stuff" bin, and other knick knacks in the "Things" bin. Bobby pins and hair ties are kept in the decorative box and I also keep some fresh hand towels handy.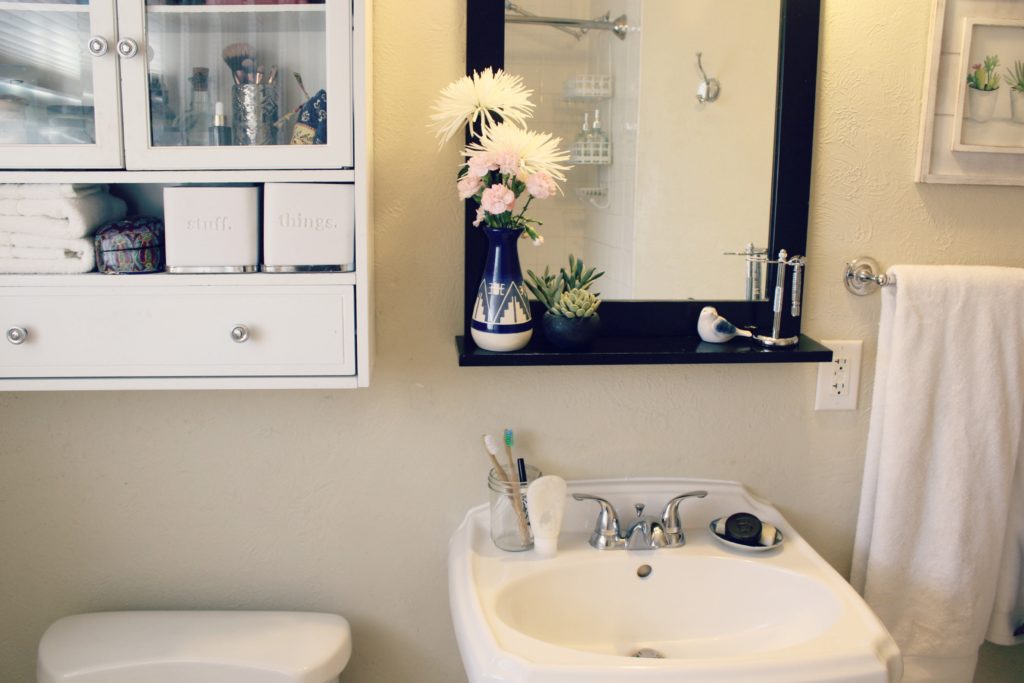 At the Sink
Here is everything that we keep at our little pedestal sink. As you can see, there is no counter space to speak of, so we avoid cluttering the area. Though, to be honest, I don't know what else we would keep here!
On the left is our homemade toothpaste (here's the recipe if you missed it) in a little silicone travel tube. This is also where I store our two compostable bamboo toothbrushes and a dry erase marker to write sweet notes on the mirror.
On the right, I keep a package-free bar of soap (cut to size at the farmer's market or co-op) and a Charcoal Cleansing Bar by one of my faves: Beautycounter. That charcoal bar, plus raw manuka honey is all I need to keep my face soft and clean.
In the Shower
In the shower, we also keep things nice and simple! I purchased these two beautiful glass pump dispensers for bulk shampoo and conditioner, which we get at the co-op. I've had zero luck with the no-poo method and tend to use shampoo bars only when I'm traveling. 
You can see my zero waste shampoo bar stored in the stainless steel container in the center there. For body soap, we use a package-free bar that I buy at the co-op. Lots of choices for those!
Now I just have to swap out my plastic shower curtain for one of these beautiful non-plastic versions and I'll be happy with this setup.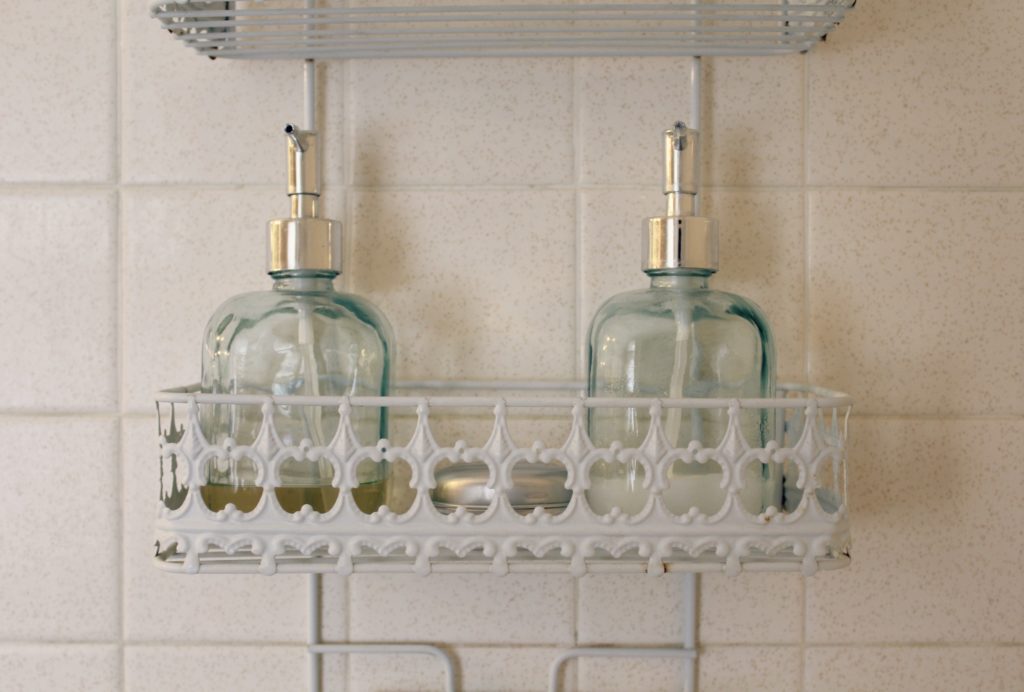 Beauty & Hygiene
I'll be doing a full on "what's in my makeup bag" post in a few weeks, but for now I'll just give you the quick overview. All my daily makeup fits in that little quilted bag to the right! I keep my few brushes in the holder in the back.
I will admit that paring down my makeup collection has been a process; I'm still working on it! But overall, everything I currently own and use is non-toxic and comes in recyclable packaging. Products like blush and eyeshadow I've been able to successfully DIY. I'll share those recipes soon!
This bathroom sign has literally zero relevance to the waste-free lifestyle, but I just think they're the cutest! Made from ceramic and resin, I purchased these off Etsy a couple years ago when we moved into our current home.
Aren't they darling?!
What do you think? Any ideas for us? Let me know in the comments!