Starting a paperless kitchen might seem like a newfangled, eco-friendly concept; but if you really think about it, it's a very vintage idea!
Homemakers like our grandparents and great grandparents (think Great Depression or WWII era) didn't have the same disposable options that we do. They were also extremely interested in pinching pennies and saving resources.
In short: our grandmas are way cooler than us. Their generation's frugality is legendary, and their world was better for it! I think that's something we can emulate.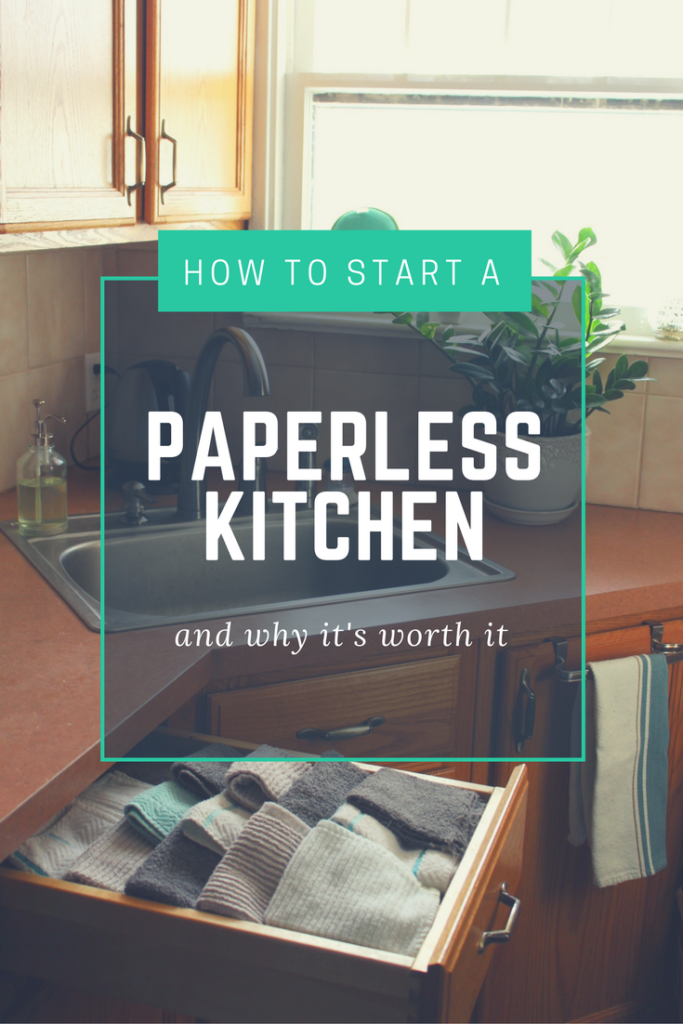 Why Start a Paperless Kitchen
From a purely Zero Waste standpoint, starting a paperless kitchen is a wonderful opportunity to reduce trash caused by housekeeping.
Just think about how many paper towels you use in an average day! We've gotten so used to the convenience factor of grabbing a disposable paper towel to mop up a mess. They're marketed to us as the ideal "quicker picker-upper" – absorbent, hyper-convenient and utterly sterile. What's not to love?
But the truth is, paper towels are a costly, wasteful solution to a problem that can be easily (and better) solved by a handy, reusable cloth towel.
To Answer Your Paperless Kitchen Questions
When people find out that I don't use paper towels or napkins at home they usually have a lot of questions. Let me see if I can put your mind at ease!
Doesn't washing cloth napkins and towels waste water?
The amount of water it takes to wash your reusable cloth rags with the rest of your laundry pales in comparison to the millions of gallons it takes to manufacture paper towels and other products like them.
We haven't personally needed to increase the amount of laundry that we do each week since we went paperless. We simply keep a little laundry bin in the corner of our kitchen to catch wet rags as we use them, then they go into the wash with the rest of our laundry. Easy peasy!
What about nasty messes?
The vast majority of the messes we clean up in our house are pretty tame. But sometimes we come across something especially gross that needs our attention (cat puke *ahem*).
For messes like this, we opt for a rag that's already on its last leg and give it a nice soak in hot water and vinegar before putting it in the laundry. We've never had an issue with smells sticking around.
Is it inconvenient?
Honestly, no! The hardest part about starting a paperless kitchen is breaking the paper towel habit. But once you make the transition to cloth-only, it's pretty much impossible to screw up.
The main thing is to make sure you have plenty of cloth napkins and towels on hand so you're never running short. It'd be all too easy to reach for a wad of paper if you're caught short in that way!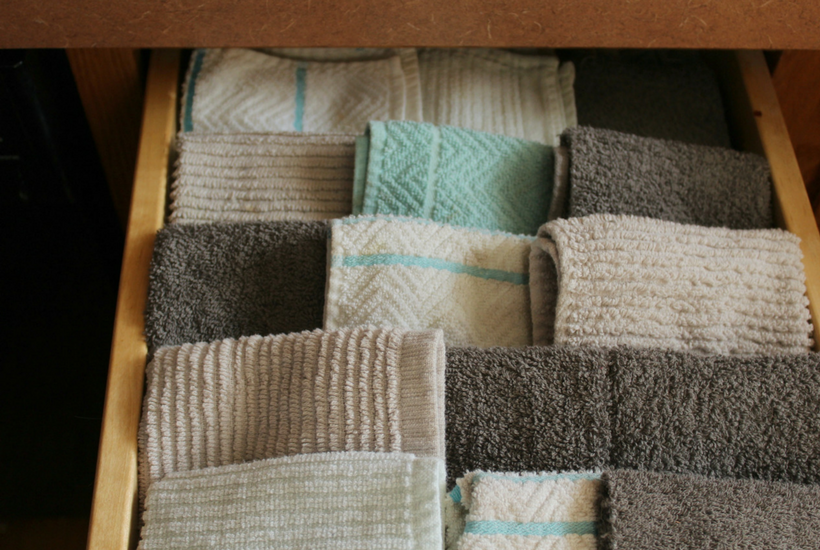 How to Get Started
Making the transition to a paperless kitchen was really simple for us. As soon as we used our last paper towel we just…stopped buying them. After that, our goal was to make using rags in the kitchen as easy as humanly possible.
Here are some tips to help you get started if you're also looking to move away from waste and using paper towels in the kitchen.
Buy sets of cheap, natural-fiber cloth napkins – or make your own!
If you have extra fabric around the house it's easy to sew a few of your own napkins – it's as easy as overclocking the edges on squares of fabric.
But if you don't have the equipment, fabric, or time – then buying some is the next best thing. We bought ours at World Market in a beautiful, dark charcoal color so that we wouldn't have to worry about stains. Grab yours here.
You'll also want to invest in a number of bar towels for cleaning the kitchen counters. We were gifted some great sets at our wedding that we use daily.
Hunt around your house for cloth that can be repurposed.
Do you have some old cotton t-shirts, bath towels or pillowcases that need a new life? Cut them to size and store to clean up dirtier messes in the kitchen or bathroom.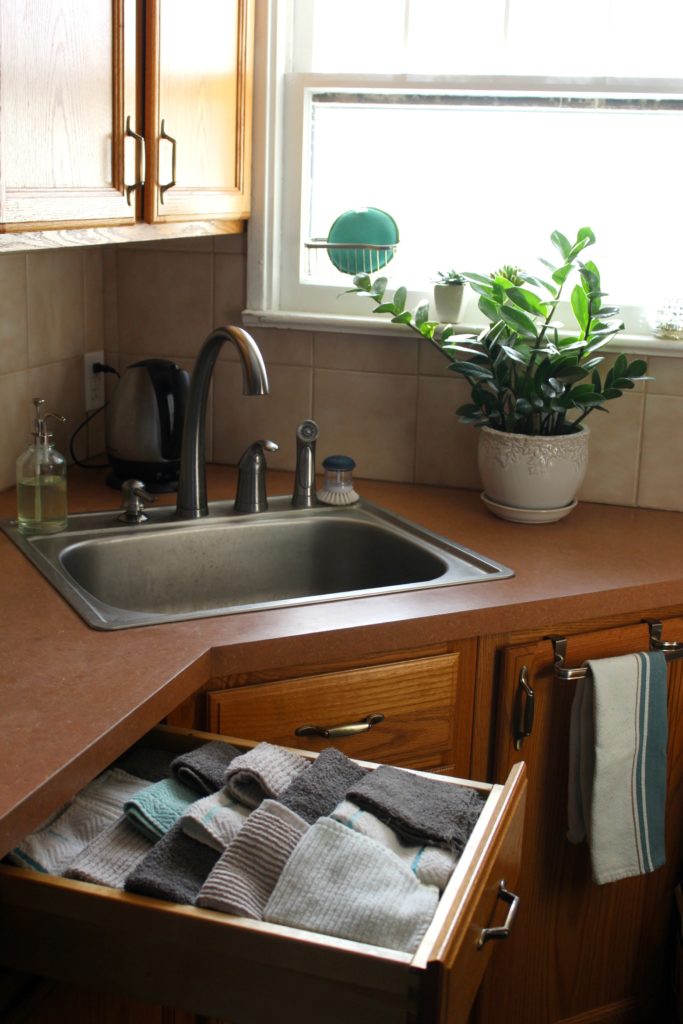 Put hand towels in convenient places throughout your kitchen.
I keep cloth napkins on the dining table, counter rags by the sink and a pretty dish towel over the oven door to dry hands. This will make it easy to grab them when needed!
Keep a small laundry bin close by.
We have a nice little wire basket that we keep in a corner of our kitchen. Rags that are wet are laid over the side of the bin to dry thoroughly before washing – this also helps to stop lingering smells from a basket full of wet towels.
Keep your rags smelling nice.
If you notice a musty smell (which only happens rarely for us) wash your linens in warm water with a splash of vinegar. Works like a charm!
Develop a system that works for your whole household.
Try to make the process easy and intuitive so you can keep your convenience level the same as when you used paper.
Starting a paperless kitchen is easy, affordable and wonderfully eco-friendly. Just give yourself a little time to make the transition and make the routine your own!
What about when you have guests over?
When catering for a large crowd it can be tempting to reach for the disposable option when it comes to supplying napkins for the table. But using cloth napkins can add a really lovely touch to your decor and your guests are sure to appreciate the effort you put in too.
Keep a separate stash of lovely napkins, like these ones, available for special occasions and it'll always feel like a treat to get them out!
---