Searching for plastic-free protein powder? We've got you covered!
While they've always been loved by bodybuilders and professional athletes, protein powders have gained popularity with the general population in recent years as a way to support a healthy lifestyle.
They're a convenient, versatile, and delicious way to add valuable nutrients to your diet, and they can be added to all manner of recipes – from smoothies to overnight oats, and even cookies!
However, traditional protein powders aren't the most eco-friendly of products. Most are packaged in large plastic tubs and come with plastic scoops. And while the tubs themselves are often made out of recyclable plastic, the lids and scoops more often are not.
You could reuse some of your old tubs around the house, but this isn't a sustainable option in the long term. So the best thing is to make the switch to zero waste protein powder and support sustainable companies in the process!
But where do you find the most sustainable protein sources? Don't worry, we know the struggle! So we've done the hard yards to bring you some of our personal favorites, as well as some highly recommended options from around the globe.
Ready for your protein hit? Let's get started!
This article may contain compensated/affiliate links. See our full disclosure here.
---
About These (almost) Plastic-Free Protein Powder Brands
One of the biggest problems with finding eco-friendly protein powder is the lack of transparency around packaging. For most powders online, there is no information at all about what the product is packaged in, and how it should be disposed of after use.
There are even more companies that are seemingly deliberately vague or misleading in their claims about how sustainable they are.
But after a lot of digging, and sometimes a little pestering via email, I was able to find this information out. Not all of the following companies are completely sustainable or zero waste, but they're on the right track, so let's support the companies that are trying to find more sustainable options!
And if you know of any other companies that should be on this list, let us know so we can spread the good word.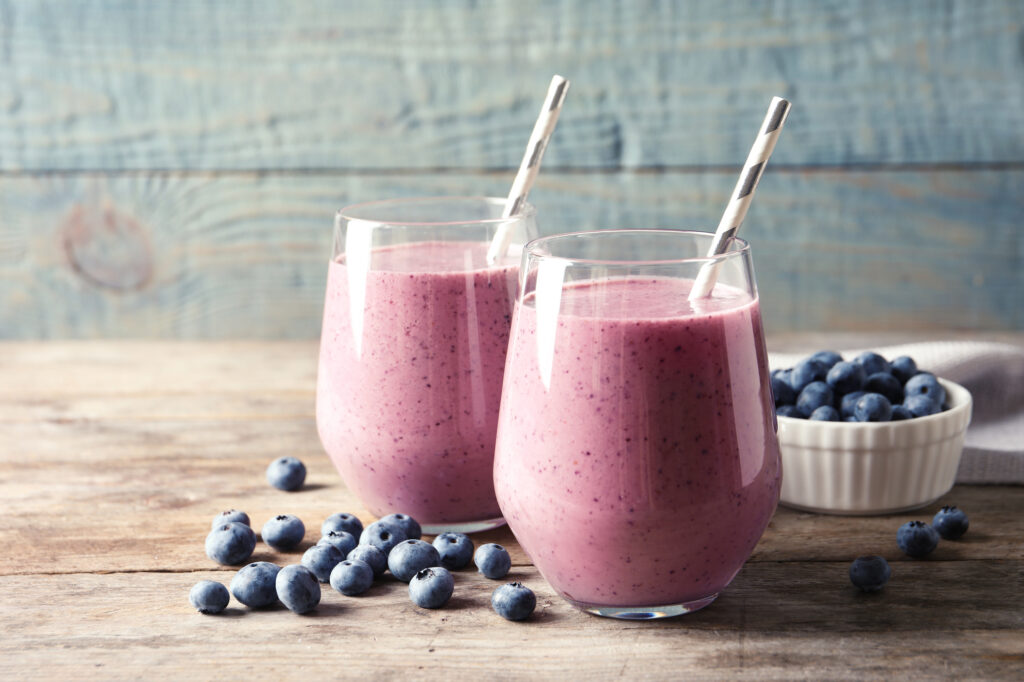 Most Sustainable Protein Powder Brands
The following eco-friendly protein powder brands are all on the right track. They're all producing amazing plant-based protein powders, supporting eco-friendly initiatives, and are often B-Corp certified, Carbon Neutral, or run out of zero waste facitlites.
There's a lot to be happy about right there!
So while progress is being made in the environmentally-friendly packaging space, you can know you're doing the right thing by supporting one of the following brands.
BULK – UK & EUROPE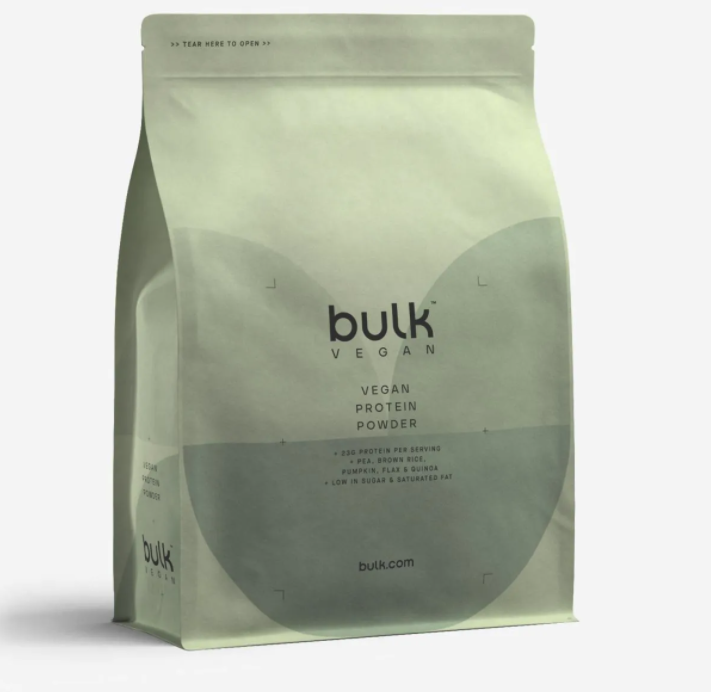 UK based BULK are leaders in sports nutrition and sustainability.
Their range of low waste protein powders is packaged in 100% home-compostable materials, meaning you can throw these babies straight into your compost bin once the product is all used up.
And the cardboard box you'll receive your order in is made from sustainably managed forests.
While they're not a 100 % plastic-free company, over 90% of their formerly single-use packaging has been fazed out in favor of sustainable alternatives.
What we love:
– Home compostable packaging
– Great range of plant-based protein products
– Low free-shipping threshold
Where to Buy Bulk Protein Powders:
Direct from Bulk – UK & Europe
FUTURE KIND – USA, CANADA & AUSTRALIA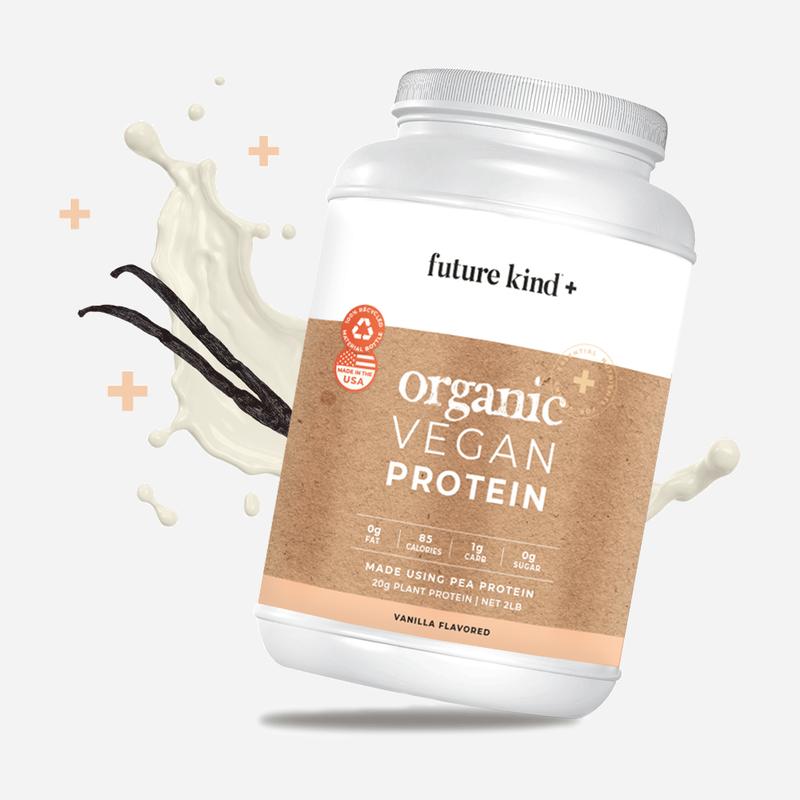 Hold up! A plastic tub on a post about zero waste protein powder.. What gives?!
Well yes, this vegan protein powder from Future Kind doesn't appear to be a sustainable option at first glance, but after a little snooping I found out they'd put a lot of thought into this choice of container.
The tub is actually made of 100% post-consumer recycled plastics. They ship in recycled boxes, use recycled paper labels, and use recycled filler to protect the contents.
And while this isn't a perfect solution, Future Kind also made this list because they're carbon neutral company, are B Corp certified, they primarily use organic ingredients (in turn dong less harm to the environment), they're 100% vegan, and they support animal charities.
What we love:
– Carbon Neutral Company
– B Corp Certified
– Recycled Plastic Tubs & Packaging
– Great flavors
Where to Buy Future Kind:
FORM – USA & UK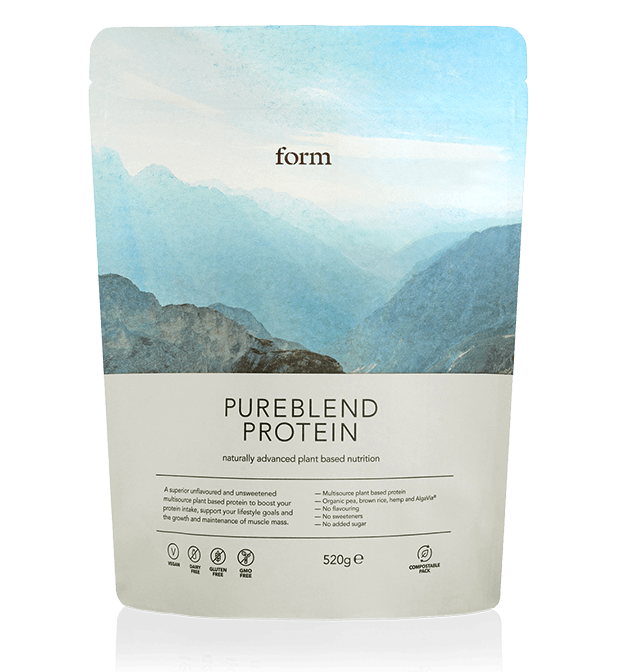 The first protein brand in the UK to achieve B Corp certification, Form is constantly striving to do better for the environment.
They also partner with the Bansang Hospital in The Gambia to give aid to those in need.
Their range of sustainable vegan protein powders are gluten-free and GMO-free, and they're packaged in plastic-free, compostable packaging.
But as ideal as this sounds, you can't go and throw that pouch in your backyard compost bin. It'll need to go to an industrial compost facility to be broken down at specific conditions.
What we love:
– Sustainable company
– Plant-based company
– GMO free
Where to Buy Form Protein Powders: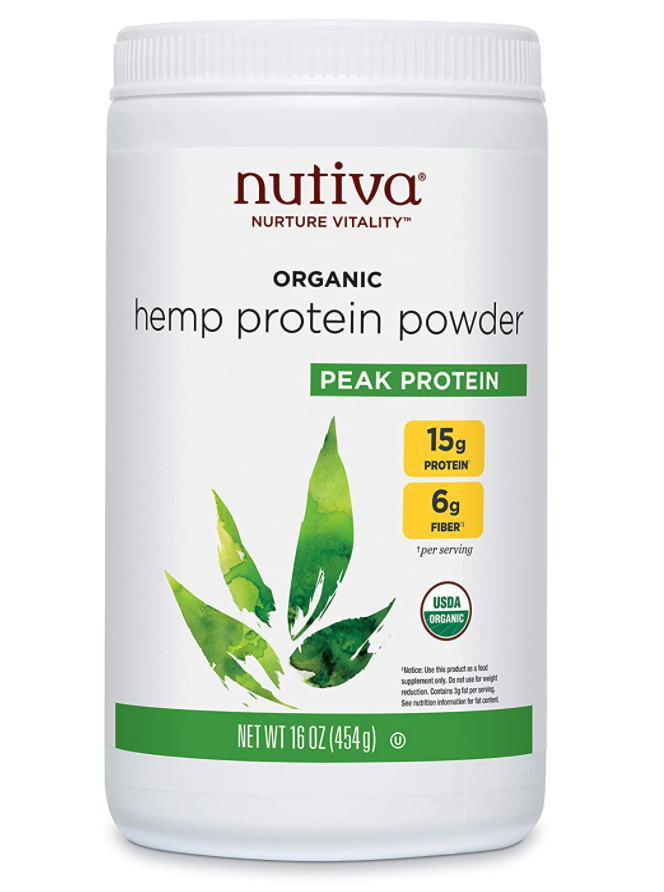 US-based Nutiva has enough eco-friendly accreditation and certifications to make you dizzy. For a start, they're Fair Trade, Organic, and Vegan certified. But perhaps most impressively, they operate a Zero Waste warehouse and headquarters. No mean feat!
They also aim to give back, by funding schoolyard orchards, providing typhoon relief in the Philipines, partnering with small farmers in Ethiopia to grow organic avocados, and supporting Planting Justice to provide opportunities for people transitioning from prison.
Oh, and if you've seen the sustainability documentary, Kiss the Ground, then you'll already be familiar with their work!
Their range of vegan protein powders come in a range of flavors and formulations, and they're packaged in 100% post-consumer recycled plastic tubs.
What we love:
– They operate from a Zero Waste facility
– They give back in a number of ways!
– Organic and vegan formulations
– Recycled plastic packaging, that can be recycled
Where to Buy Nutiva Protein Powders: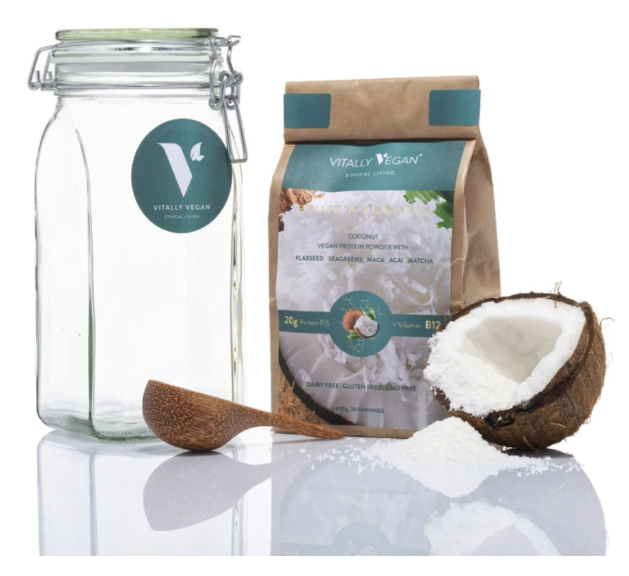 An ethical and environmentally conscious company at its core, Vitally Vegan offer a wide range of zero waste protein powders in delicious flavors.
Their packaging is simplistic and subtle. The powder comes in a recyclable and home compostable paper bag, and if you order a starter pack, it'll be delivered with a large glass canister to keep it in.
And instead of nasty wasteful plastic scoops, your starter pack also comes with a delightful recycled coconut husk scoop.
When you've used up your first batch of powder, simply order the refill pack as a replacement.
Orders are shipped in a recyclable cardboard box, with recycled shredded paper for protection.
Vitally Vegan also give back by supporting World Land Trust to protect threatened habitats and species around the world.
What we love:
– Fully vegan company
– Beautiful, thoughtful and zero waste packaging
– They give back to meaningful charities
– GMO-free formulations
Where to buy Vitally Vegan products:
Direct from Vitally Vegan – UK & Europe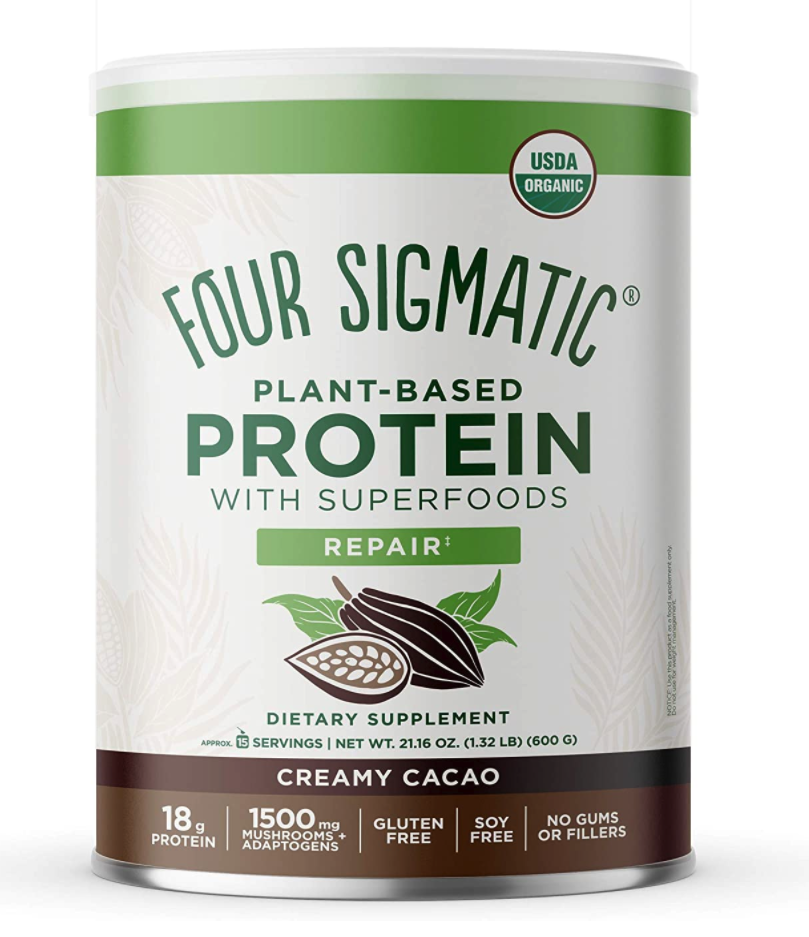 Four Sigmatic specialise in 'shrooms. Yup, this is the place to supercharge your morning routine and take your protein powder to the next level.
Their plant-based formulations contain USDA Organic ingredients, including pure plant proteins and functional mushrooms and adaptogens.
Add some to your morning smoothie and start supporting your immune system the natural way.
Their packaging isn't perfect, but the powders come in recyclable containers and they don't include wasteful scoops. They also partner with tentree to go one step futher than climate neutral, with climate+.
What we love:
– Climate positive company
– 100% vegan company
– Organic ingredients
– Recyclable packaging
Where to buy Four Sigmatic: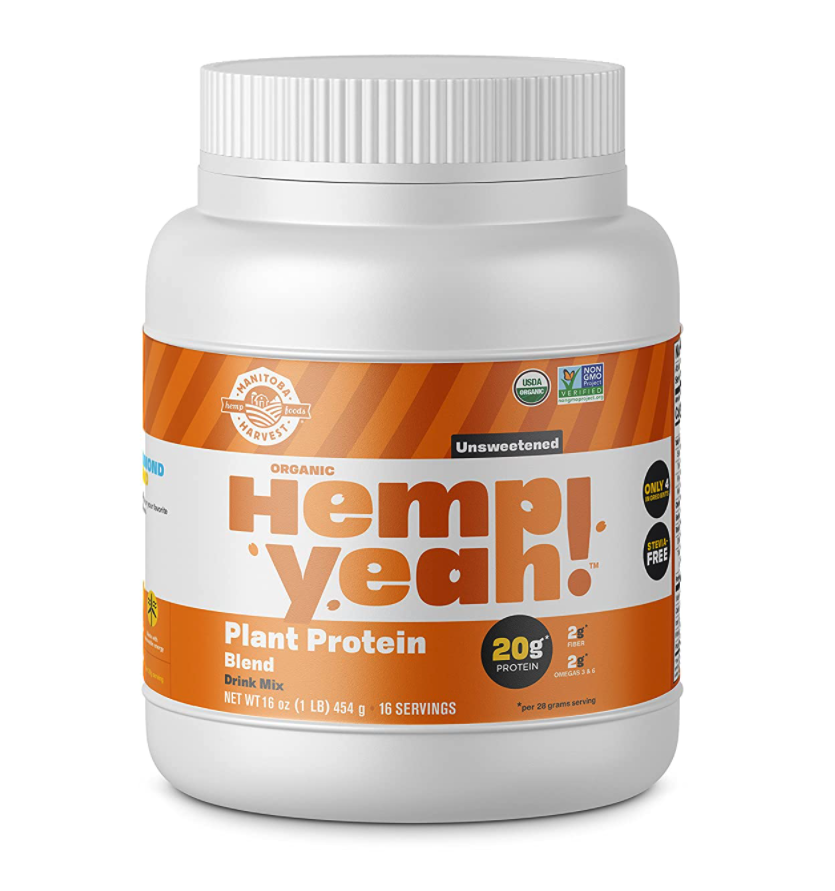 Canadian company Manitoba Harvest have a lot to be proud of. They're a certified B-Corp company, they're completely carbon neutral, and their business is built on promoting hemp – itself a carbon absorbing crop.
Though their website is forthcoming about their commitment to sustainability, they don't publicly announce what the tubs are made from.
After following up, I can tell you that both their protein powder tubs and bags are made of HDPE 2 type plastic, meaning it's normally recyclable from your curbside bins. The tub caps are made from #5 HDPE plastic – which is sometimes recyclable, depending on your local recycling plant.
What we love:
– That they're championing hemp, itself a sustainable crop
– B Corp Certified Company
– Carbon Neutral
– They use recyclable plastic packaging
Where to Buy Manitoba Harvest: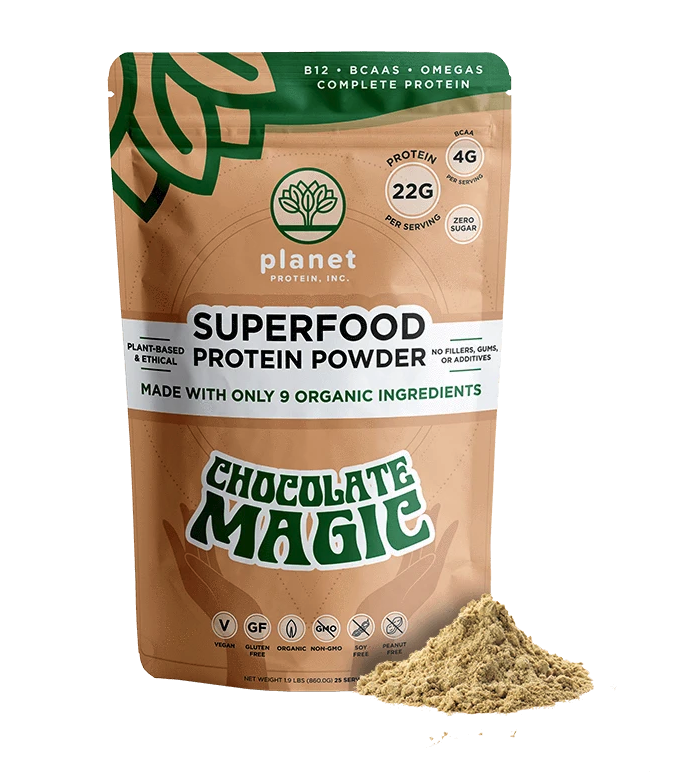 Planet Protein offer very few products, but they do them well! Made with organic ingredients, and packed full of vegan protein, their powders are formulated without fillers, gums, or 'natural flavorings' (which are usually anything but).
With sustainability at the core of their business, Planet Protein strive to deliver their products in safe packaging that won't harm the earth. After investigating several packaging options, they decided to start their own Zero Waste recycling program to reclaim their packaging and ensure it's disposed of correctly. By sending back your empty packets, you'll also earn Planet Points which can be used for purchasing more products!
Purchases are sent out in recyclable cardboard or recycled post-cosumer mailers. And everything is sent carbon-neutral.
Planet Protein also partner with One Tree Planted to help with reforestation, and the Child Rescue Coalition which helps rescue children from human trafficking.
What we love:
– Zero Waste recycling program
– Vegan Company
– Organic Ingredients
– They give back to the community & planet
Where to Buy Planet Protein: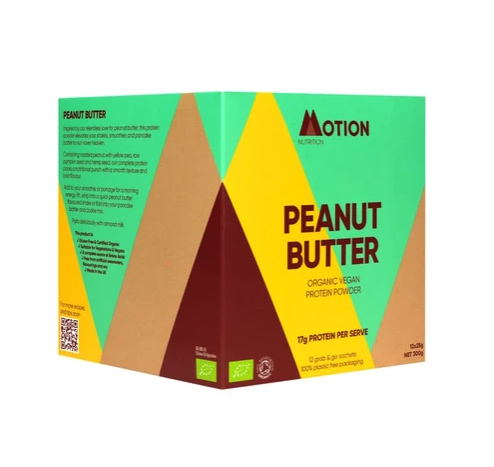 Motion Nutrition focus on making people feel & live better with their small, curated selection of products that focus on stress, sleep and general well being.
Their range of plant-based protein powders complement this range and come in three delicious flavors.
Although packaged in single servings, each serving is housed in home-compostable and recyclable packaging, and the box is created from FSC-approved paper.
Motion also plant a tree for every 3 products sold and they ship using carbon neutral delivery methods – win!
The only downside is that I haven't been able to find a US stockist, but they do offer international shipping from the UK.
What we love:
– Tree planted for every 3 products sold
– Carbon neutral shipping
– Home compostable packaging
Where to Buy Motion Nutrition: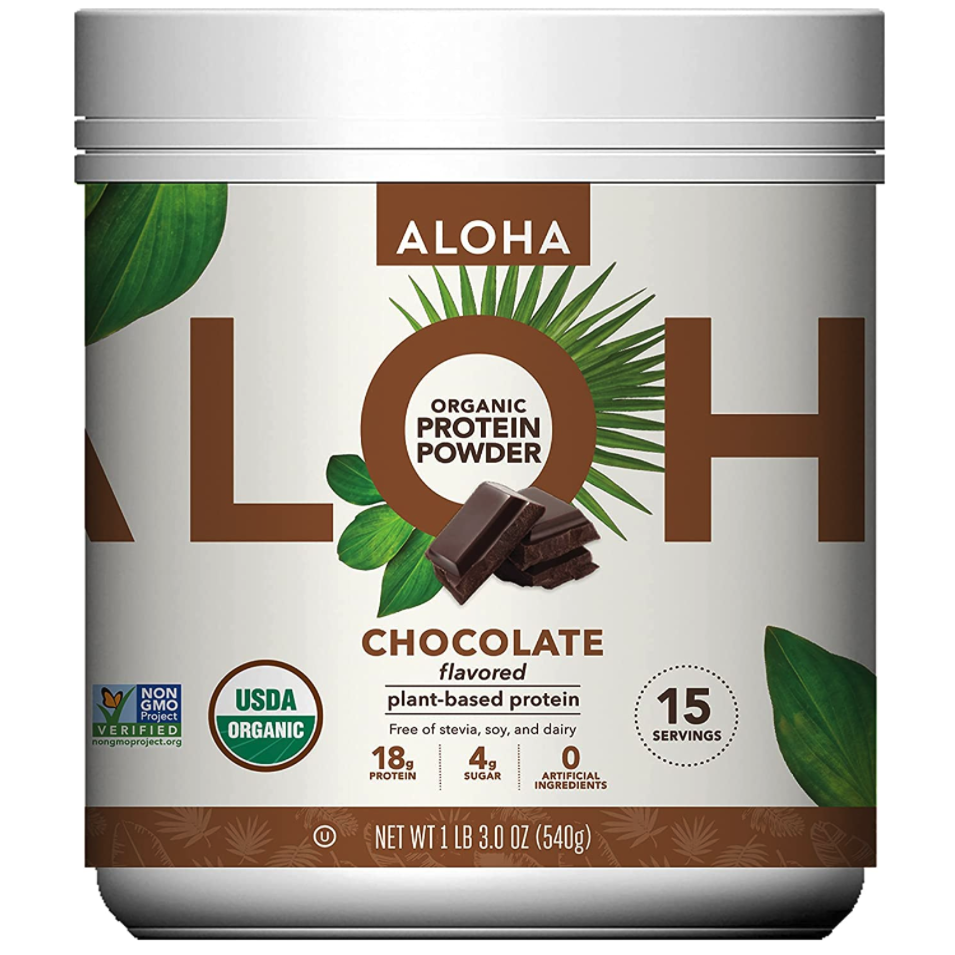 Certified vegan, USDA Organic, B-Corp Certified, and Non-Gmo Verified, there's a lot to love about Aloha.
They've always been committed to delivering their products in sustainable packaging. And they've recently transitioned their protein powders from recyclable aluminum tins to recycled post-consumer plastic containers.
These new containers are universally recyclable too.
Their range of vegan protein powders is limited to just two flavors, Vanilla or Chocolate, but they also offer protein drinks and bars for an additional way to get that protein in.
What we love:
– Certified B Corp
– Certified Vegan Company
– Organic Ingredients
– Recycled Plastic Packaging
Where to Buy Aloha Protein Powders:
This next company offers several flavors of vegan protein powder designed for fitness and health enthusiasts.
With up to 20g of protein per serving, plus probiotics to promote good gut health, and added B12, you'll be doing your body a favor by choosing this product.
Misfit is thoughtful in its packaging, and utilises biodegradable bags for its products. But sadly they're not suitable for at home composting, so you'll need to drop them off at your local industrial compost facility.
The company also aims to be 100% plastic free by the end of this year – watch this space!
What we love:
– Vegan company
– Compostable packaging
– Added immune boosting ingredients
Where to buy Misfits Protein Powders:
Direct from Misfits – UK & Europe
NU PRO – UK & EUROPE
100% vegan and natural, Nu Company create protein powders with added Vitamin C and Fibre.
The ingredients are completely organic, and there are no nasty fillers or additives.
Although the protein shakes come in single serve pouches, the sleeves are made of home-compostable cellulose and printed with water-based organic inks. The boxes are recyclable paper.
For every product sold, Nu Pro plant a tree in collaboration with Eden Tree Projects.
What we love:
– Vegan company
– Organic Ingredients
– Home compostable and recyclable packaging
Where to buy Nu Pro products:
GO GOOD – NEW ZEALAND & AUSTRALIA
New Zealand based company Go Good brings you plant-based protein powders with a hefty 23g of protein per serve. They were awarded a Gold Medal for being the best Natural Protein Powder in the country, and pride themselves on their clean formulations.
While they're not a vegan company, they are GMO-free, Organic, and chemical free.
And importantly, all their powders are packaged completely plastic-free.
Instead, they use recyclable cardboard packaging, and the included scoop is made from paper, not plastic. They ship in FSC certified cardboard that fits the product snuggly, and even the sealing tape is paper based.
Unfortunately, I couldn't find any evidence of giving back or offsetting their carbon, and the plant-based protein needs to be imported from Europe. But if you're in the southern hemisphere, this is still a great zero waste option.
What we love:
– Recyclable, plastic-free packaging
– Organic Ingredients
Where to Buy Go Good:
Other Eco-Friendly Protein Powder Options
As mentioned earlier, I had to do some serious digging when it comes to finding truly zero, or low waste protein powder options.
Unfortunately, as many of these discussions developed, I learned that it's just not that easy to find truly eco-friendly packaging for powders!
So the following brands are those who aren't quite there in terms of their packaging. But they are making strides in the right direction, and have other admirable traits.
If the above sustainable protein powder options don't suit you, perhaps look to one of the below companies who are still doing good.
Vivo Life are a 100% vegan company dedicated to doing good for the earth. All of their products are free from additives, preservatives and fillers, and made to make you feel fabulous.
The Vivo Life protein powder packs 21g of protein into one scoop, and it's soy and Gmo-free.
Vivo Life are doing great things in the sustainability space in terms of being carbon-neutral certified, and planting a tree for every order placed. They also send orders out in recycled boxes, and use 100% biodegradable cornstach filler.
The only downside is that their protein powder packaging isn't currently recyclable or compostable. Something I hope they'll work on in the future. But they've gone scoop-less which is a win for the planet!
What we love:
– Carbon-neutral company
– 100% plant-based company
– Tree planted for every purchase
– No plastic scoops
Where to buy Vivo Life:
Another Way to Buy Zero Waste Protein Powder – Your Local Bulk Bin Store
Our final option is more of a general suggestion than a specific company, and that's buying protein powder from your local health food store or bulk bin store. A lot of natural health food shops sell protein powder made from a variety of dairy-free alternatives. You'll be able to cut down on the extra packaging that comes with delivery, and you'll be saving on carbon emissions too.
If you're looking for more tips on how to shop zero waste at bulk bin stores, check out this article.