Making my own zero waste laundry detergent has become one of my favorite ways to save money while reducing my household's trash output. So, I'm passing my recipe on to you!
---
For many of us, transitioning to a zero waste lifestyle means making a lot of things that we used to buy from scratch. A lot of the time, it's as simple as choosing to make crackers rather than buy them all boxed up at the grocery store. Other times, it takes a little bit more effort.
Making your own zero waste laundry detergent, to me, is somewhere in between: totally achievable with a little forethought.
Plus, all of these can be found in bulk or in zero waste, recyclable packaging!
This article may contain compensated/affiliate links. See our full disclosure here.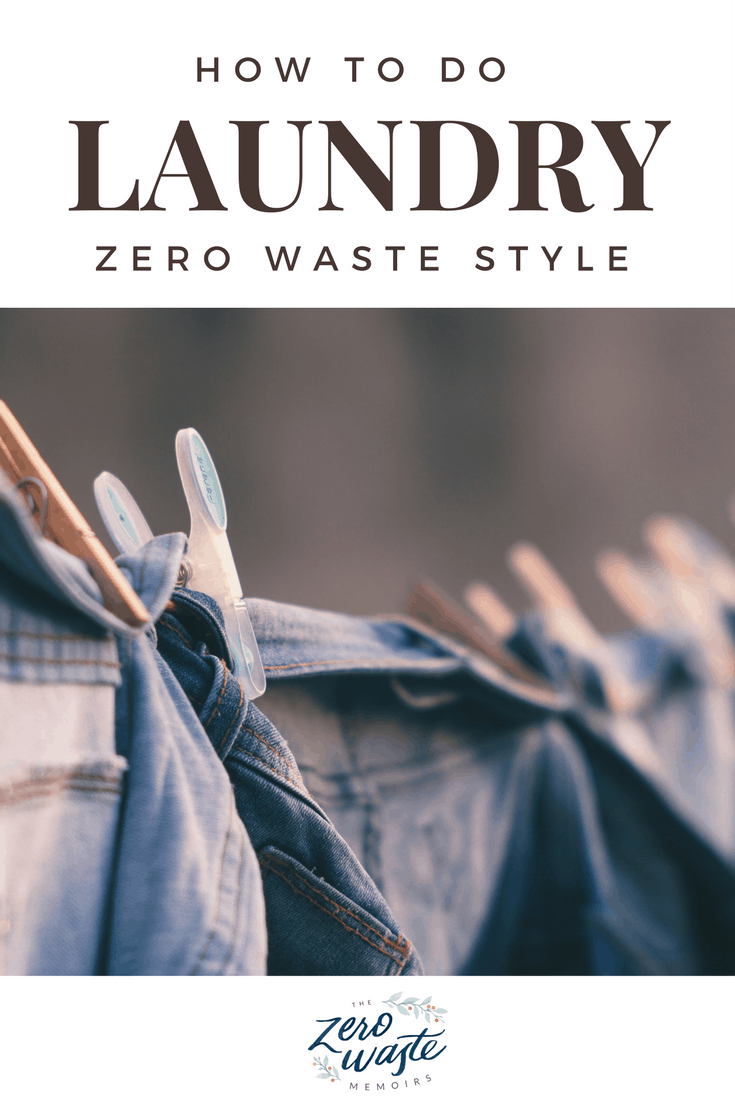 Options for Zero Waste Laundry Detergent
A couple of months ago, Josh and I ran out of the Biokleen Laundry Powder that we had been using for the past year. As we'd already chosen to live a zero waste lifestyle by that point, I realized that I had a few options moving forward:
Drive 45 minutes to Colorado to get laundry powder or liquid detergent in bulk. This would be convenient if it were part of a full-on bulk grocery shopping trip, or if the shop were local, but driving that far just to get laundry powder would be pretty unnecessary.
Purchase zero waste laundry detergent in recyclable packaging from an eco-conscious company. This would be the most convenient option but could be expensive in the longer term.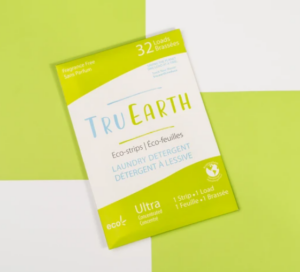 Make my own detergent in bulk amounts at home. This could arguably be the least convenient option as I would have to source the ingredients and mix them myself, but the cost savings are unbeatable.
In the end, I settled on the third option: making my own laundry detergent at home.
Why?
Honestly, it sounded like a blast! I love being able to make useful things from scratch, especially if I know I can save some cash by doing so.
If you're the thrifty type, the get-those-nasty-chemicals-away-from-me type, or someone who likes to try their hand at something new, this DIY Laundry Detergent recipe is for you!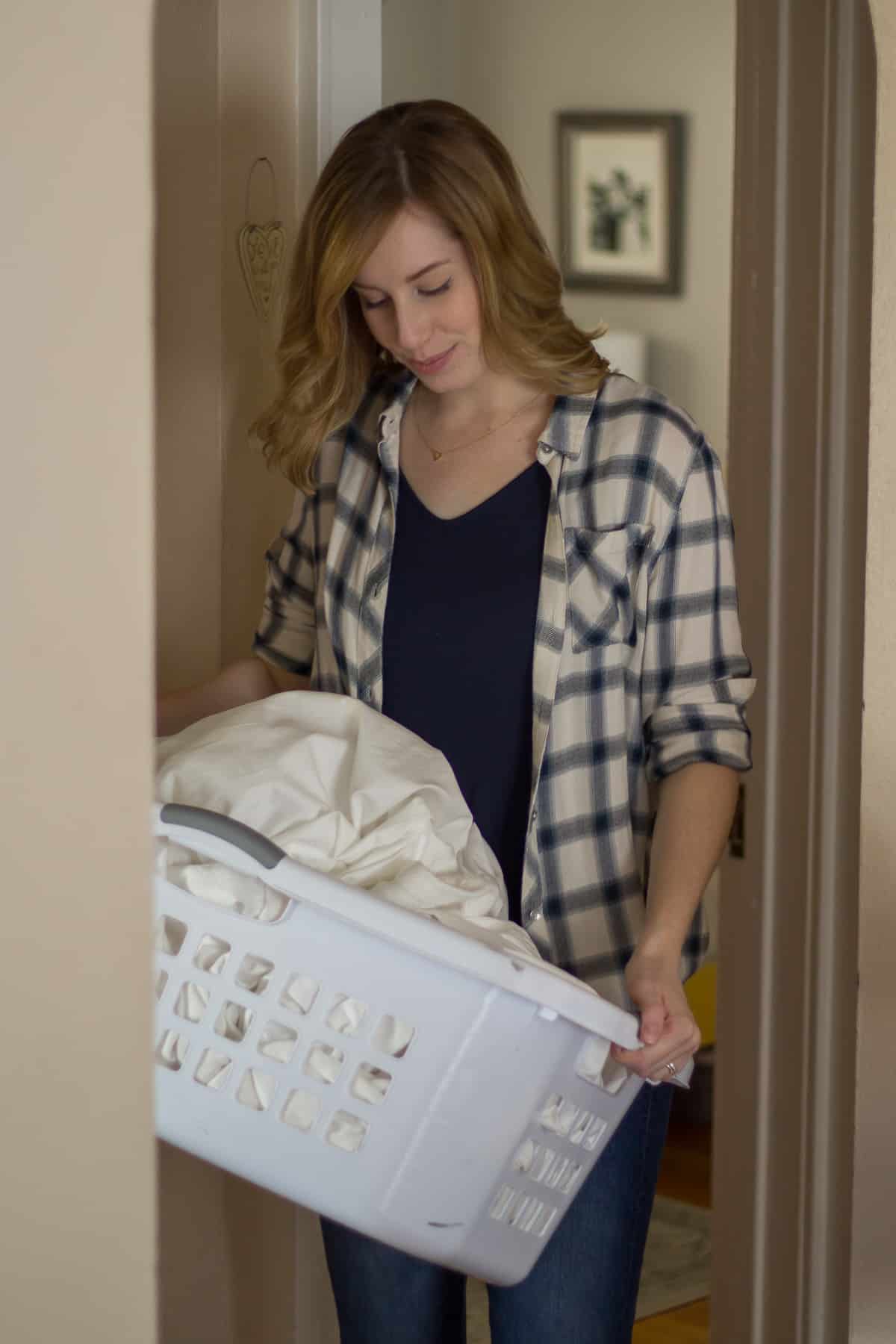 How to Make Your Own DIY Laundry Detergent
Making your own laundry detergent is as simple as gathering a few ingredients and mixing them together in a big bucket. It's actually really easy!
This recipe includes only 4 ingredients:
castile soap bars
baking soda
washing soda
and essential oils of your choice
Each of these ingredients has been thoroughly vetted for its safety, so you can be assured that this recipe is completely non-toxic and suitable for people with sensitive skin, like me.
And in addition to being totally easy to make and completely chemical-free, this zero waste laundry detergent is extremely inexpensive to make.
Where I used to spend $0.20-30 per load of laundry, I now spend something like $0.02 per load.
It's really hard to beat that!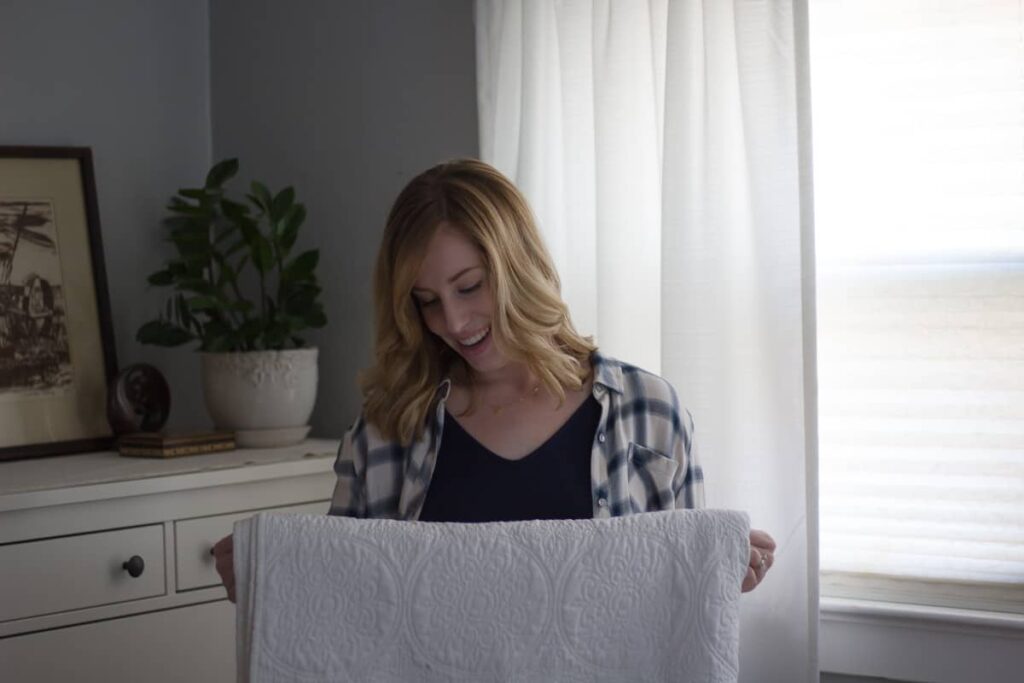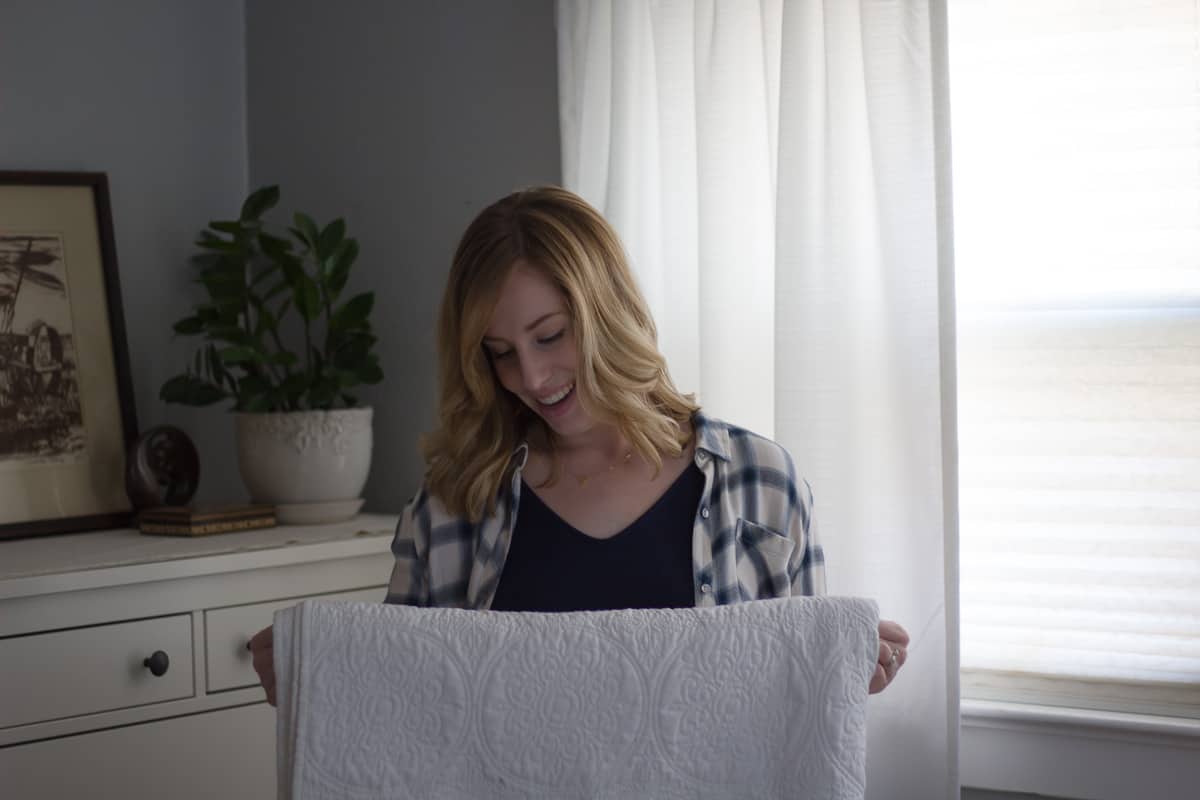 Why I like this recipe:
It rates an "A" on the EWG scale, a database that determines how safe a product or ingredient is health-wise.
It cleans extremely well! I love this laundry detergent more than anything else I've used, and I've tried a lot over the years.
It is naturally "low foaming," which means you can use it in either standard or HE machines.
It doesn't take much to work. A tablespoon or two is sufficient for my average-size loads of laundry. The bucket I have in our laundry room may last me years…
It leaves clothes smelling fresh and feeling soft. Skip the fabric softener and use this eco-friendly laundry detergent as a one-stop-shop.

Natural DIY Laundry

Detergent Recipe
DIY Laundry Detergent
A safe and effective way to make your own laundry detergent at home.
Ingredients
2 (4 oz.) Bars of Unscented Castile Soap (in recyclable paper)
2 lbs of Baking Soda (in recyclable cardboard or bought bulk)
1.5 (7 lb) Boxes of Arm & Hammer Super Washing Soda (in recyclable cardboard)
20-30 drops of your favorite essential oil (clementine or lavender are both nice options)
Instructions
Finely grate your bars of Castile soap. Either use a food processor or cheese grater.
Mix your grated soap together with baking soda, washing soda, and essential oils. I recommend wearing a face mask to avoid inhaling any dust from the mixture.
Use 1-3 Tablespoons per load of laundry, depending on its size and soil level.
Notes
Washing soda can sometimes be challenging to find. Most conventional grocery stores and supermarkets should have it in their baking aisle (near baking soda) or laundry aisle (next to detergents).
If you choose to make this in larger quantities, store in a 5-gallon bucket and then dish out a portion into a pretty storage jar for active use.
Skip dryer sheets. If you must use something, use wool dryer balls instead.
How to Reduce Laundry & Ironing
Hang your towels to dry instead of using a fresh one every day.
Skip the dryer when you can. Shake and smooth out wrinkles, then hang dry in the sunshine (if you're fortunate to enjoy it right now) or in your laundry room on a rack.
Spot clean items whenever possible, rather than just tossing them instantly into the wash. It'll save water.
Fold items right away after laundering so they don't wrinkle or collect pet hair.
Allow for space between garments in your closets and drawers to avoid wrinkling.
Choose quality fibers whenever possible. Quality fabrics like linen and bamboo tend to wrinkle less.
Protect your garments by layering well and covering up with an apron while cooking and cleaning.
If your clothes aren't actually smelly or gross, just don't wash them yet! Treat your items carefully and avoid over-washing to save water.