Putting together a Zero Waste To Go Kit is a super easy, low-effort way to reduce your environmental impact. You'll never look back!
---
Follow any Zero Waster's Instagram and you'll discover pretty quickly that each one of us carries a "Zero Waste To Go Kit".
Its purpose is two-fold:
To eliminate any garbage created 'on the road' – i.e. in restaurants or at the airport.
To prepare to pick up any Zero Waste goodies that might come across our path.
This article may contain compensated/affiliate links. See our full disclosure here.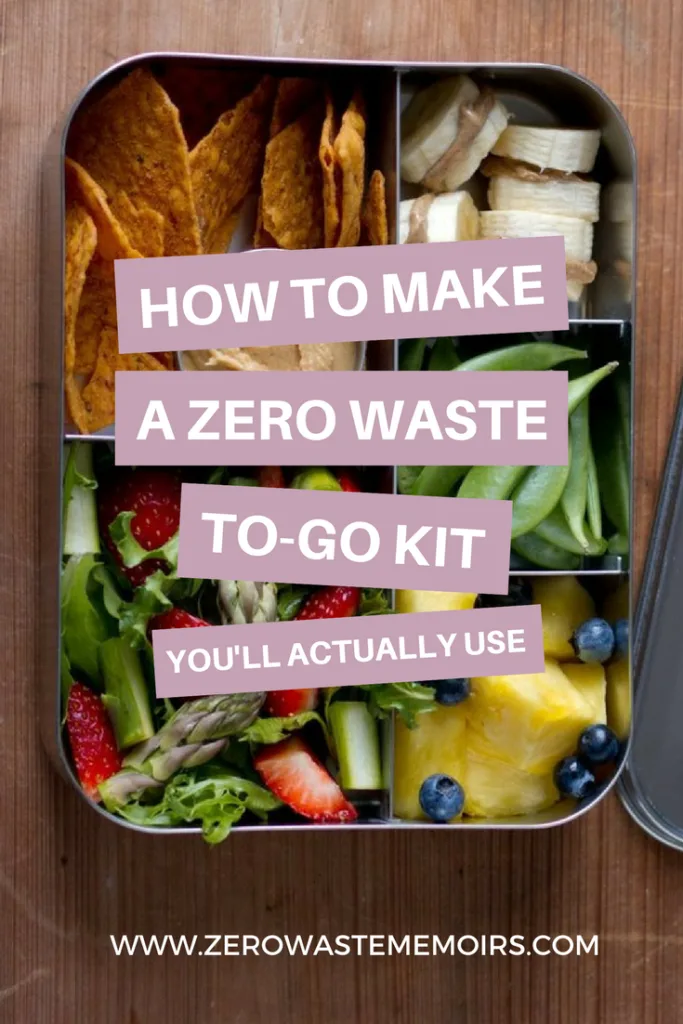 Most Zero Waste To Go Kits are made up of some collection of the following:
Reusable canvas bag.
Hankie or cloth napkin.
Multipurpose eating utensil.
Sustainable straw.
Reusable travel mug and/or water bottle.
Reusable glass jar or container.
While some people tend to carry all of these things on their person, just in case, I tend to split up my items. I keep lightweight necessities in my purse (eating utensil/straw, reusable baggie, and hankie) and the rest in my Jeep (travel mug and containers) so I can grab them when I need them.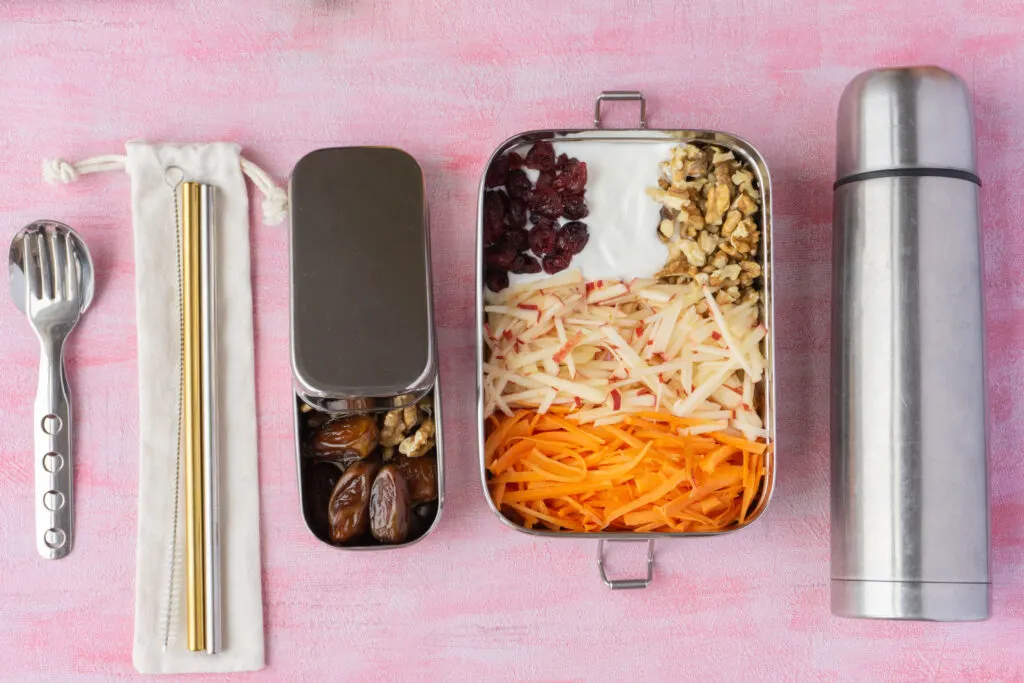 These few items ensure that I am always prepared to live a waste-free life when I leave the house!
Since equipping myself with a Zero Waste To Go Kit, I:
Haven't had to use and throw away any plastic straws or cutlery.
Have been able to take leftovers home from restaurants without needing to use a styrofoam box.
Was able to navigate a trip through the airport without creating waste.
Can purchase food items waste-free when I come across them in other cities.

How to Put Together a Zero Waste To-Go Kit You'll Actually Use

Living a waste-free life while out-and-about is all about thinking ahead. See if you can roundup these items in your house, or make the investment in them now. Each item listed below are things that I use and love every day.
If any of these suit your fancy, just click the image to find the exact product – easy peasy!
1) Lightweight Canvas Bag
I love these little Chico bags. They are super lightweight, but strong, and the little stuffed pouch fits right into my purse no problem! I've been using mine for about 7 years now and would never pick anything else.
2) Hankie or Cloth Napkin
We found most of our handkerchiefs secondhand at a local antique store (yay for thrifting!) but these cotton napkins are also an excellent choice. They're made from 100% cotton and I just love the chambray color!
3) Multipurpose Eating Utensil or Cutlery Wrap
This little set of to-go utensils is a real treat; I love how slim the wrap is. Bonus: this set comes with chopsticks! I keep this in my purse and use it several times a week.
4) Sustainable Straw
If you are fortunate enough to have an eco-shop near you, I highly recommend you buy these locally. However, if you're in a bind and don't have access to a shop that prioritizes sustainable products, get these!
This set is made up of 8 stainless steel drinking straws, plus two little cleaning wands. 8 may seem like a lot, but it ensures you'll always have a clean one on you, plus a couple of spares to share with your friends!
5) Travel Mug
I am a big fan of this simple modern travel mug. It's double-walled stainless steel and very nice to hold. Know that this particular model isn't leak-proof, so if you'll be tossing your reusable coffee cup around in the back seat, try something else – you can see our other favorite eco-friendly coffee cups here. Otherwise, this should serve you well for your zero waste coffee needs!
6) Eco Lunchbox or Tiffin
Tiffins are an Indian style lunchbox that is made up of multiple levels. I use mine several times a week to carry lunches wherever I go. This model has four levels; pack a salad, sandwich, and a dessert, all separate!
7) Reusable Container
Many of you have taken the time to set up your Zero Waste Grocery Shopping Kit, so you may already have a jar like this in your home!
Grab whatever you like – mason jar, canning jar, reusable Ziploc – and keep one or two in your vehicle just in case you need to bring something like leftovers or bulk grains home.
8) Water Bottle
You may want to skip this one if you're also lugging around an insulated travel mug, but if not, having a reusable water bottle on you at all times is an absolute must! We've all been caught short one time or another, and there's nothing worse than having to resort to plastic water bottles when you know you can do better…
---
Putting together a Zero Waste To Go Kit is a super easy, low-effort way to reduce your environmental impact. You'll never look back!
---
How do you limit the trash you make on-the-go?