This homemade zero waste toothpaste recipe is easy to make, tastes delicious, and works just as well as any conventional toothpaste on the market!
---
Toothpaste is one of those products that Josh and I used to go through like wildfire. I have sensitive teeth, so conventional brands often bothered me. We'd try a couple, then ditch them, or find something I liked and then toss it when it ran out.
Since going zero waste, we've abandoned standard tubes of toothpaste altogether. Now we make our own!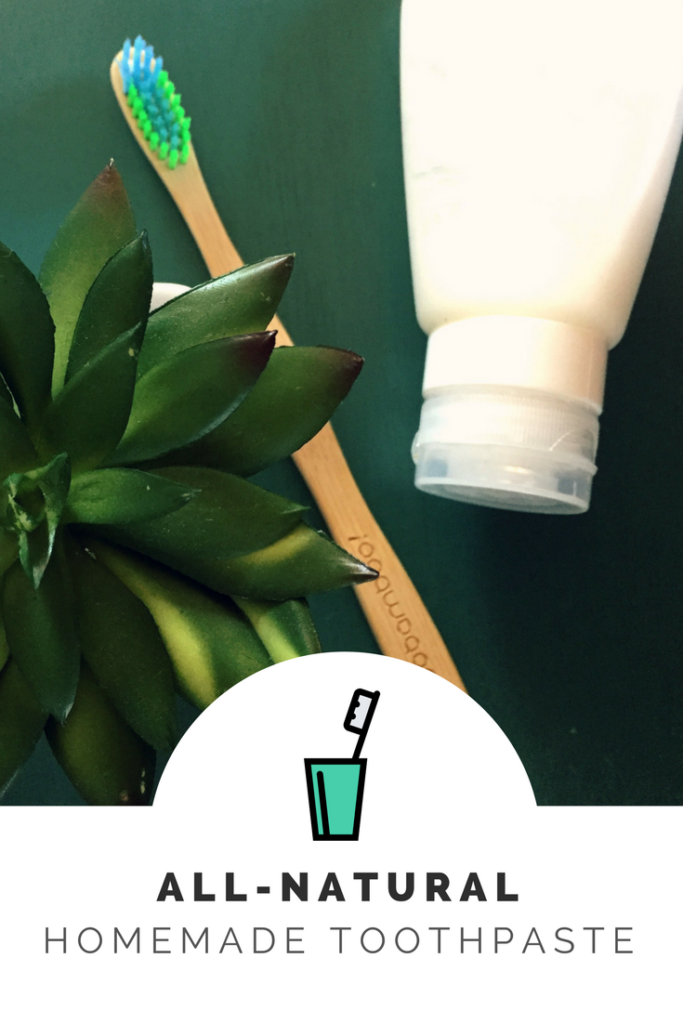 The Best Homemade Toothpaste Recipe on the Internet
If you've been following The Memoirs for a while, you may remember a post we did back in the day about our first venture into homemade toothpaste.
We started with a pretty traditional mixture made up of only organic coconut oil, baking soda, and peppermint essential oil. However, while the recipe cleaned very well and kept our teeth white and sparkling, it tasted strange and we could have lived without the oily texture.
Today, I'm happy to say we've moved on to something we enjoy much better!
This homemade toothpaste recipe is easy to make, tastes delicious, and works just as well as any conventional toothpaste on the market. The texture is even spot on!
Yield: 2-3 tubes
DIY All-Natural Toothpaste Recipe
This homemade, all-natural toothpaste recipe works great to clean teeth and freshen breath! One batch of this stuff produces enough product to fill 2-3 conventional toothpaste tubes.
Ingredients
1/4 cup water
1/2 tbsp arrowroot powder
7 tbsp calcium carbonate
5 1/2 tbsp xylitol
3 tbsp baking soda
1/2 tsp xanthan gum
1 1/2 tbsp + 1/2 tsp water
1/2 tsp sweet almond oil
30-50 drops of peppermint essential oil (depending on taste)
Instructions
Stage 1

In a small sauce pan, heat the arrowroot and water over medium-high heat, stirring constantly until the mixture becomes clear, thick, and gummy.
When done, pour the mixture into a small glass dish and place into the freezer to cool while you prep the rest of the ingredients.

Stage 2

Whisk together dry ingredients: calcium carbonate, xylitol, baking soda and xanthan gum.
Mix together wet ingredients: sweet almond oil, water, and essential oil.
Add the water/oil mixture to the dry ingredients stirring as you pour. Use the flat edge of a spatula to heavily press the wet into the dry. Note: It will feel extremely dry. Don't worry! I promise if you put a little muscle into it the mixture will turn into a stiff paste.
Remove the dish of arrowroot from the freezer and add to the stiff paste. Stir briskly until smooth, sticky and slightly fluffy. It should look like toothpaste!

Notes
How to Store:
We keep our homemade toothpaste in a BPA-free cosmetic silicon squeeze bottle (similar to what you'd find in the travel section of a department store). This recipe easily fills 2-3 bottles and saves well. You could also store it in glass jelly jars - just make sure each person has their own jar for dipping into.
Please note that this recipe tends to create air and build pressure for a few hours after making. So if your bottle is expanding, that's normal.

How to Make This Recipe Zero Waste
We have been able to find all of these ingredients (even the "weird" ones) in bulk at the Fort Collins Food Co-operative where we do our shopping. And a few of them we already had on hand – i.e. baking soda and almond oil.
Seek out the bulk shops in your area to see if they carry the ingredients you need. Most have quite a varied inventory! Anything you can't find in bulk, purchase in recyclable, paper packaging wherever possible.
---
Think you'll try this homemade toothpaste recipe? I'd love to hear your thoughts!