A cup of tea can satisfy us, hydrate us, and wake us up, but our morning cuppa may also be delivering billions of microplastics into our bodies and causing environmental damage to our planet.
Unlike zero waste tea bags (more on those later), many mainstream teabags contain plastic, and many more manufacturers wrap their boxes in an additional layer of wasteful cellophane or plastic packaging.
Further complicating matters is that many major tea companies claim their bags are plastic-free but use bioplastics to seal their bags, which is plastic made from plants. These bioplastics make it possible to toss the bags into the compost, but only in an industrial or commercial operation – so it's not as green as it seems.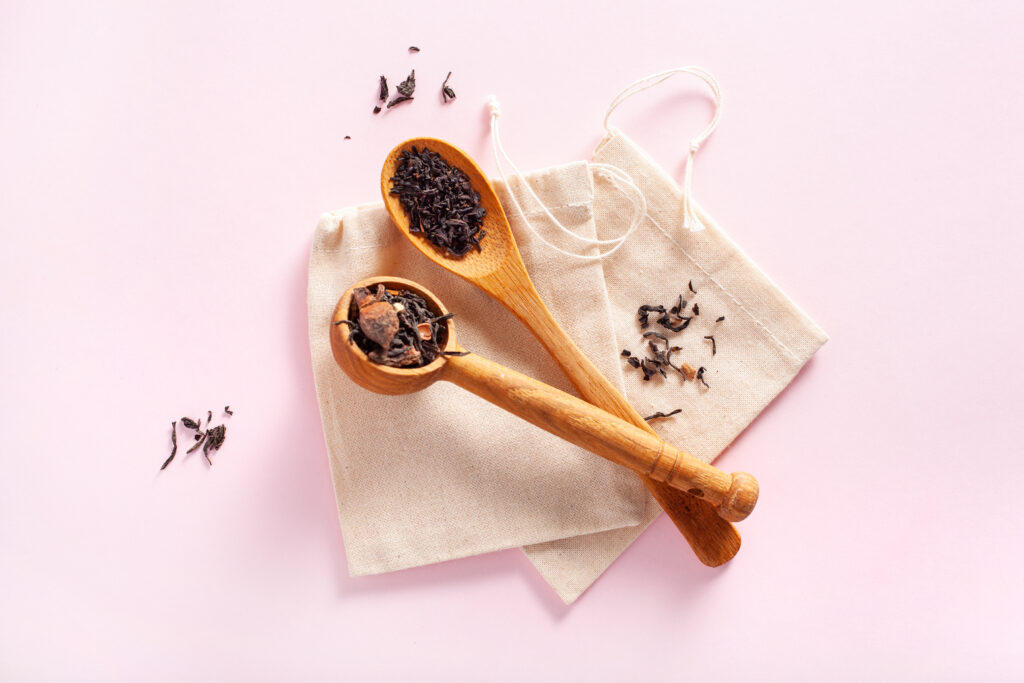 This article may contain compensated/affiliate links. See our full disclosure here.
---
What's wrong with traditional tea bags?
The biggest problem with tea bags is that manufacturers typically use plastic in their teabags, which makes it impossible to brew the tea without consuming plastic.
A study published by the American Chemical Society called Plastic Teabags Release Billions of Microparticles and Nanoparticles into Tea indicates that steeping tea at a standard brewing temperature of 95 °C releases more than 11.5 billion microplastics and more than 3 billion nano plastics into the cup. Not exactly what you were bargaining for when reaching for the Earl Grey!
Tea makers use plastic in their teabags because it keeps the bags sealed when drinkers place them in hot liquid. Manufacturers typically use a plastic called polypropylene, which scientists have linked to problems in the endocrine system and issues in the reproductive systems in women.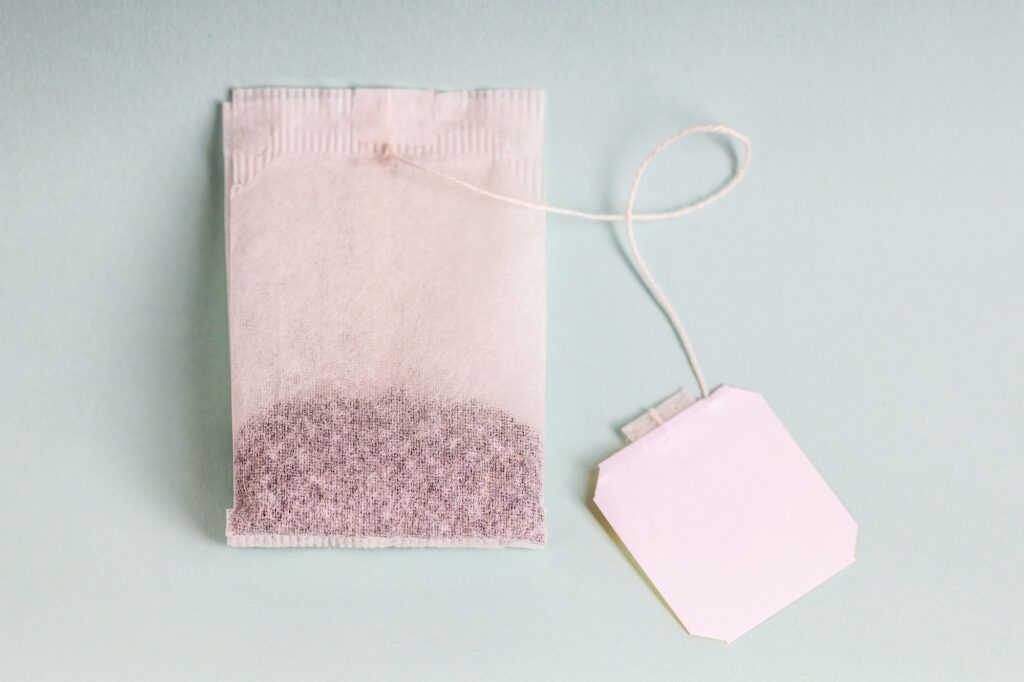 Does tea have an environmental footprint?
One of the measurements we use to gauge a product's environmental harm is its carbon footprint. Everything we buy at the store impacts the environment in one way or another, and tea is no exception, even if it's advertised as eco-friendly or suitable for the planet.
According to an article from The Guardian, the carbon footprint for a cup of black tea is 21g CO2e when you boil only the water you need for the cup. A cup of white tea equals 53g CO2e. However, if you add a serving of milk each day to your tea habit, you'll add about 225 kg to your annual footprint. Another reason we advocate switching to a plant-based lifestyle!
Factors that impact the environmental footprint of your tea include the methods used to grow the tea, how it's packaged, and how it's transported to your doorstep. If you purchase tea from a company that doesn't use good farming practices and sustainable tea packaging, you may be contributing to deforestation, soil erosion, and water pollution.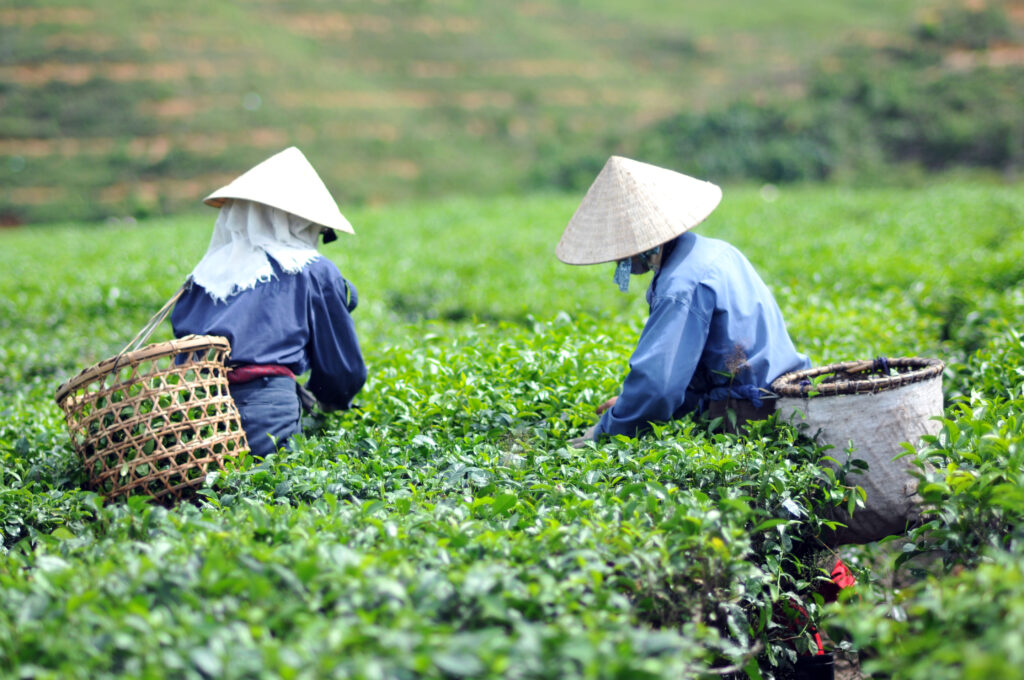 What are sustainable tea brands doing differently?
Labeling a product sustainable means painting it with a broad brush, but the concept isn't impossible to define. Zero waste tea brands use special growing and manufacturing methods to reduce their product's negative impact on the environment. Those methods may include using organically grown crops, as well as efforts to utilize regenerative farming that focuses on soil restoration, biodiversity, and the health of the ecosystem.
Sustainable tea brands also focus on the treatment of workers and farmers who grow and harvest the tea leaves. A tea brand labeled as fair-trade means that an independent organization has inspected the company's farming methods and confirmed that it meets specific ethical standards. Their sustainability is also present in their sustainable tea bags and packaging.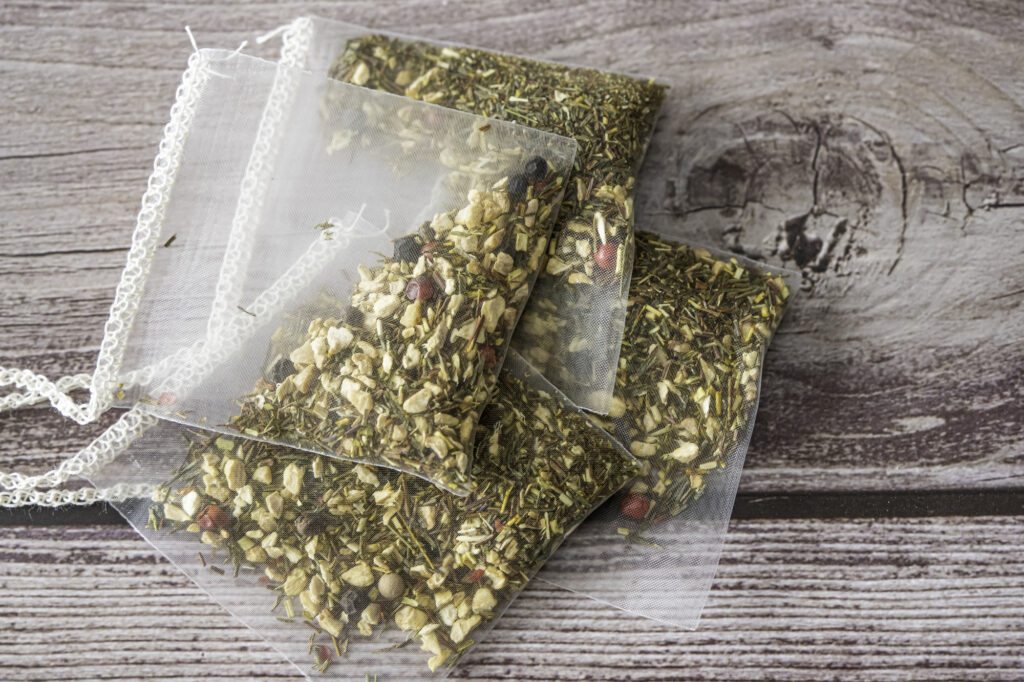 ---
Best Eco-Friendly Tea Brands to Support
This all makes for fairly grim reading, but the good news is that there are companies out there that are doing good for you, the planet, and everyone involved in the production of their eco-friendly tea.
We've listed a few of our favorite zero waste tea brands below for you to check out.
Brands Making Zero Waste Tea Bags
While advancements have been made in manufacturing plastic-free tea bags, those little envelopes they're packaged in to keep the tea fresh are a little more problematic. While the following brands all use recyclable, FSC certified paper envelopes, a very thin layer of plastic is normally required to seal the envelope and keep your tea fresh.
You can certainly recycle or compost the majority of the envelope, but the top strip will normally need to go in your regular household waste bin.
---
Best Brands for Zero Waste Loose Leaf Tea
While plastic free tea brands are changing the way we use tea bags, choosing loose leaf tea can often be the most eco-friendly choice. Here, we're still looking at the eco-credentials of the tea brands, their sustainability practices, and their fair labor regulations.
But when it comes to packaging, not all loose leaf teas are doing the right thing but using sustainable, recyclable, or compostable materials. Let's have a look at those who are.
---
Zero Waste Tea Infusers & Accessories
Making loose leaf tea means having the right accessories at home to do it justice. The following sustainable tea accessories are just the thing for brewing the perfect cup of tea.
---
Tea is the second-most consumed drink globally, which means using companies that use sustainable methods for growing and packaging may represent one of the best choices society at large can make in their day-to-day lives.