Tools for eco-friendly hair care have been around almost as long as tools themselves. Archaeologists have unearthed combs, brushes, and even curling tongs (!) from ancient Egypt and other early civilizations.
Over the years, hair brushes have risen to popularity due to their detangling and styling abilities, but unlike the first hair brushes, they've become a burden on the environment.
Next time your hair brush needs replacing, why not look for a more sustainable option? We've done the hard work for you to source some options for eco-friendly hair brushes that won't break your hair, or the bank!
This article may contain compensated/affiliate links. See our full disclosure here.
---
What's wrong with traditional hair brushes?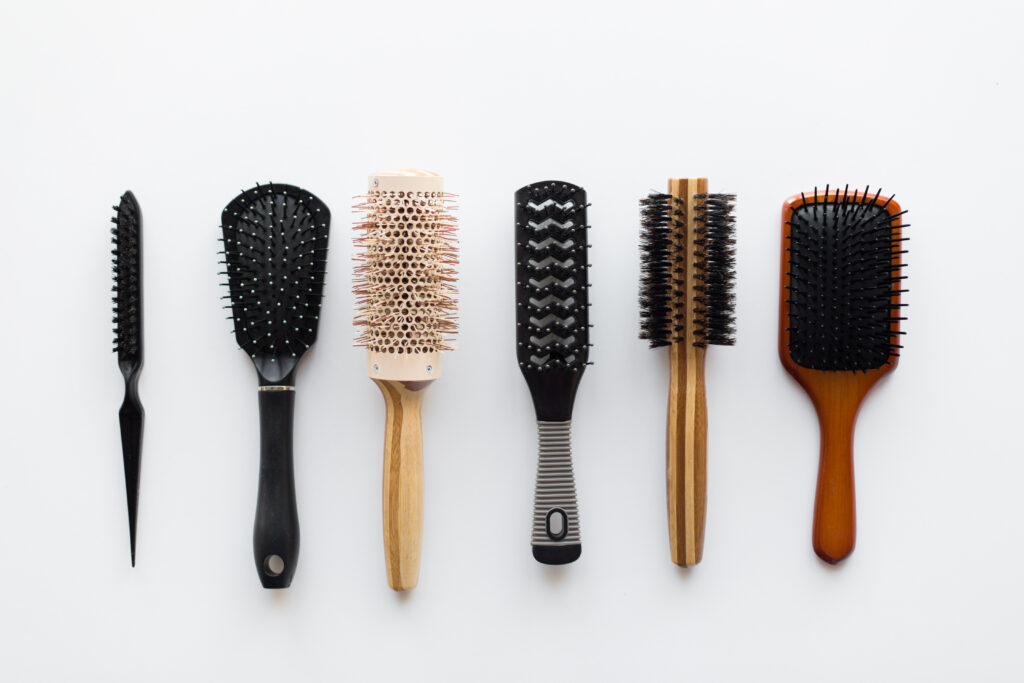 These days, the majority of hair brushes are made from plastic. They break easily, piling up waste and promoting overconsumption.
Due to cheap construction and the industry encouraging people to get a new brush at least once a year, hair brushes are filling our landfills, or worse, getting into our oceans and rivers.
There is one type of plastic free hair brush that's still highly sought after: the boar bristle brush. However, since this comes from actual boar hair, it isn't a vegan-friendly option.
And unless your brush is labelled cruelty-free (which can be hard to find) it's generally hard to know whether the boar bristles are ethically harvested.
Note from the editor:

I bought a Mason Pearson boar bristle brush years ago (before my zero waste journey) as I was satisfied that the boar bristles are sourced ethically, and its quality construction means it's built to last. It does wonders for my long, thick hair – it's seriously a miracle worker.

As the most zero waste hair brush option is to hold onto what you have already, I'll be using this brush for years to come. However, I was recently researching environmentally friendly hair brushes as I wanted to buy one for my mother. Read on to find out what I came up with!
---
Can you recycle hair brushes?
Hair brushes with plastic parts can't be recycled in your curbside recycling, and company-run recycling programs don't seem to exist at this time.
The only option for recycling hair brushes is Terra Cycle's Personal Care Accessories Zero Waste Pouch, which accepts non-electronic hair care and styling tools at $45 a pouch.
If you have an all natural hair brush, however, it should be compostable, even if it takes a while to break down.
What to look for in a zero waste hair brush
Plastic free hair care is possible! Here's what to look for:
A handle made from FSC-certified wood or bamboo that is sustainably grown
Pins that are either wood or fiber (be careful with "vegan boar bristle" as this is often made of plastic)
Natural material for what connects the bristle to the brush (like natural rubber)
No plastic bristle caps
Sustainable or recyclable packaging
Something made to suit your hair type (since all brushes are different)
Related Reading: Zero Waste Hair Ties
---
Best Plastic–Free Hair Brush Options
After researching what makes an environmentally friendly hair brush, we thought we'd detail a few options below that fit the bill.
These eco-friendly hair brushes generally fit into one of three categories; wooden hair brushes, bamboo hair brushes, or mixed material hair brushes. Find the right one for you below!
WOODEN HAIR BRUSHES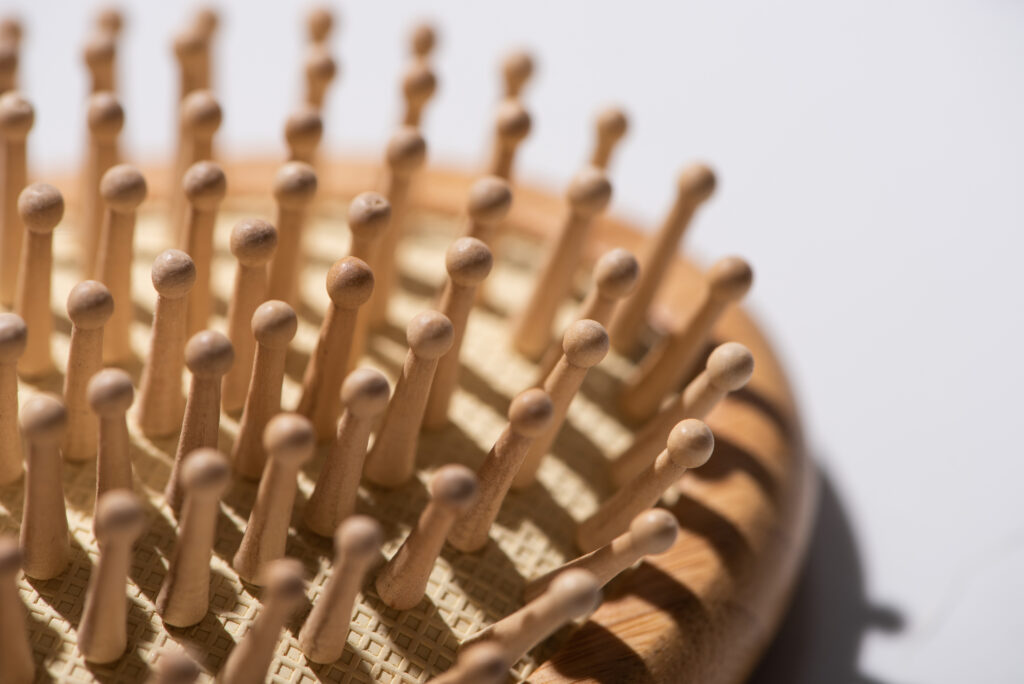 Wooden hair brushes are sturdy and biodegradable. They're not quite as gentle as boar bristle, but they are effective at detangling and spreading natural oils to make hair healthy and shiny.
Each type of wood also brings its own desirable qualities. Look for ones made of completely natural materials (not just the handle) that are sustainably harvested.
---
BAMBOO HAIR BRUSHES
Eco-friendly hair brush makers love bamboo, which is fast-growing, anti-microbial, and strong. Bamboo pins have the disadvantage of not being quite as gentle as animal hair bristles, but there are plenty of options to choose from when it comes to size, shape, and price.
Look for brushes that are made from organic, sustainably harvested bamboo that have a natural rubber base.
---
BIO-PLASTIC & MIXED MATERIAL HAIR BRUSHES
For those who don't like the feel of wood or bamboo, there are hair brushes made of bio-plastic or recycled materials.
How well bio-plastic really breaks down under landfill conditions is debatable, but these brushes can still make the case that they're eco-friendly hair products.
---
---
Eco-friendly hair care isn't just a thing of the past. With completely biodegradable wooden and bamboo brushes, you can get healthy, styled hair that will meet all of your zero waste hair care goals.
With other environmentally friendly options, you can still do a lot to reduce waste and make sure your hair brushes aren't destined to be artifacts dug up by future civilizations.
Pin this for later!