Even the most zealous plastic-purgers can find it hard to let go of trash bags. It just feels downright weird to have a naked trash can. You may worry about messes or having everything loose. And municipalities often encourage or even require trash bags in order to keep stray waste from flying out of trash cans and washing into waterways.
When you can't refuse, reuse, recycle, or repair, what should you do? Are there any eco-friendly garbage bags that aren't just greenwashing?
First, let's think about two important questions:
Do we need trash bags at all?
Ideally no, but this depends on your situation. If you compost food, donate unwanted items, and refuse nonrecyclables, you theoretically shouldn't produce trash at all. In fact, in her zero waste book, Bea Johnson talks about how one of her go-to refusal tactics is, "I'm sorry, but I don't have a trash can."
But let's be real, this can be anywhere from extremely difficult to impossible. Most of us still produce some waste.
Even if you only produce a small amount of dry trash, you may want a way to keep it together to minimize the risk of it blowing away on a windy day, so it's important to know the alternatives.
This article may contain compensated/affiliate links. See our full disclosure here.
What about compostable trash bags or biodegradable trash bags?
If you send compostable trash bags or biodegradable trash bags to a landfill, they're unfortunately no better than plastic.
The EPA's website clearly states that when it comes to landfills, incinerators, and recycling facilities – "these locations do not present conditions in which complete decomposition will occur within one year." And according to the Federal Trade Commission's Green Guidelines, companies shouldn't even make biodegradable claims unless things will break down within this time.
The bottom line: there are a lot of claims out there that are just deceptive marketing.
When it comes to compostable bags, however, there are two exceptions. If the bags are "home compostable," like these ones, they should break down nicely in your compost pile.
If the bags are compostable and you send them to a municipal composting facility, this should create the proper conditions for your bags to break down. If you are unsure whether this is the case, you can contact your city and ask.
---
What is the best alternative to plastic trash bags?
So, what to do when you're trying to be as eco-friendly as possible? As with most zero waste practices, use what you have, upcycle when you can, and think non-plastic alternatives.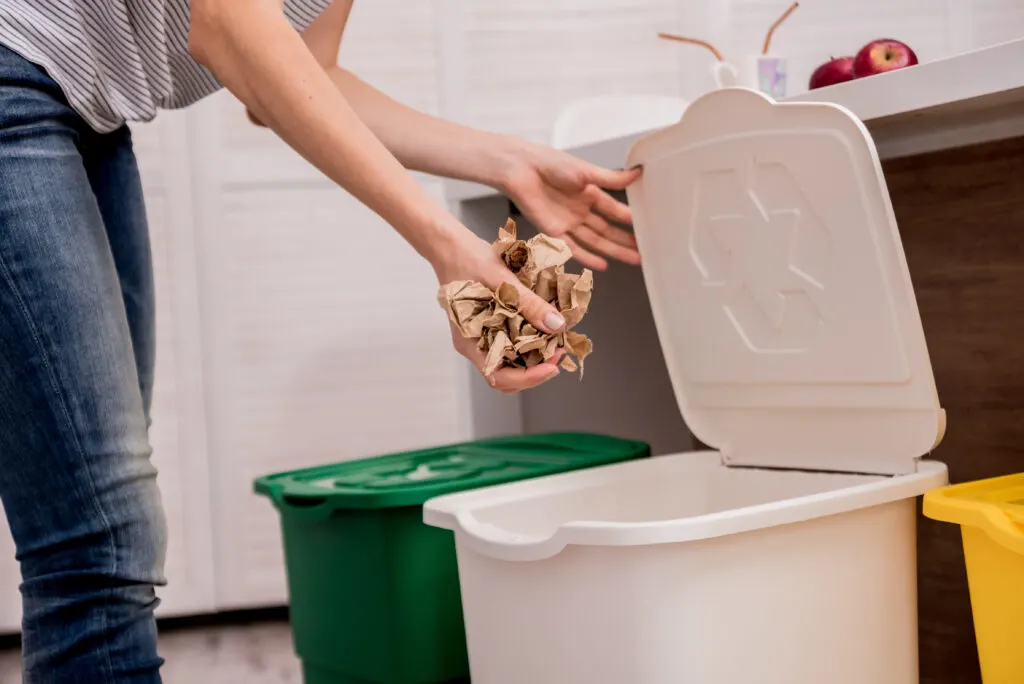 Paper Trash Bag Options:
Paper is a great eco-friendly go-to material when thinking about trash bags. It breaks down easily, is recyclable and can be reused (so long as it doesn't get wet).
But paper, somewhat surprisingly, requires a lot more energy to produce than plastic, and one report found that you'd have to use a paper bag at least three times to make it more environmentally-friendly than a plastic bag.
That's where upcycled or recycled paper bags come in.
UPCYCLED PAPER BAGS
If you have paper bags to upcycle, these are probably the most eco-friendly trash bags. Pet food bags work well, as these are usually something pet owners are stuck with since it's difficult to buy pet food without packaging.
Upcycled paper bags are also recyclable trash bags in the sense that you don't have to worry about having too many. If you find you aren't using them, you can always put them into your general recycling or give them away.
Pros to paper trash bags:
Paper will break down better than "compostable" or "biodegradable" bags in a landfill.
They don't cost any extra money.
Cons:
Many people don't have paper bags to upcycle.
They don't always fit your trash can well.
UPCYCLED NEWSPAPER TRASH BAGS
If you still get a physical newspaper or you can get old newspapers from a neighbor or local business, just apply a bit of simple origami and your sheets can transform into paper trash can liners. See the handy tutorial below on how to make a dustbin out of old newspapers.
Pros:
Since newspaper is thin, it will break down even faster than many paper bags.
It doesn't cost any extra money.
Cons:
Newspaper doesn't hold things together as neatly as a bag.
The ink can be contaminating.
DON'T HAVE TIME TO DIY? BUY RECYCLED PAPER TRASH BAGS
These days it's easy to find bags made from recycled paper on the internet or even locally. These are your paper grocery bags or paper lunch bags that you've probably used in the past on more than one occasion.
You can find small recycled paper bags like these on Amazon, or larger albeit non-recycled paper bags like these for every day or lawn waste.
Pros:
These will break down in a way that doesn't harm the environment.
It helps give a second life to paper recyclables.
Cons:
It can be expensive over time.
You have to factor in the environmental costs of production and shipping.
---
Other Options for Eco-Friendly Tash Bags
We get it. Not everyone has the time or inclination to DIY trash bags. If the best you can do is buying a more environmentally friendly trash bag than the single-use plastic ones you're currently using, that's still a great start!
Check out some of the options below for how you can lessen your impact.
UPCYCLED PLASTIC TRASH BAGS
If you can avoid plastic in the first place, or if you can recycle plastic bags (many grocery stores accept soft plastics for recycling), do this first. If not, upcycle plastic bags that are destined for the landfill anyway.
Pros:
You give plastic a second life, keeping down the total amount of plastic being sent to landfills.
It's low cost or free.
Cons:
They will not fully break down.
They tend to be small or medium-sized.
PLASTIC BAGS MADE FROM PLASTIC WASTE
Sometimes – for one reason or another – you need a large plastic trash bag, and you don't have any bags to upcycle that are big enough. In this case, search for trash bags made of other plastic waste.
There are several brands offering trash bags made from post-consumer waste.
Hippo Sak sells plastic bags made from ocean plastic collected from beaches.
Seventh Generation's range of trash bags are made from 55% recycled plastic.
And Evolution Trash Bags are made from 70% Certified Post-Consumer Recycled LLDPE.
While these are certainly not fully zero waste, they're still acceptable as more environmentally friendly trash bags.
Pros:
You help keep plastic out of oceans and waterways.
Cons:
You add more plastic to landfills when you throw them away.
They can be expensive over time.
REUSABLE TRASH BAGS
If you are attached to bin liners but don't mind having loose trash, how about trying reusable trash bags. After you dump your trash, you can take them home and machine wash them to use again and again.
These make great eco-friendly trash can liners if you are sharing a space with others who will occasionally throw messy things in the bin too.
Pros:
They are water-resistant, anti-bacterial, and easy to clean.
They won't add waste to landfills.
Cons:
They are still partially made of plastic and may end up being thrown away when they reach their end of life.
DIY FABRIC TRASH BAGS
Do you have scrap fabric and sewing skills? You can make your own eco-friendly bin bags like these ones.
In fact, this project is so beginner-friendly that even if you just have the desire to learn, you can take this on. If you do a good enough job, however, people may examine your work more closely and request one for themselves!
Pros:
The feeling of accomplishment you get from making something on your own.
You upcycle something that would otherwise be thrown away or downcycled.
Cons:
It requires basic sewing skills or the willingness to learn them.
You may have to make them for your family and friends!
---
---
Earth friendly trash bags may not look how you pictured them, but if you can't quite get onboard with not having a bin liner or doing away with the trash can altogether, it's possible to find alternatives to bioplastics that really are too good to be true.
Don't be afraid to mix and match solutions either – upcycling when you can and, when you can't, finding the most ecological solution for you.