When we think of being more conscientious with our shopping habits, ethical children's clothing is probably not the first thing to come to mind. For a long time, it was one of the last areas of fashion to offer sustainable options.
Kids grow so fast, and are so hard on their clothes, that spending more than the bare minimum on children's clothing can sound wasteful. In fact, it's much less wasteful, and even more cost-effective, in the long run, to buy ethical and sustainable children's clothing.
This article may contain compensated/affiliate links. See our full disclosure here.
---
Sustainable Kids Clothing Explained
So what is sustainable children's clothing? And how is it any different from regular kid's clothes?
Traditional kid's clothes are the epitome of fast fashion. They capitalize on quick production times by exploiting their workers, polluting nearby rivers, and using chemical-filled fabrics and dyes. These are fabrics that envelop your baby's sensitive skin, and more likely than not end up in their mouth.
That's why natural, chemical-free fabrics are more important than ever for babies and small children.
Yes, kids grow quickly and are hard on their clothes, but instead of buying cheap, poorly-made outfits that will last only a few recesses, consider clothing your little ones in more durable, well-made, eco-friendly kids clothing that you can feel good about.
Don't know where to start? You're in luck, because we've rounded up thirteen of our favorite ethical kid's clothing brands from around the world.
---
The original name in sustainable kids clothes, Hanna Andersson has been leading the pack for over 35 years. They excel in designing soft but durable clothes for kids to dance, play, sleep, and live in.
For extra cute points, get your whole family a matching set of pajamas in a fun print everyone will love.
PACT – USA & International
Affordable, organic clothing for children and babies is a specialty of Pact. Their super fun cotton basics are all you need to build an easy-breezy 3-season wardrobe for your kid. They also have a fit guarantee, in case of sudden growth spurts.
Pact offers Fair Trade children's clothing for babies through to 12-year-olds, and you can even return your used clothing to be donated to charity – helping to keep clothes out of the landfill.
TENTREE – USA & International
If the cute Lorax inspired kids clothing range wasn't enough to entice you to purchase from this eco kids clothing company, maybe their environmental pledge will!
For every purchase made at Tentree, a whopping ten trees are planted! They have a goal to plant 1 billion trees by 2030, and they're well on their way to realizing that target. Help them out by making a purchase today, and kit your kids out in gorgeous recycled polyester or organic cotton clothes at the same time.
The kid's range from sustainable clothing brand MATE is based on simple, comfortable basics for everyday wear. Mix & match the organic cotton t-shirts, joggers and sweatshirts for a cool unisex style.
US-owned and manufactured, MATE strives to do its best for the planet and its people. What's more, all orders are shipped in recycled materials. Why not pick up some adult-sized sweats while you're at it!
Sustainable kids clothing doesn't get much more fun than this! Primary are all about color and gender-neutral clothing, and they encourage you to wear all the colors of the rainbow!
You can shop their range of organic cotton clothing by color, and even kit out the whole family in matching sets! Primary's sustainability efforts are focused on ethical manufacturing, using sustainable materials, and shipping in compostable packaging.
JACKALO – USA & International
Jackalo prides themselves on making organic, fair trade kids clothing that lasts twice as long as your typical kids brand. They make simply cut, well-fitting basics with lots of pockets and reinforced knees. Consider these your ultimate playclothes.
As an added bonus – Jackalo will 'buy back' your used clothes, allowing you to 'trade up' to new threads!
NY-Based Firebird creates natural, ethical kid's clothes made from high-quality organic cotton. Their unisex clothes are produced in the USA, creating local jobs to support the community. They aim to be a zero waste kids clothing brand by offering consumers to send back used clothes to be resold, at which point you'll receive a generous store credit for your next purchase!
Frustrated with how quickly your little guy or gal is outgrowing the cute outfits you get them? Beya Made has the solution: adjustable clothes.
Ethically made in Atlanta, GA from sustainably sourced cotton, Beya Made's rompers, dresses, tees, and pants are designed to grow with your kid, so they can wear their favorite outfit that much longer.
Boody has ethical baby clothes covered. Their adorable tops, leggings, and onesies are made of a natural and oh-so-soft bamboo viscose fabric that is breathable, hypoallergenic, and environmentally friendly. As a bonus, they also carry undies and basics for mommy!
Monica & Andy takes what you put on your baby's skin seriously. Their super soft, finely woven organic cotton is made without pesticides, bleach, or harmful dyes.
Their factories are fair trade certified and they focus on minimizing water use in their fabric production. All that to say you can rest easy knowing their baby and kids clothes are a safe option for your child and the planet.
UK based ethical kid's clothing company Frugi is one of the original players in the sustainable clothing space. Founded in 2004, they produce a fun and colorful range of children's clothing, sleepwear & accessories, as well as a select range for adults too!
Their primary fabric is organic cotton, but you'll find a cool range of outerwear and backpacks made from recycled plastic bottles!
OOBI – AUSTRALIA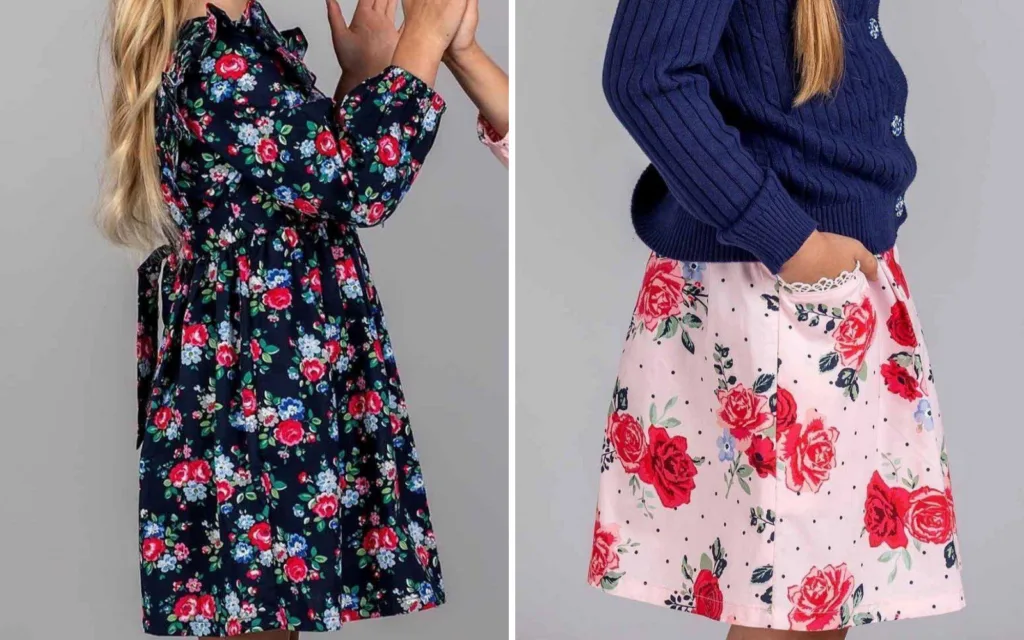 Oobi is an Australian clothing label (they ship worldwide!) offering ethically-made, hand-printed clothes for girls aged newborn to twelve. Their organic cotton fabrics are printed with lead-free dyes and come in whimsical prints and bright, happy colors.
They specialize in easy, knee-length dresses that are so cute, you'll wish they came in adult sizes, too!
The gender-neutral designs and chemical-free, organic fabric of Pitupi's clothes have made it a favorite for European moms, and now you can get in on the secret, too. Their adorable sets, dresses, and pajamas are ethically-made and safe for the most sensitive skin.
Pitupi is committed to taking care of the Albanian women who craft their clothing by providing fair wages, community support systems, and potential for advancement.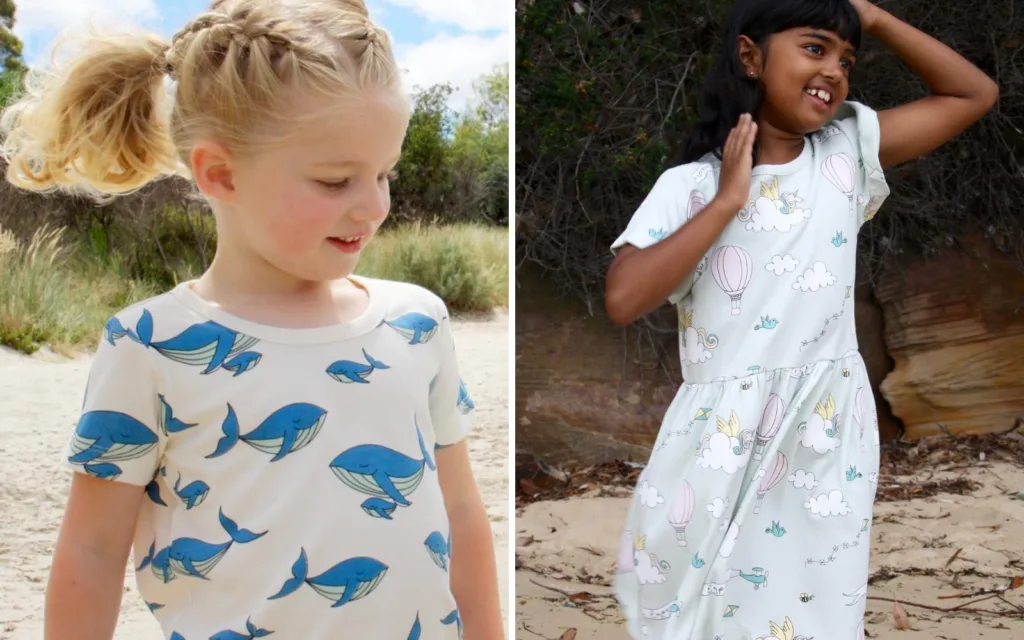 Little Emperor is an Australian company making playful animal print tees and dresses from ethically-made organic cotton. They use minimal, compostable packaging and partner with 1% for the Planet to support environmental nonprofits.
The best part is that the designer's eight-year-old daughter helps design each collection, so Little Emperor is the perfect inspiration for your future entrepreneur!
---
Ethically made children's clothing is easier to come by than ever, and the range is constantly expanding!
Still haven't found what you're looking for? Why not browse one of these online thrift shops and give pre-loved kids clothes a second chance?