When you think of Christmas, you probably think of exchanging gifts, sharing delicious food with your family and the delight of a beautifully decorated Christmas tree.
But what probably doesn't cross your mind is the impact that each aspect of Christmas can have on the environment.
Your Christmas tree, for example, is having some sort of carbon footprint whether it's real, fake or a potted tree. And the decorations you put on it? You guessed it, those aren't innocent either.
However, that doesn't mean you have to give up the centerpiece of your Christmas decor for the sake of sustainability.
Let's take a look at the environmental impacts of all the different types of Christmas trees and decorations available to see how you can have a beautiful, yet eco-friendly Christmas tree in your living room this year.
This article may contain compensated/affiliate links. See our full disclosure here.
---
Real vs Fake Christmas Trees
It may seem obvious that a real tree is better than a fake Christmas tree from a sustainability point of view. But the reality is a little more complex.
Read on to find the most environmentally friendly Christmas tree options.
Fake Christmas Trees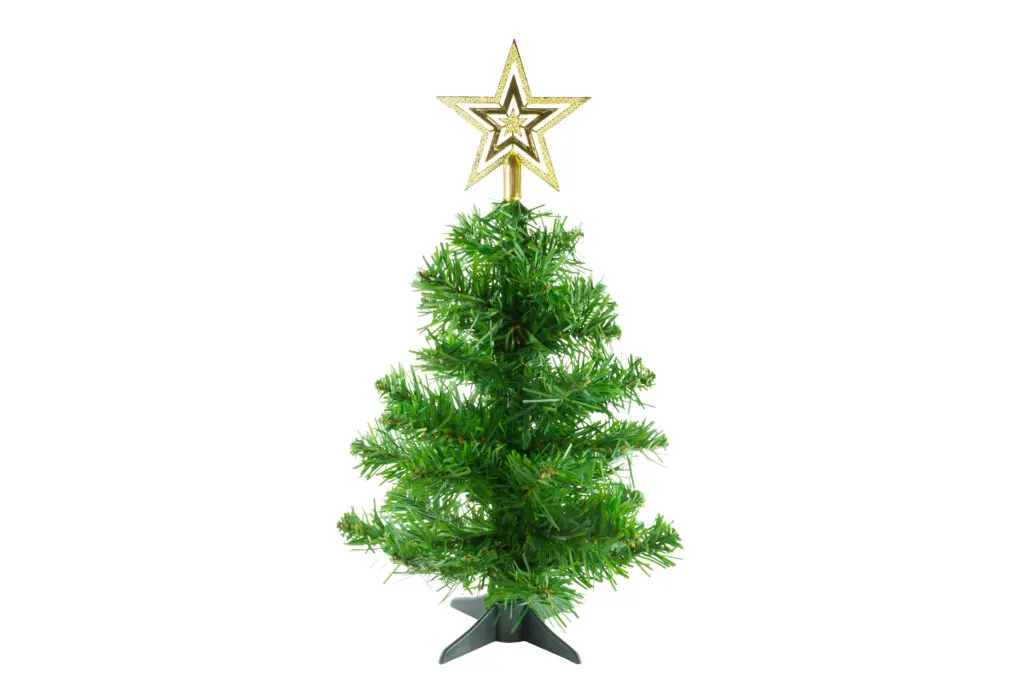 More than 23 million artificial trees are purchased each holiday season in the U.S alone, and 80% of all the Christmas trees displayed in the country are artificial.
A vast majority of these artificial trees are shipped to the U.S. from China, a journey that results in unnecessary excess carbon emissions.
However, the environmental impacts don't stop there. Artificial trees are most often made with a combination of PVC and steel and aren't recyclable at their end of life.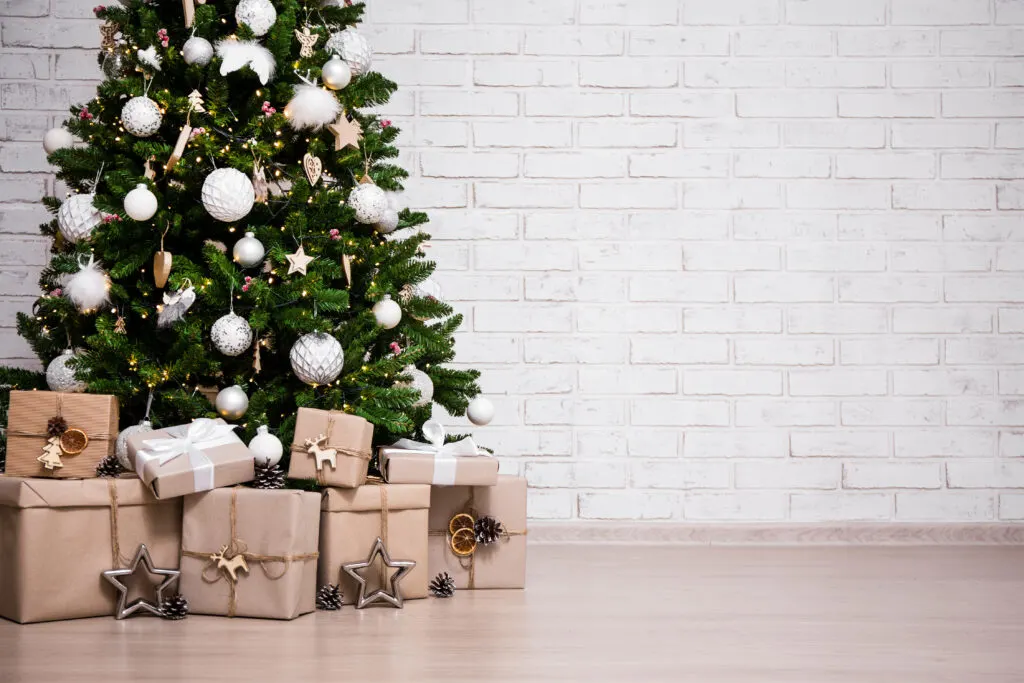 Considering these Christmas trees are made of plastic and shipped across the world, is it even possible to have an eco-friendly artificial Christmas tree?
Well, kind of. The A.C.T.A, a group representing manufacturers, says the environmental impact is less than real trees if you reuse the artificial tree five or more times. However, many argue that anything made of oil that can't be recycled can't possibly be a more sustainable solution than a real tree that absorbs carbon as it grows and is compostable at end of life.
All in all, if you already have an artificial tree, keep using it for as long as possible so you can keep it out of the landfill.
And if you don't already have one? Opt for a real tree instead.
Real Christmas Trees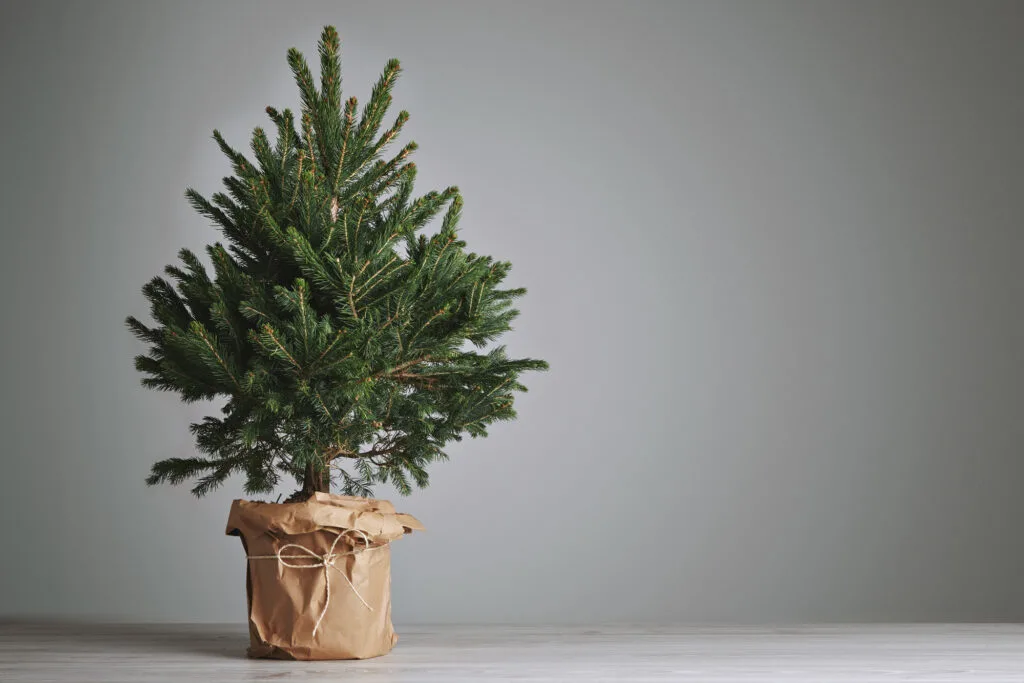 Natural Christmas trees are primarily grown on dedicated Christmas tree plantations and aren't cut down from large, wild forests, as some may think.
As the tree grows, it cleans the air, helps the soil, absorbs carbon emissions and provides a habitat for wildlife, all while being grown on land that is often not suitable for other crops.
Once a tree is cut down for the Christmas season, another one to three trees are planted in its place, making for a sustainable, well-managed way to source an environmentally friendly Christmas tree.
And considering experts say restoring and protecting sustainably managed forests, including Christmas tree farms, is a vital part of addressing climate change, buying a real tree is a great way to get an eco Christmas tree.
Also, unlike artificial trees, real trees can be repurposed and composted at the end of their life. In the U.S, many states have tree return services that reuse old Christmas trees in conservation projects or turn them into mulch.
When buying a real cut Christmas tree this year, it's better to buy directly from the Xmas tree farm to avoid unnecessary transport, plastic sleeves around the tree, and to ensure your tree is as fresh as possible.
How to Dispose of your Christmas Tree after the Holiday Season
If you have a large enough compost, you can simply chop up your Christmas tree and let nature do its thing. Alternatively, if you can get your hands on a wood chipper, you can repurpose it as mulch for your garden. Those with a wood burner can chop up the wood and leave it to dry for next winter's warmth.
If you live in an apartment or have a small yard, some Christmas tree sellers will have a "return" scheme where you can take it back after the holiday season and they'll repurpose it for you. Or you could try your local council to see if they have a recycling scheme in place.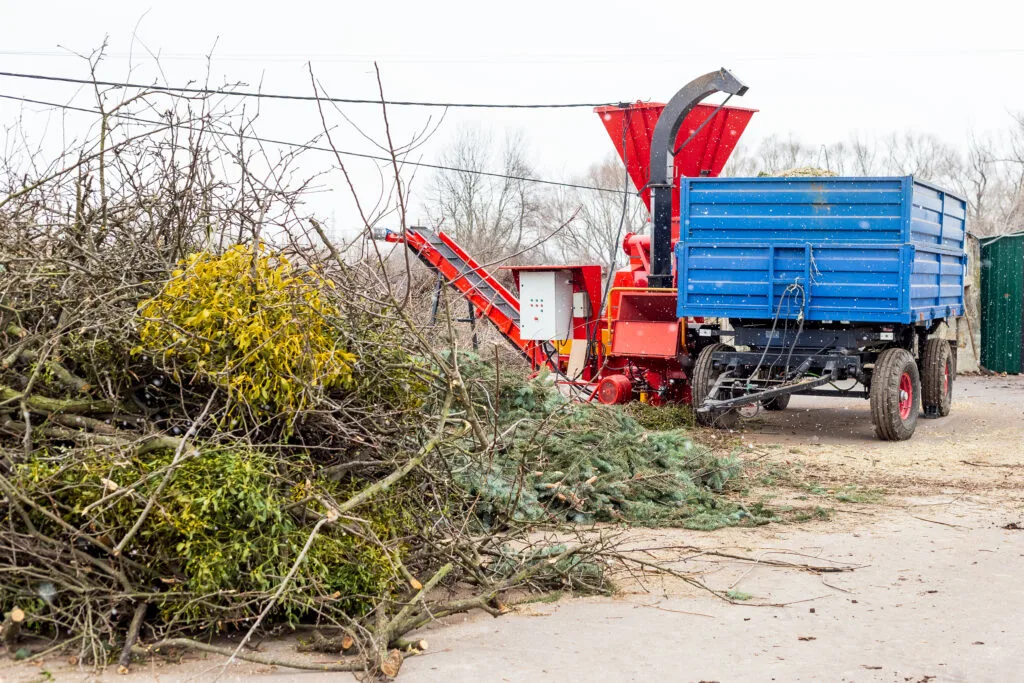 ---
Other Eco-Friendly Christmas Tree Options
Besides the real vs fake debate, there are other options to consider when choosing your sustainable Christmas tree.
Buy a Potted Christmas Tree
If you have the space to store a tree in your garden year-round, why not buy a potted Xmas tree and enjoy it for years on end?
This eco-friendly option is only really suitable if you're able and willing to care for it year-round, as they can be fussy when potted. You'll need to decide whether to plant it in your garden for the majority of the year, or whether to keep it potted.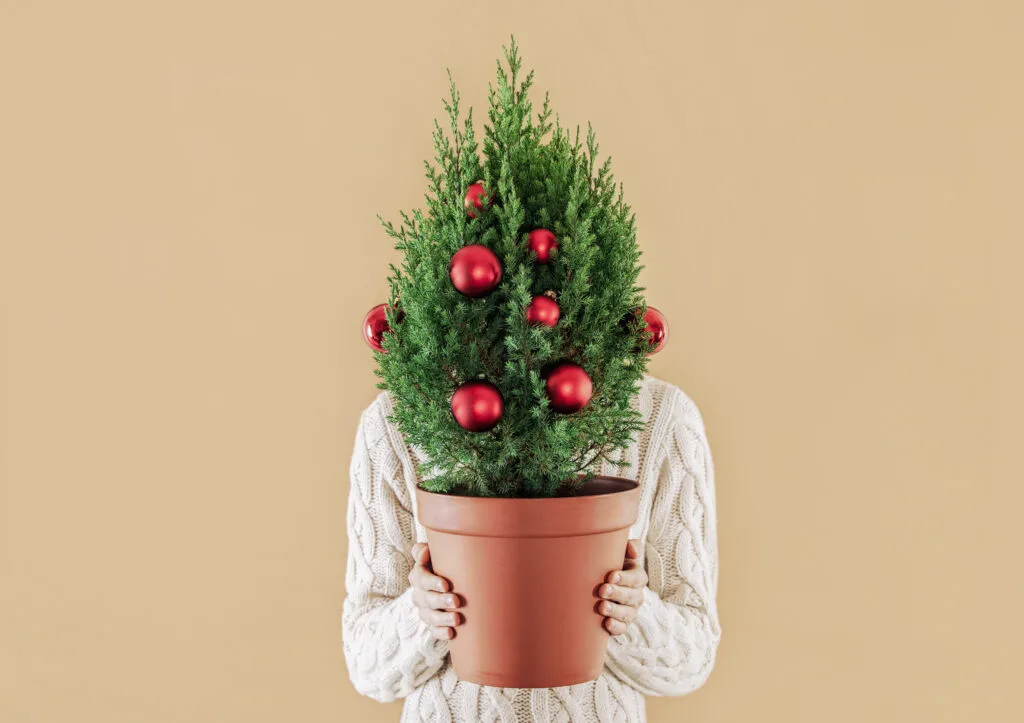 Whichever option you choose, you can be assured in the knowledge that you've opted for one of the most environmentally friendly Christmas tree options available!
Rent a Christmas Tree
If you want a living Christmas tree, but don't have the space to keep one year-round, try renting one!
Some companies, such as Rent A Living Christmas Tree, or the Potted Christmas Tree Company have a service that delivers a living, potted Christmas tree to your doorstep at the beginning of December.
In the UK? There are multiple options such as Love a Christmas Tree or Festive Tree Hire rental services instead. Or in Canada, you could try Evergrow Christmas Trees.
Unlike other real trees, you return these potted ones after use and they are then replanted, so they can live longer and provide more environmental benefits throughout their lifetime – making it one of the most sustainable Christmas tree options available.
Thrift a Christmas Tree
If a fake tree is the only option that is going to work for you, the most sustainable option is to buy one used/second-hand. Try your local Facebook marketplace, or local charities and thrift shops.
Not only will it be cheaper than buying a new one, but buying one used doesn't create any demand for new artificial trees, so all in all, it's the most sustainable way to buy a "plastic tree".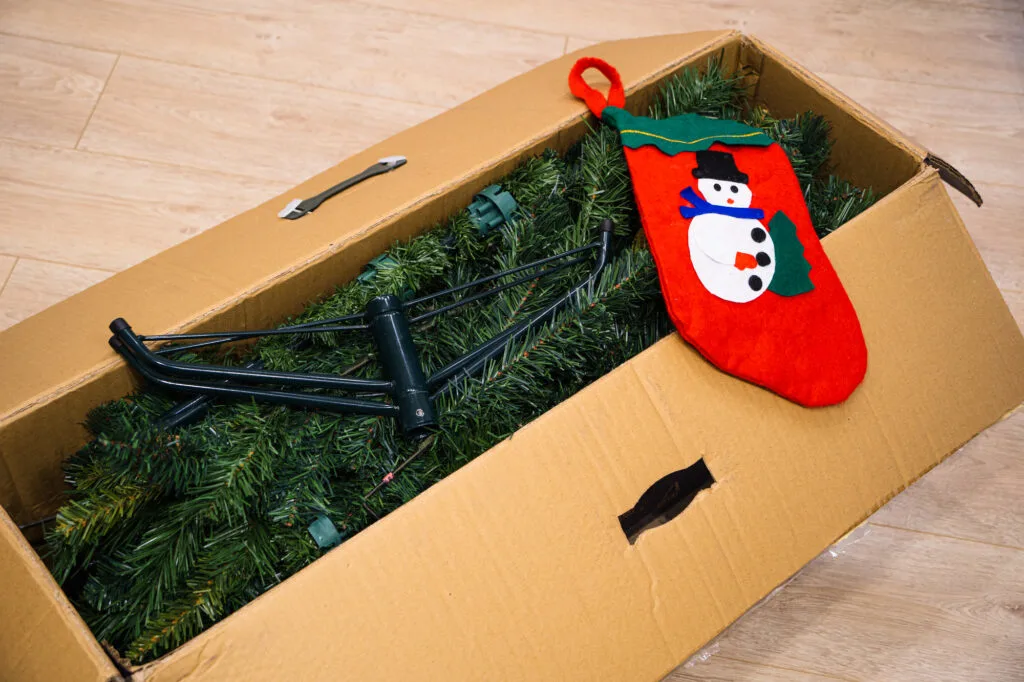 DIY Christmas Trees
Making a DIY Christmas tree using items you already have at home is pretty much the closest you can get to having a completely zero waste Christmas tree.
Try stacking books creatively or assembling sticks and twigs into a tree shape and adorning them with lights and ornaments to get a tree-like effect.
This is a fun activity to get the kids involved with too – right from collecting sticks in the forest, to creating some DIY decorations together. Who knows, it may even become a favourite family tradition!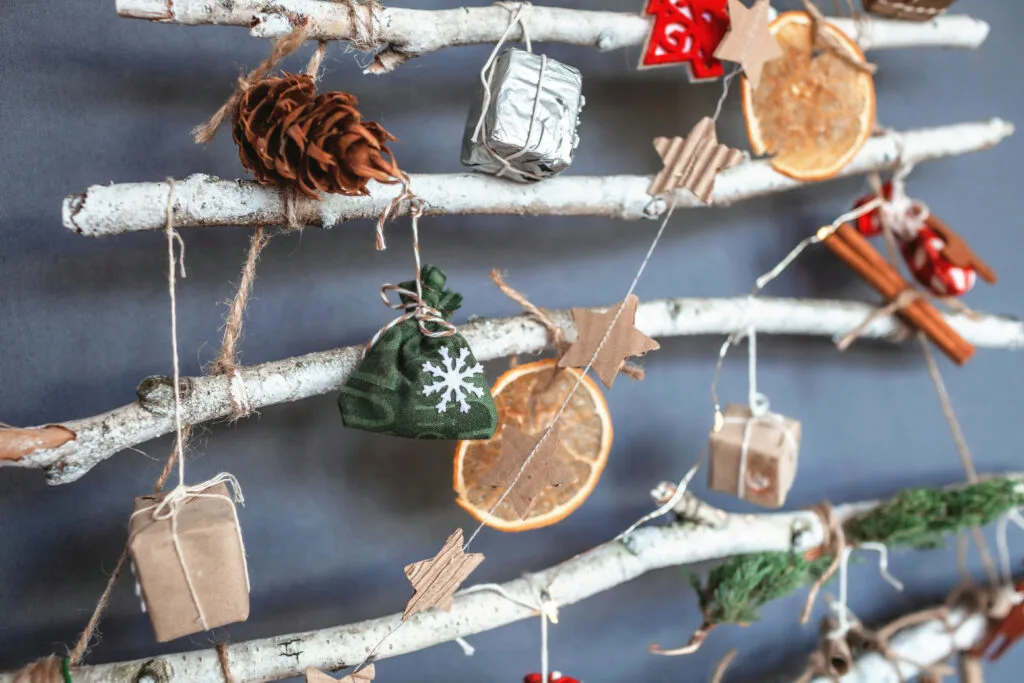 ---
Zero Waste Christmas Tree Decorations
Now that you've sourced your eco-friendly Xmas tree, it's time to get decorating. But unfortunately, traditional decorations leave a lot to be desired too.
Most traditional decorations – ornaments, garlands, lights – are made either completely or partially with plastic. Often cheaply, and offshore.
To have a truly sustainable Christmas tree, you'll need to look towards locally made or DIY plastic-free Christmas decorations.
Luckily, it's just a matter of getting creative and thinking outside of the box – but don't worry, that's where we're here to help create your perfect eco friendly xmas tree.
Eco-Friendly Ornaments
One of the most sustainable ways to source ornaments is to ask your family members if they have any they're not using that you can have, or go to a local thrift store and buy some used ones.
After that, look for handcrafted ornaments made by local artisans and support your local businesses. Choose ornaments made from natural materials like wood, or recyclable materials like glass. These are some of the most sustainable materials and can make for beautiful ornaments to hang on your eco Xmas tree.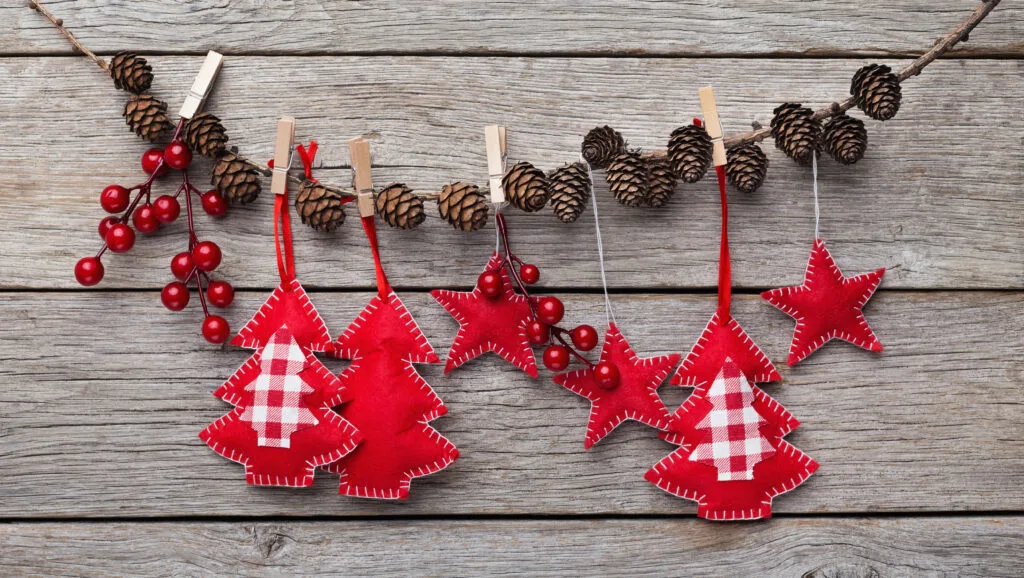 If you don't know of any local artisans, try Etsy. There are some amazing eco-friendly decorations available – and you're bound to find something you love. Browse the range here.
You can also DIY your own ornaments using materials lying around your house. Get creative – make some out of paper, rosemary, cinnamon sticks, dried flowers, fruit, or any other items you have laying inside or outside of your home.
Zero Waste Garlands
There are a lot of beautiful, DIY garlands you can make to adorn your tree. And it doesn't have to be a difficult or cumbersome task – make it fun by getting your friends or family involved!
Try stringing cranberry, popcorn, eucalyptus, flowers, dried citrus, or pinecones together to create unique, biodegradable garlands to hang along your tree. You'll be so glad you went the DIY route to create Christmas cheer!
Eco Christmas Lights
Unfortunately, all Xmas lights have some element of e-waste that come with them that is hard to recycle, and potentially dangerous, at its end of life.
The most eco-friendly lights to use are the ones you already have at home. If one of the bulbs is out, try fixing it instead of replacing the whole string.
If you don't have any lights already, or the ones you have are broken beyond repair, try to find some at a thrift store. If you can't find any there and you have to buy some new, buy LEDs – as they use up to 80% less energy than traditional lights.
---
All in all, your most eco-friendly Christmas tree option is to get a real tree cut from a local farm, or potted by a local business, and decorate it with thrifted, handcrafted, or biodegradable decorations.
It will be beautiful, festive, and sustainable, making it a win for everybody, and with a smaller carbon footprint to boot.
But remember, using what you or your family already has will always be the most sustainable Christmas tree option. That may mean putting up an artificial tree adorned with plastic-coated ornaments – and that's totally ok too!
Pin this for later!