Nicely manicured nails can be everything from a form of expression to a form of self-care. In fact, sales of nail polish have risen in recent years, showing that this activity plays an important part in our beauty routine.
If you paint your nails regularly, however, you may have never thought twice about what you are really putting on your body. Nail polish has been around for a long time, so it can't be that bad. Right? Is there even such a thing as eco-friendly or zero waste nail polish?
This article may contain compensated/affiliate links. See our full disclosure here.
---
What's wrong with traditional nail polish?
Because traditional nail polish is toxic and flammable, it's considered by the EPA to be household hazardous waste and thus cannot be disposed of normally, much less recycled.
Nail polish is also essentially plastic and chemicals. Some of these toxic chemicals have been found to affect fertility, disrupt our endocrine system, and cause cancer.
The early 2000s brought about "3-free" nail polishes, made without three of the most toxic ingredients. Now there are up to "16-free" nail polishes, and some people still have concerns.
Can you recycle nail polish bottles?
Not easily. Despite some brands claiming that their glass bottles are recyclable, only clean and dry nail polish bottles would be to be accepted by curbside recycling, and this would involve hazardous waste going down the drain or in the trash.
Instead, seek out a recycling program. Some salons have partnered with Chemwise, which offers mail-in recycling, and others hold special recycling events, such as Zoya who holds a mail-in event for Earth Month.
Otherwise, if you just want to dispose of nail polish safely, your best bet is to take it to your local hazardous waste facility.
So what makes an eco-friendly nail polish?
The best eco-friendly nail polishes are those that are water-based. Their formulas have the least amount of harmful chemicals, or in some cases virtually no added chemicals at all.
The next level down (but still pretty good) are ones that are labeled as non-toxic and with a high "x-free" number.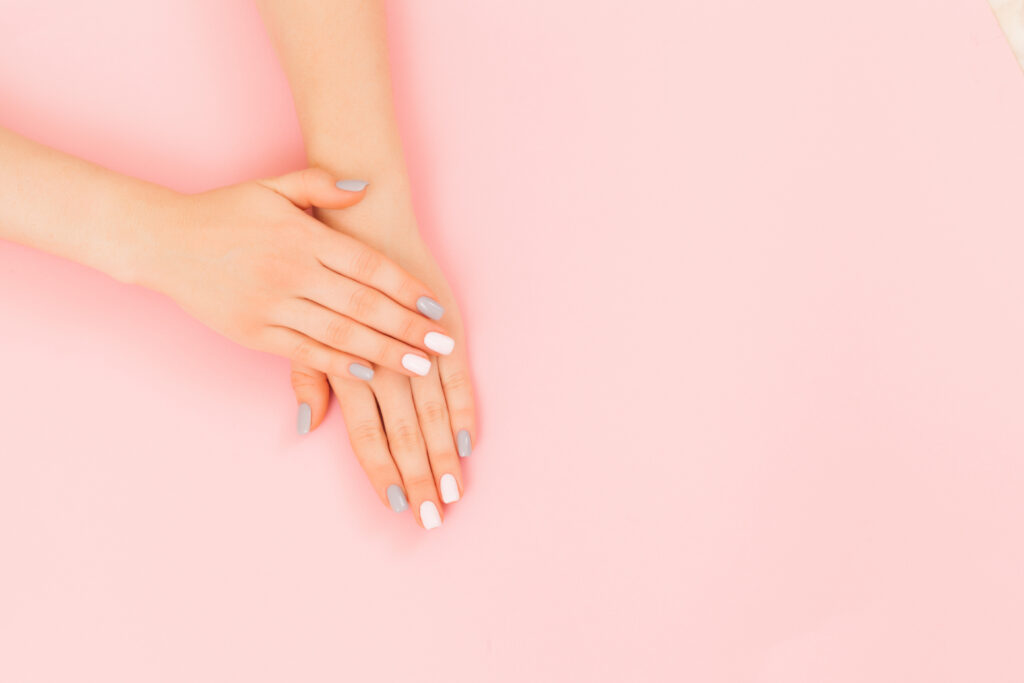 It's important to note, however, that all nail polishes, even those that are water-based, are technically plastic. If not, you wouldn't get a film that stays on your nails. So truly zero waste nail polish doesn't exist, despite some deceptive claims.
To find brands that are doing their best for the environment, look for ones with sustainable packaging and production. Bottles with caps made of sustainably-harvested wood are starting to pop up as an alternative to plastic caps, and more companies are starting to offer recycling options.
The most sustainable overall companies will likely have B Corporation certification, which is given for social and environmental performance.
---
Nearly Zero Waste Nail Polish Options
While there may be no such thing as zero waste nail polish, there are still ways to lessen your load on the environment, without having to give up on manicures altogether.
To help you make the right decision for you, we've broken down our eco-friendly nail polish recommendations into three categories; Those with the least harmful packaging & production, those with recycling programs, and those with the least harmful formulas.
US Eco-Friendly Nail Polish Brands with Recycling Programs
Shop these almost zero waste nail polish brands and send them back once you're done to be recycled.
---
Least Harmful Packaging and Production
These eco-friendly nail polishes are striving to be the best in the business when it comes to both their production methods and packaging.
---
Non-Toxic Nail Polish
If choosing a non-toxic nail polish is more important to you than what it's packaged in, the below formulations tick all the right boxes.
---
Other Zero Waste Nail Care Products
Zero waste nail care is even easier to achieve than zero waste polish. These are just a few of the many options available when it comes to achieving a zero waste manicure at home.
---
---
While the quest for truly sustainable nail polish continues, more and more brands are working toward becoming as non-toxic and sustainable as possible. With water-based formulas, carbon-neutral production, more sustainable packaging, and recycling programs, you can admire your nearly zero waste nails as you wait for the next level of eco innovation.
Pin this for later!