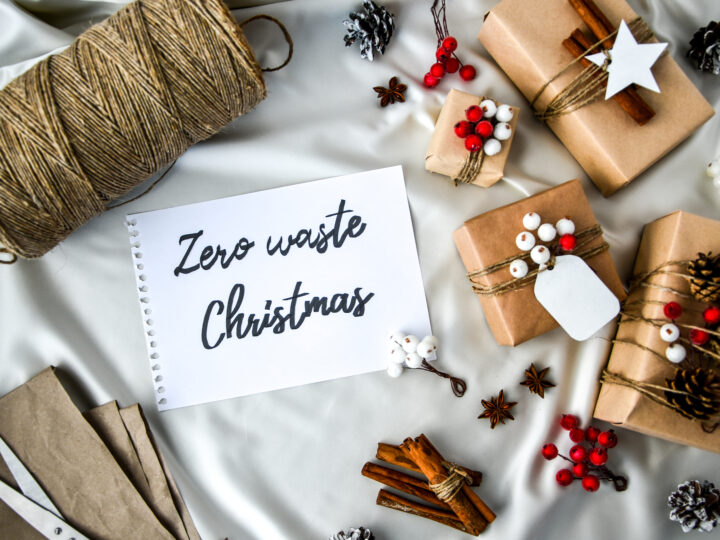 Stockings are the ultimate Christmas grab bag. Whether you go the traditional route – filling them with things like socks, chocolates, and oranges – or whether you always seek out new surprises, Christmas morning just isn't as fun without them.
If you're dreaming of having a green Christmas this year as well as a white one, eco-friendly stocking stuffers can help you achieve your waste-free goals too.
---
What to look for when buying eco-friendly stocking fillers
Cute knick-knacks are tempting, but keep in mind where these end up. It's not being a grinch to remind others that every piece of plastic ever made is still in existence, polluting our soil, our seas, and ourselves.
Look instead for environmentally friendly stocking fillers – things that are made of natural materials, things that have been recycled, and things that will support a lifestyle of wasting less.
While you don't have to give up all of your staples, check out this list for eco-friendly stocking stuffer ideas for all budgets.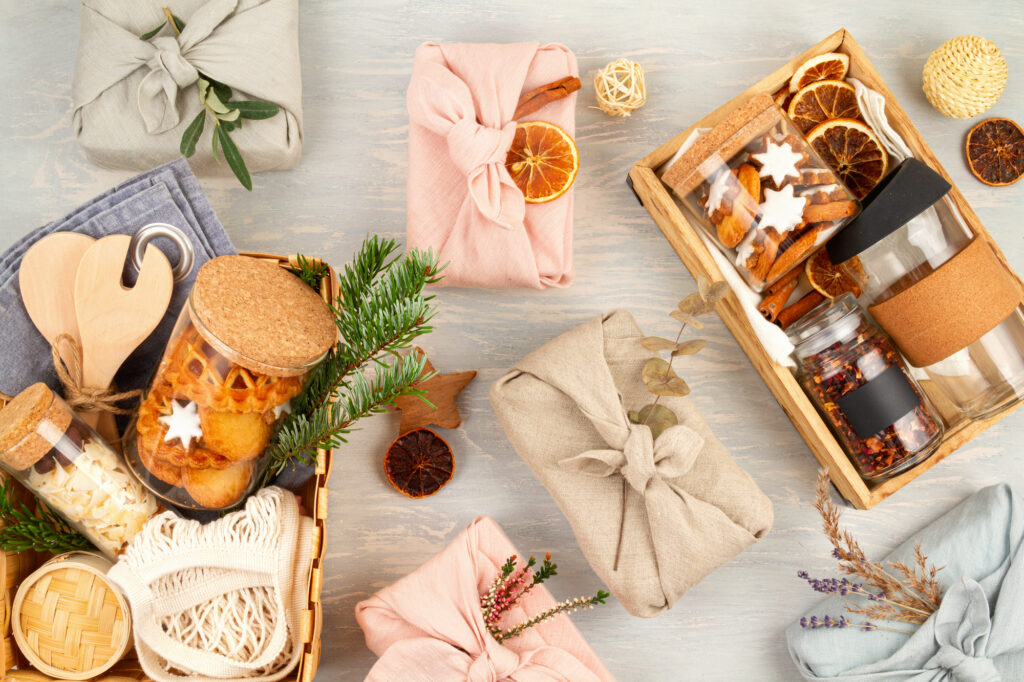 This article may contain affiliate links. See our full disclosure here.
---
ZERO WASTE STOCKING STUFFERS UNDER $10
If you're on a tight budget, or in search of some inexpensive small gifts that will delight the whole family, these eco-friendly stocking fillers will fit the bill!
Was your family naughty or nice? Either way, this activated charcoal soap is the kind of coal they'll be happy to receive for Christmas.
These rainbow stainless steel straws are infinitely Instagrammable and will persuade anyone to ditch plastic straws for good.
Is Chapstick one of your stocking go-to's? This plastic-free avocado cream lip balm is the perfect alternative.
If you're looking for fun eco-friendly stocking stuffers for kids, you can't beat this beeswax candle making kit from Eco-Kids. It'll both entertain the little ones and make your home smell divine at the same time!
Encourage your family members to move away from plastic with this fun alternative to a ziploc sandwich bag. Using only natural fibres, it's the healhtier way to pack your lunch!
Plaine hand sanitizer not only smells amazing, but it's zero waste too. When you're finished, simply order a refill and send the aluminum container back to be reused.
Little ones will love getting messy with this non-toxic play dough. Pop one or two in their Christmas stockings and they'll be kept busy for hours.
Throw in some zero waste dental floss for a complete dental hygiene kit. This one comes in a stylish glass container and has a zingy mint and ginger flavor.
This heavenly scented dryer bag is the gift that keeps on giving. Filled with French lavender buds, it'll give the recipient sweet-smelling laundry year-round.
Have a stationery lover in your life? They'll love this eco-friendly stocking filler! The perfect combo of a zinc alloy sharpener and a handy aluminium tin to collect the shavings, it's a wonderfully fun & practical gift!
Who couldn't use a few more mesh bags? With three different sizes, these sustainable stocking stuffers make food shopping, home organization, and travel more eco-friendly.
Whether packing a snack or keeping things fresh, this small silicone bag is sure to come in handy. It's so durable, you'll never need a Ziploc bag again!
The perfect sustainable stocking stuffers for anyone who loves being pampered, these single-serve bath salts will soothe sore joints and help to reduce post-Xmas stress. As a bonus, the bottles are super cute and can be upcycled around the home.
Kitchen scrubbers for Christmas? One look at these will change your mind. Beyond the colorful design, we love how they are machine washable.
Bonus: Keep the Classics
You don't have to give up classic sweet treats! Citrus fruits are true zero waste stocking fillers (just remember to compost), and candy that's packaged in recyclable foil or paper is ok for a treat too.
---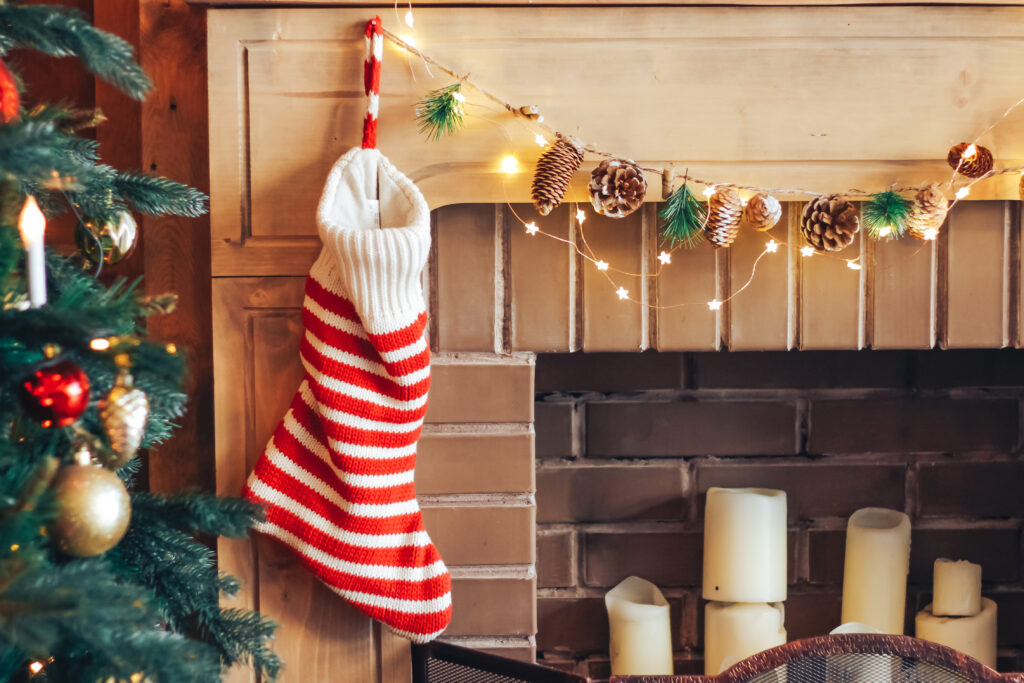 ECO STOCKING FILLERS LESS THAN $20
In the $10-$20 range, your choice of zero waste stocking stuffers is even more diverse! Below are some of our favorite fun and useful eco-friendly gifts.
These colorful eco stocking fillers easily go from compact balls to bags and back again, ensuring that you'll always be able to BYO-Bag.
Go beyond finicky metal clasps with this moon and stars tea infuser. Your tea leaves won't escape, and it works for both teapots and mugs.
P.F. Candle Co make non-toxic candles in unique scents and this smoky cinnamon candle is just perfect for the festive season. They also come in a handy glass jar with a brass lid, making them both stylish and zero waste stocking fillers!
At first glance, you might mistake these colorful, lightweight toothbrushes for plastic, but they're actually made of pressed wheat and completely biodegradable.
A unique eco stocking stuffer for plant lovers, this little press allows you to turn old newspaper into pots for seedlings.
What's a Christmas stocking without socks? Make them extra eco this year with these ones made of recycled cotton.
These zero waste hair ties are the ideal sustainable stocking filler for kids and adults alike. They double up as a fun and colorful bracelet when worn around the wrist making them the perfect multitasker.
Encourage the men in your life to pamper themselves too. Reviewers love the smooth shave they get with this plastic-free shaving soap.
If someone doesn't have a travel set of utensils, help them be sustainable on the go. This set comes with a bamboo spoon, fork, knife, and chopsticks, and is an essential start to any zero waste to-go kit!
Ethique's shampoo and conditioner samplers make great zero waste stocking stuffers for those who want to see what works best before making the switch to shampoo bars.
Everyone could use another face mask (or two or three) this Christmas. These stylish masks made from eco-friendly fabrics are bound to become favorites.
These reusable makeup pads are perfect for both application and removal, and they even come with a mesh laundry bag for machine washing.
Finger paint is always popular with kids, and this eco-friendly and non-toxic version will make sure they stay safe while playing. Pop a box in your children's stockings and they'll have homemade entertainment at their fingertips!
If you always include underwear in stockings, go for a more eco-conscious option. Knickey's ethically made underwear is made of 95% organic cotton and can be sent back for recycling when worn out.
---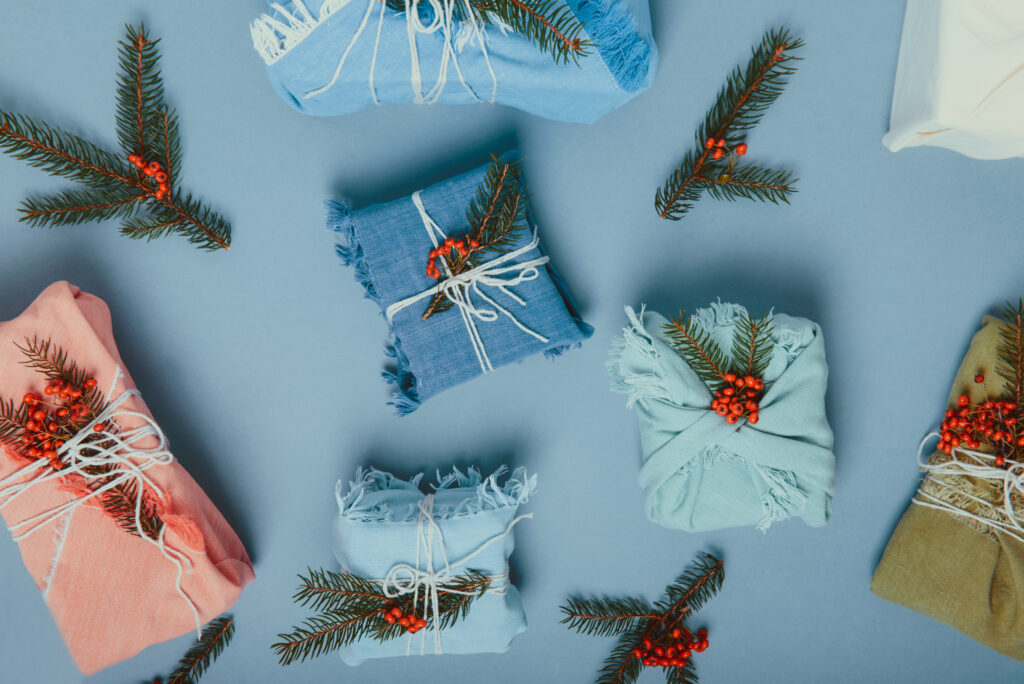 ECO-FRIENDLY STOCKING FILLERS LESS THAN $30
Looking to splash out a little more? These eco stocking fillers fit the bill for kids, pets, and even that hard-to-buy-for friend!
You can't beat these adorable sock puppets when it comes to eco-friendly stocking stuffers for kids. Choose from a dog, frog, giraffe, elephant, unicorn, or dragon – all made of recycled wool.
This sustainable, vegan wallet is everything you'd want out of a money holder. Made of beautiful natural cork, it has space for both cash and cards and the RFID protection makes it the perfect choice for your travel-loving friends too.
One for the Francophiles in your life! This chic bread bag is made out of stonewashed linen which keeps your bread fresher for longer. Plus, it looks super stylish while doing so!
Go beyond zero waste stocking stuffers with these bracelets made from recycled glass and plastic. For each one sold, 4Oceans removes one pound of plastic waste from the ocean.
Keep heads warm with this beanie made from hemp and upcycled yarn. It's produced in the US and 1% of profits are donated to environmental organizations.
It's almost impossible to find natural, zero waste mascara, but this vegan, cruelty-free mascara comes close. A great environmentally-friendly stocking stuffer for the beauty queen of he household.
Introduce kids to renewable energy with this cute flower-shaped solar lamp. Just 5 hours of charging will produce up to 50 hours of light!
Made with FSC-certified wood and recyclable aluminum, these ear buds are more sustainable than most, and House of Marley plants a tree for every item purchased.
Great for camping or commuting, this insulated stainless steel coffee mug has a press-in lid to make sure your coffee, hot chocolate, or tea makes it to your mouth.
Don't forget about Fido! If your furry friends have their own stockings (like ours do!) this recycled polyester dog bowl means they'll always be prepared when out on adventures with you.
These organic cotton arm warmers are perfect for working from home or paired with gloves that need a little extra toastiness.
You might have to stretch your stocking to fit this three-tiered tiffin, but it'll be worth it. Kids and adults alike will appreciate this zero waste way to feast.
---
---
While Christmas may too often be about stuff, if you gift the right kind of stuff, you can help others waste less. With a few swaps, thoughtful additions, and the classic eco-friendly stocking stuffers, this year you can hang your stockings by the chimney with care and fill them with care too.
Looking for more ideas for kids? Check out these fun children's books about sustainability!
Pin this for later!