Hey friends – I have some exciting news! Tomorrow morning, I'll be starting an inspiring new job as a copywriter and content specialist at a local marketing firm that I've had my eyes on for a long time. This is a huge opportunity and I can't wait to try my hand!
It does, however, mean I'll be doing a little bit of reorganizing of my personal projects.
As I focus on transitioning well – getting to know my clients and work community – I will be bringing my blogging at the Zero Waste Memoirs down to two posts per week (rather than three). Still, I promise to remain engaged and available to you. So stay tuned for lots more Zero Waste inspiration, spotlights on ethical brands, and sustainability tips in the months to come!
Now, for the fun stuff.
This article may contain compensated/affiliate links. See our full disclosure here.
Our First Attempt at Zero Waste Camping
I'm genuinely surprised that pulling off a Zero Waste camping trip was such a challenge. You would think that living in the "great outdoors" for a spell would automatically go hand-in-hand with living lightly on the land.
Not so, my friends. Plastic will follow you anywhere if you let it.
Getting Prepared
I'll tell you right now that successfully planning a Zero Waste camping trip is all about thinking ahead. I started my prep by assembling our gear – tent, camping stove, etc. – and then filling in the blanks with secondhand purchases. All I actually needed to buy was a tarp and some cheapie utensils at Goodwill.
What We Loved:
What We Missed:
Once I knew we had a comfy place to sleep and all the gear we needed to survive, it was off to planning the menu!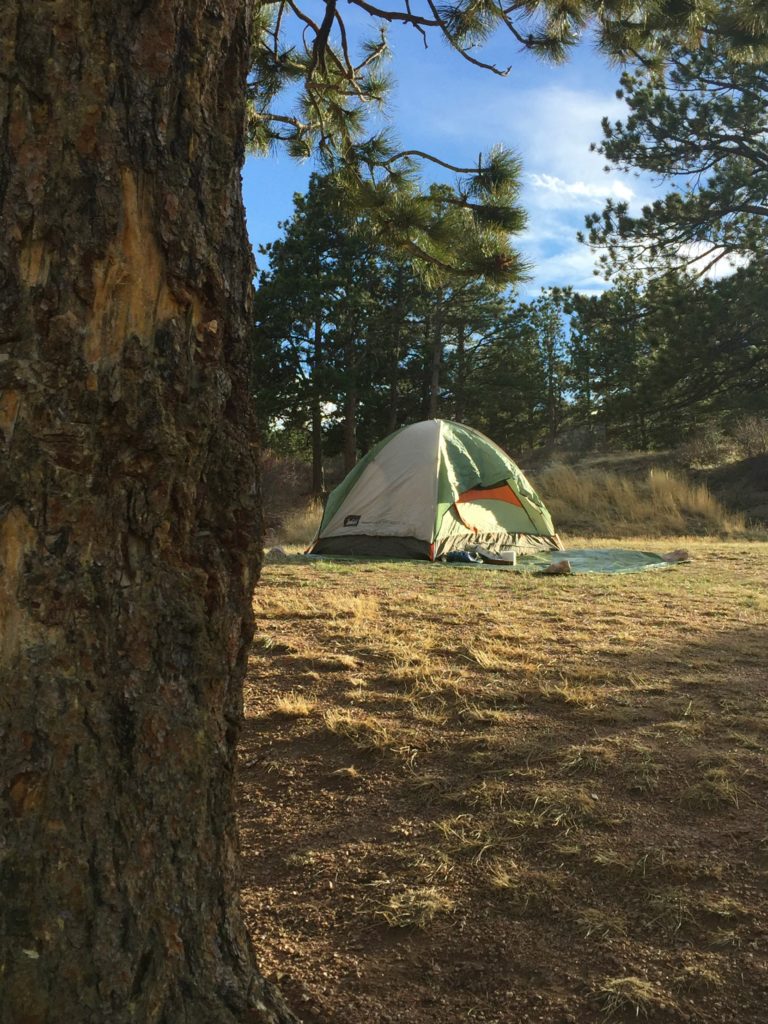 What We Ate
Think about the camping food you used to eat as a kid: hot dogs, s'mores, chips. How many of these are package-free? Probably none. Luckily, I anticipated this and was able to plan a pretty wonderful menu of Zero Waste camping foods for our trip!
Breakfast:
Pancakes and fresh fruit! It's easy to make pancake mix ahead of time and bananas are a natural Zero Waste treat. I just packed the amount we wanted in a large mason jar and that was that!
Lunch:
Scavenging! I cut up a whole bunch of fruit and veggies before we left, stored in jars, and unpacked at the campsite the next day. I opted for carrots, celery, broccoli and hummus, apples and peanut butter, and whatever else I could find.
Dinner:
Black bean burgers with fire-roasted potatoes and sautéed zucchini! Black beans made ahead, with bulk spices and a chopped onion make one delicious "hamburger." We pilled them up with red onion, lettuce and other goodies and that was that! Potatoes were roasted in our skillet over the fire, along with some chopped broccoli.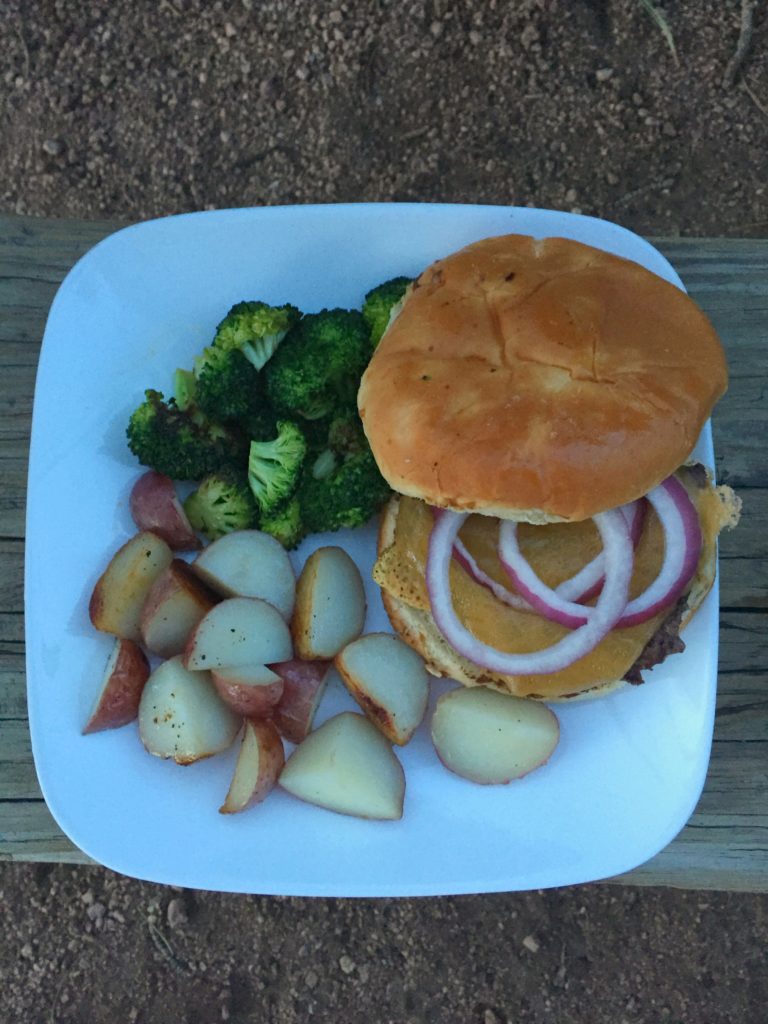 Where We Failed
Overall, I was really happy with how our Zero Waste camping trip went. However, there were a few spots where we slipped up along the way.
I didn't give myself enough time to make hamburger buns before heading out, so I had to grab a package on our way out of town.
We didn't have any way to store volumes of water so we had to purchase a couple of gallon jugs for the trip.
I think we brought more food (outside the menu) than we needed in the end. No need to overdo it!
There was no recycling available at our campsite, so we had to take our aluminum cans home.
I completely spaced on bringing our kitchen compost! So we left some strawberry tops for the birds.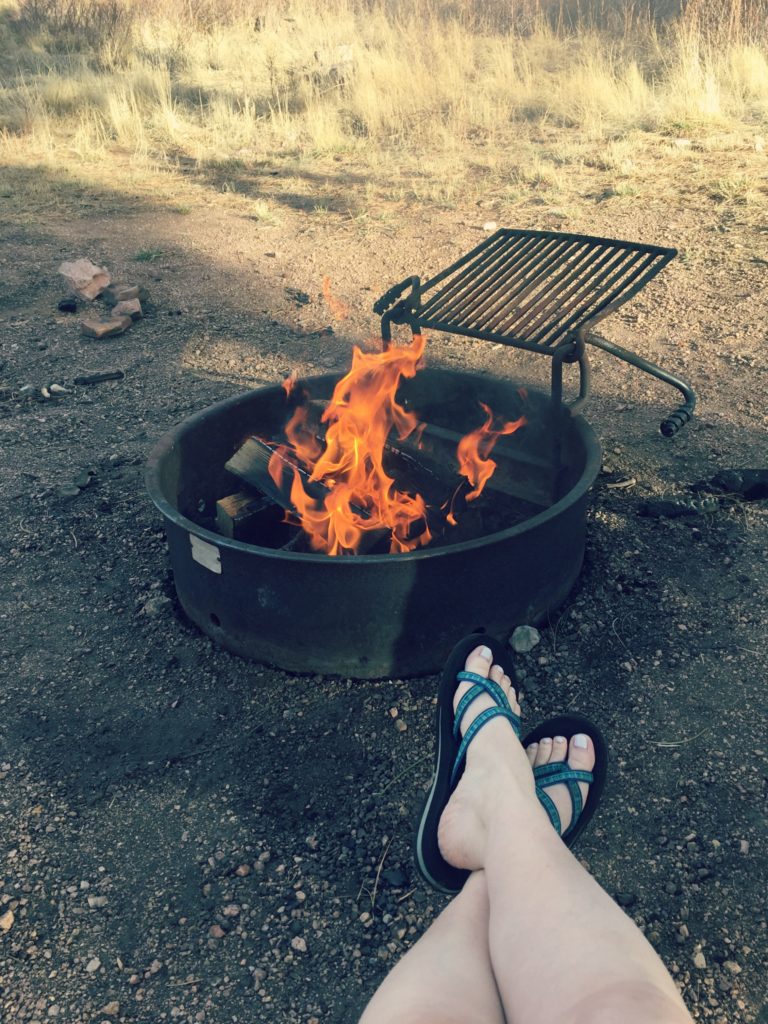 All in all, it was a wonderful trip. We totally soaked up the opportunity to relax and enjoy an absolutely gorgeous state park. Josh and I got some great quality time together, reading by the campfire, talking about our life together, stargazing. Definitely a real treat!
Have you gone camping? What items are non-negotiable for you?