Picnics are the perfect way to enjoy life's simple pleasures. When the sun's shining and the temperatures are in that sweet spot, there's nothing better than to grab good food and some company and relax in a picturesque place. And if you need a quick mood boost, a picnic just might do the trick.
Meals outside are all about appreciating our environment, but sometimes our choices indicate otherwise. Are you used to reaching for plastic utensils, paper plates, napkins, and ziploc bags? Take a moment to think about how these might impact the environment long after your picnic takes place.
With a little bit of planning, it's easy to have a zero waste picnic. If you've already begun your zero waste journey, this should be a snap, and if you're new to zero waste, there's a good chance that you already have most things you need.
This article may contain compensated/affiliate links. See our full disclosure here.
---
Planning a Zero Waste Picnic
Here are some things to think about as you plan your waste-free picnic.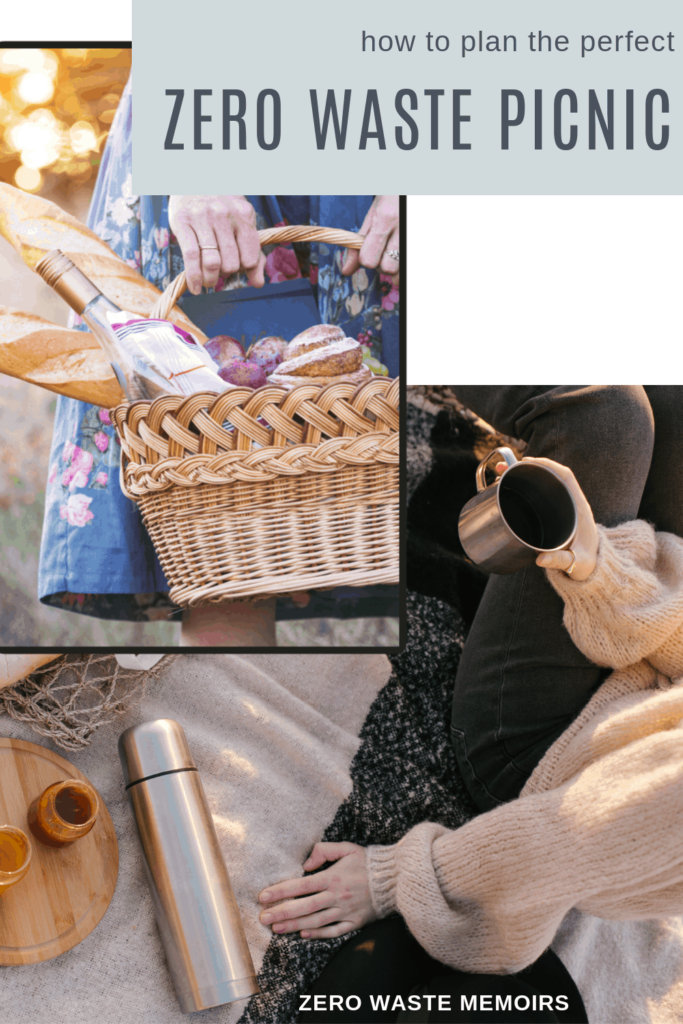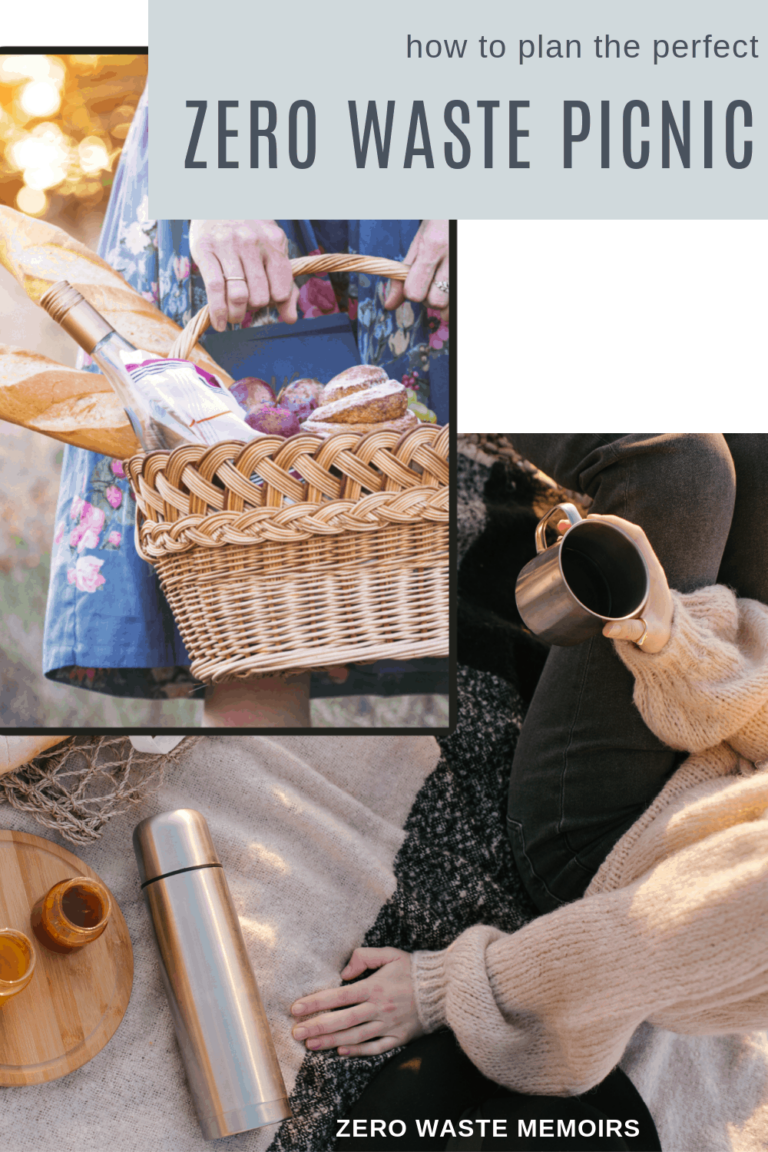 Earth-Friendly Feasting
Let's start with the most important part: food!
Of course, this depends on personal tastes, but you'll want food that will pack easily and stay fresh. Sandwiches are a great go-to that you can slide into a bag like Stasher's silicone one or simply wrap in cloth.
For extra easy prep, pack ingredients to make your own. Spreads like hummus and pesto are easy to make at home and can be transported in glass or metal reusable containers. Easy zero waste snacks like cucumber and cherry tomatoes can be put into small containers, a divided 'bento style' box (like this one), or thrown in on their own.
If you like sides like pretzels or snack mixes, search for these at bulk stores, where you can find them without packaging. For something sweet and fresh, add in seasonal fruit.
To have the most eco-friendly picnic, keep it vegan. We often think of waste when it comes to being environmentally friendly, but our diets have a huge impact as well.
Livestock (raised for meat and dairy) account for over 25% of the emissions from agriculture in the US, which in turn make up about 10% of US greenhouse gas emissions. Use your picnic as an excuse to try out the latest vegan substitute or to challenge yourself to eat an entirely plant-based meal.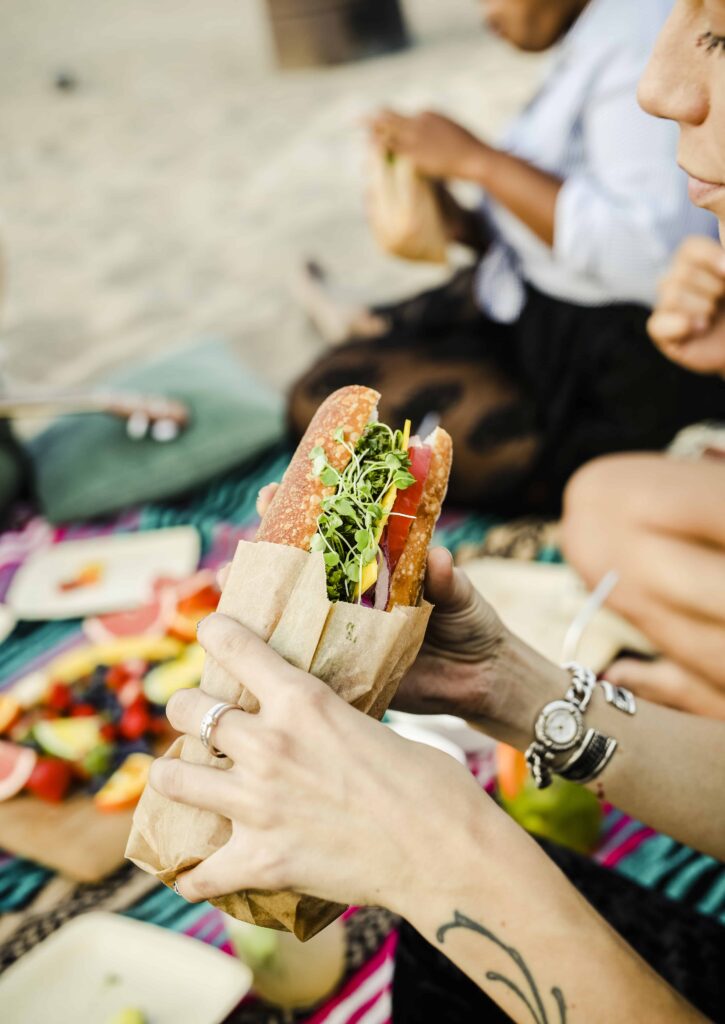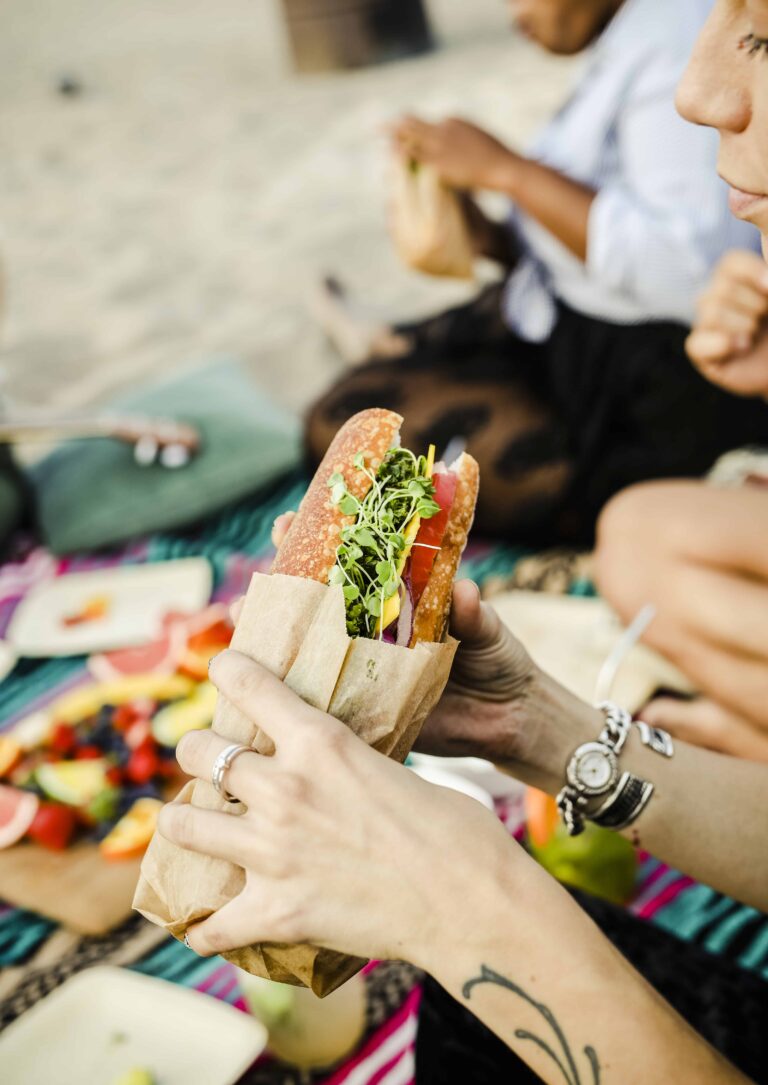 Quenching Your Thirst
If you don't already live by your reusable water bottle and a thermos or two, here's your chance to get them.
Klean Kanteen and Hydro Flask make ranges of stainless steel insulated and non-insulated water bottles that should last for life, but any reusable bottle made of stainless steel or glass is a good choice too.
Klean Kanteen also makes a line of stainless steel pint cups, which are useful for beverages you want to share among friends. And Preserve's set of recycled plastic cups are also a good option since they can be washed, reused, and even returned to be made into new products once they reach their end of life.
To Plate or Not to Plate
What should you use for plates? The simple answer is: anything that you don't have to throw away.
While typical dinner plates can be heavy and clunky to transport, see if you have any plates made of lightweight, less fragile material.
You may want to look into getting reusable eco-friendly plates, like Light My Fire's biobased stacking plates. Or for a totally plastic-free picnic, look for stainless steel plate options, like these.
Depending on what kind of food you bring, you may also want to ditch plates altogether and eat out of the containers themselves, or off cloth napkins.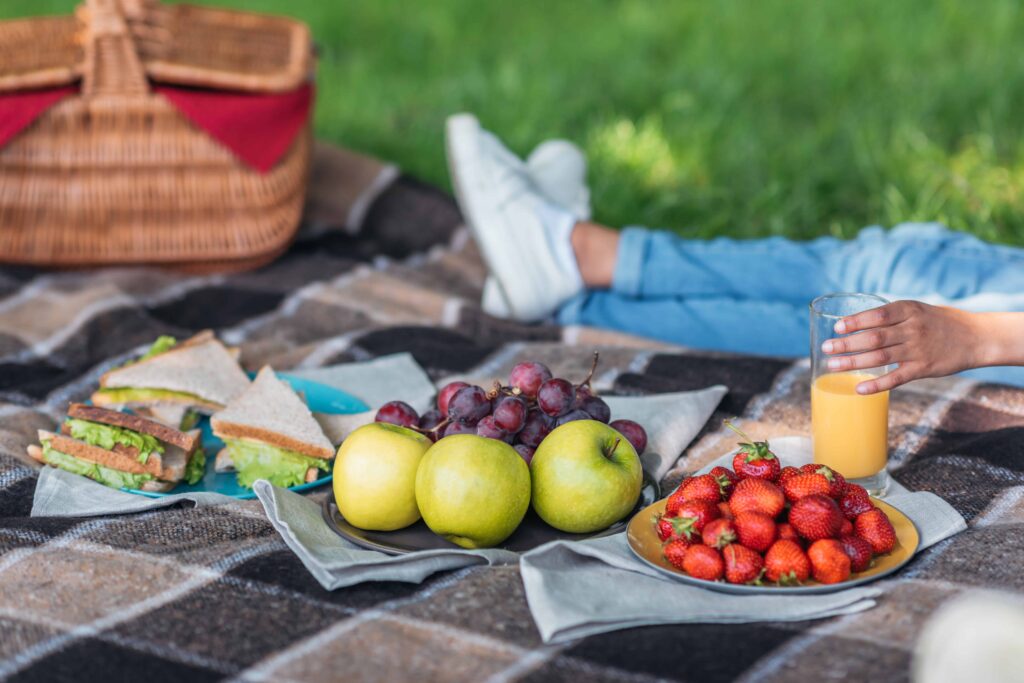 Zero Waste Picnic Utensils
Whether you use plates or not, be sure to bring utensils. One easy option is to simply roll your everyday silverware into a cloth or towel, and take that along.
But for something a bit lighter, look into getting some eco-friendly reusable bamboo utensils. These are lightweight but sturdy and are great to keep in your zero waste to-go kit.
Stainless steel is also an excellent material for utensils, and Amazon carries some affordable sets like the Wealer's 13 piece family pack.
As a last resort, if you're planning a large picnic, or it's not convenient to take things home to wash, you can also buy compostable bamboo utensils like these ones – they're far more eco-friendly than their plastic counterparts.
Something for Your Bum
Although not necessary, it can be nice to have something to sit on besides grass or sand.
An old blanket, sheet, or tablecloth works well. If you don't have any to spare, check your local thrift store or online second-hand shop, or ask family and friends before buying new. Chances are there's someone who would be more than happy to give away an old blanket or sheet.
But if you are in the market for a purpose-made picnic blanket, you can't go wrong with these gorgeous waterproof blankets from Nomadix – and the kicker is that they're made from recycled plastic bottles!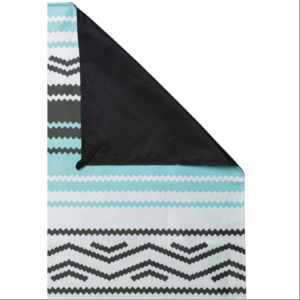 How to Carry All Your Zero Waste Picnic Supplies
One of the hardest parts of an eco picnic is figuring out how to transport everything. If you anticipate being a frequent picnic goer, you may want to invest in an insulated carrier to keep everything fresh.
If you want to use something you already have, keep in mind that you'll want something that can support a good amount of weight. Reusable shopping bags that you can load up with lots of items work as well as most large tote bags. Or invest in an all purpose market basket which can be used for your zero waste shopping too. This is what I use!
If you don't like the idea of carrying a large bag, or can't for health reasons, consider getting a shopping trolley. You can find good utilitarian ones like these, or opt for something more fun like this wicker shopping trolley.
Cloth napkins such as WellEarth's NotPaper Towels are a great substitute for paper napkins and a good way to add cushioning between items so that they don't knock against each other during transport.
Waste Not
Even if you ditch packaging, you may still end up with food waste after your zero waste picnic is done. For a truly waste free picnic, make sure you bring some kind of airtight container or sealable silicone bag so that you can transport any left over organic waste home and compost it properly.
---
With these things in mind, it's easy to build your own eco friendly picnic set out of things that you have and quality items that you'll use in many situations for years to come. Not only will you be doing your part for the environment, but they will be a pleasure to use.
So go forth and plan your zero waste picnic, take some pictures for the gram, and spread the word that zero waste isn't as intimidating as it seems – all while filling up on delicious food and enjoying company in the sun!