Every yogi knows the value of a high-quality yoga mat. Here are my five picks for eco-friendly, non-toxic yoga mats that will take your practice to the next level!
---
This January, Josh and I set a value-based intention of doing yoga together every single day. And I'm happy to say that so far we've pulled it off!
Every evening, after Josh gets off shift, we scoot the dining room table out of the way, throw on our activewear, and lay out our yoga mats for our practice together.
But lately, my yoga mat has been getting on my nerves. I bought it a bit spontaneously at Target (shame, shame), for something like $20. And I'm now learning why it was so inexpensive…The thing is terrible quality!
It's already eroding, it gives me awful support and it smells like chemical plastics. Who knows what it's made of!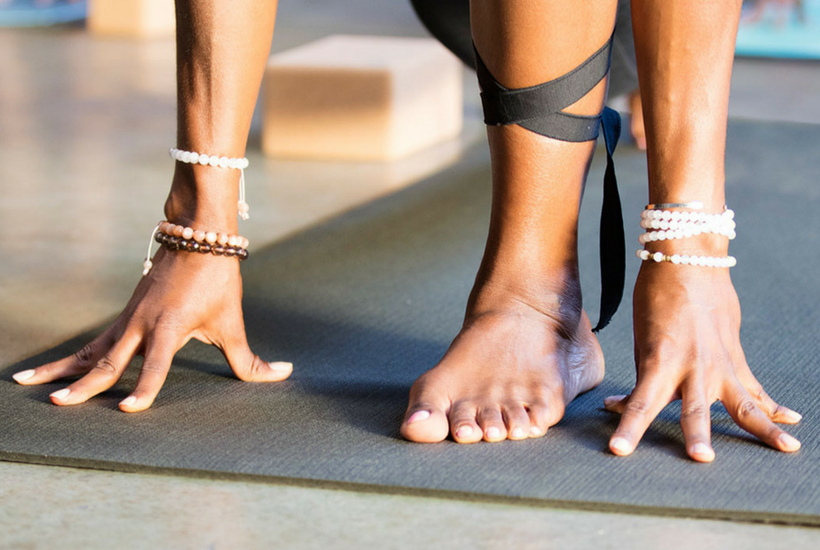 I'm also realizing (as I start thinking about getting rid of it) that this yoga mat is completely unrecyclable. There is no way that it will go anywhere but landfill, and that just makes me sick!
Fortunately, more and more incredible yoga companies are coming out with mats that are not only sustainably-made but also non-toxic and compostable. Dreamy, right?!
Here are the five that have particularly struck my fancy!
5 Eco-Friendly Yoga Mats
Every mat listed here was produced using non-toxic materials, like sustainably-sourced rubber, jute, or cork. Each of these materials is biodegradable and gentle on the earth, without sacrificing grip quality or comfort (two things that really demonstrate a mat's quality).
Emily Mandagie, former President of Yogis at UW, knows the value of a great mat:
"When I was leading my university's yoga club I would rip through cheap mats all the time. But I finally saved up at got a quality Manduka mat, and it's the last one I'll ever buy!"
As soon as I discovered the Manduka eKO Lite it went right onto my wish list. This thing is legit! Thick and extra-cushioned for joint support, this high-quality mat is an absolute winner.
It's also made from biodegradable, non-Amazon-harvested, natural tree rubber which means no toxic PVC, no plasticizers, and no foaming agents! Trust me, it's worth the investment.
How beautiful are these mats?! Each one is decorated with a positive affirmation like "I am enough" or "I am free" to inspire you during your practice.
The Affirmats Yoga Mat is made from slip-resistent jute and eco-PVC, and is completely free of nasty phthalates, latex and heavy metals. It even gets more slip-resistant with use!
If you're tired of your yoga mat getting slippery when wet, you've just found your holy grail. This Nomad Cork Yoga Mat is constructed from anti-microbial, premium-grade cork that is both self-cleaning and biodegradable!
Bonus: Any cork material leftover during the mat's no-waste manufacturing process is reused to make new products. Be still my beating zero waste heart!
This Jade Yoga mat is a favorite among yogis. It contains zero PVC, EVA or other synthetic rubber, and is made instead from sustainable, renewable, non-Amazon-harvested rubber. This one is also designed in a number of sizes and widths, so it's an excellent tailor made option.
Bonus: For every mat sold, Jade plants a tree in your honor!
The Dragonfly TPE Lite Mat is a beautiful take on minimalism in yoga gear. Look closely and you'll discover that the entire surface is imprinted with a pattern of tiny dragonflies!
This mat is expertly made using closed-cell technology to prevent any sweat and other nasties from penetrating its surface. So, rest assured: your mat will stay germ-free.
---
Aren't these eco-friendly yoga mats just so beautiful in every way?! Which one is your favorite? Let me know in the comments below.