With summer drawing to a close and the school year about to begin again, there are some basic supplies you'll need to make sure you or your child are set up for success in the classroom or office.
There are endless uses for a durable, ethical backpack this fall, whether that's camping, hiking, or simply trekking your work-from-home gear to the nearest coffee shop with an outdoor patio.
If you're back at the office or returning soon, why not treat yourself to a cute, environmentally friendly bag that will hold all your essentials without adding any plastic to the planet.
This article may contain compensated/affiliate links. See our full disclosure here.
What are sustainable backpacks?
How are sustainable, ethically made backpacks any different from a normal bag or rucksack?
Regular backpacks are typically made from polyester, a petroleum-based plastic fabric that is heavily pollutive to produce and that sheds microplastics into waterways when washed or thrown away.
Bags are also often made as quickly and cheaply as possible, often overseas, in countries where labor laws could be lax or nonexistent.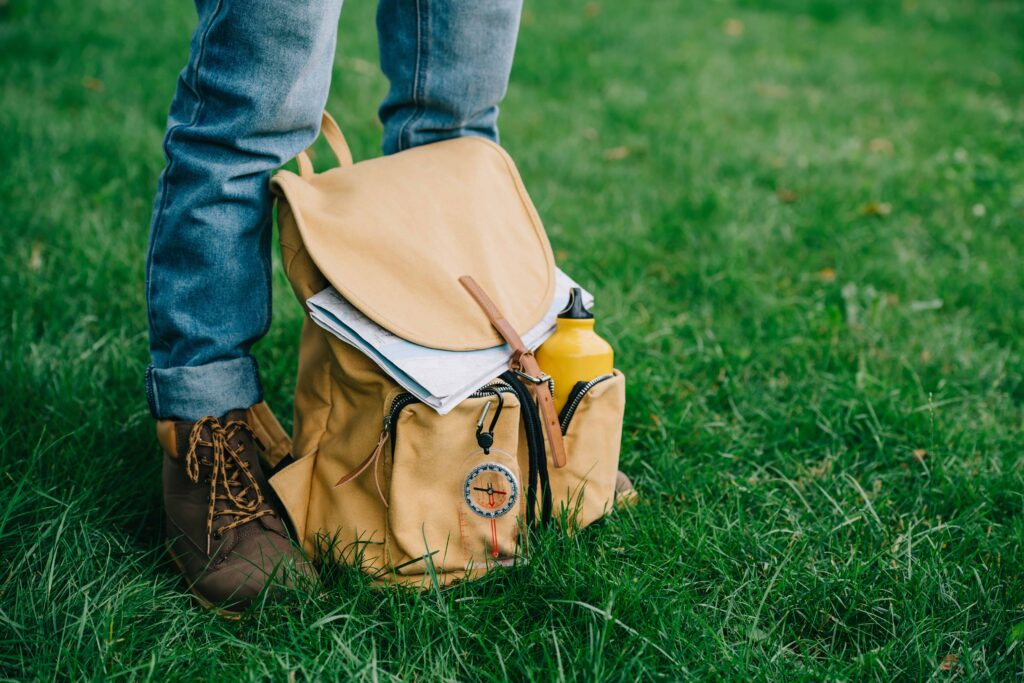 Eco-friendly backpack brands on the other hand, typically use recycled or natural materials in their bags and compensate their workers fairly.
There is a wide range of sustainable materials used in ethical bag-making: recycled plastics, cotton canvas, and recycled leather are popular options.
These materials put significantly less of a burden on the environment, and they tend to be more durable – because one of the best ways to live sustainably is to use what you have for as long as you can.
---
Top Eco-Friendly Backpack Brands
Here are a few of our favorite sustainable, ethical, and eco backpacks for school, work, and travel that will keep you organized this year and beyond.
Bellroy is the tech kid of the backpack industry. Their designs are sleek, efficient, durable, and meticulously thought out. On top of that, they pride themselves on using sustainable materials like recycled plastic bottles for their bag fabrics.
A certified B corporation, Bellroy gives back to social and environmental causes and facilitates an ethical workplace.
Our pick: Classic Backpack, Recycled in Red Earth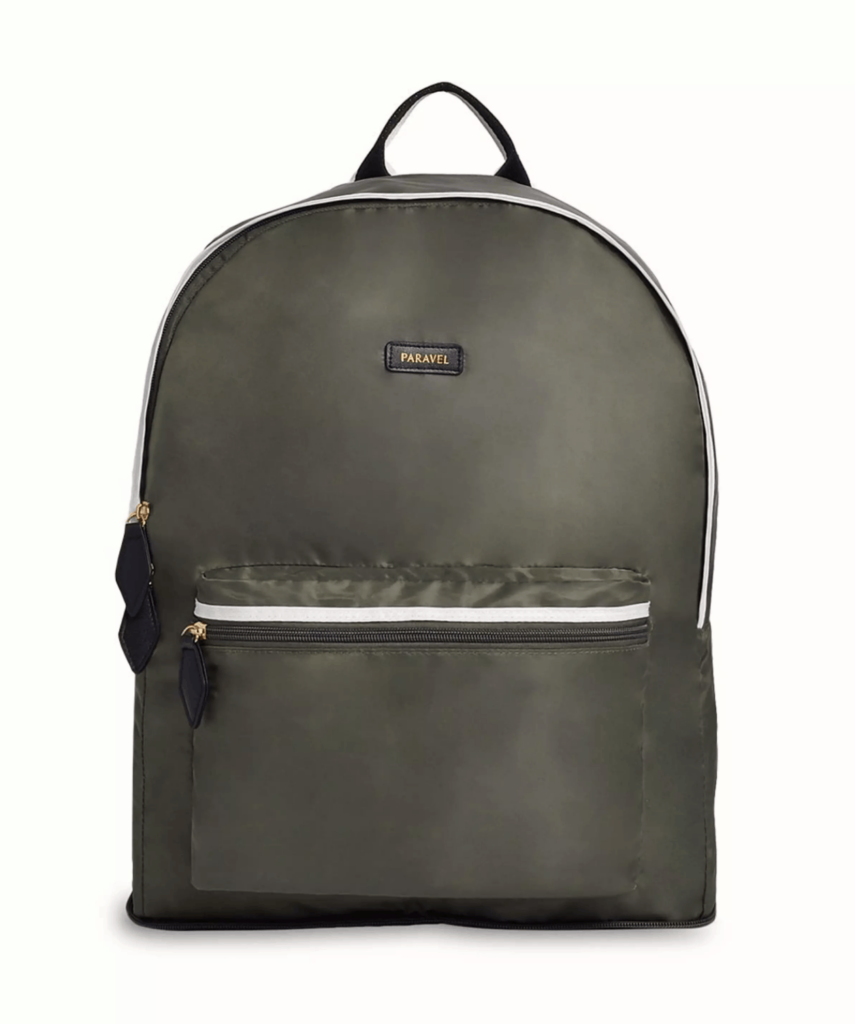 Paravel specializes in eco-friendly travel backpacks and bags of all kinds. If you like monograms, then Paravel is the travel brand for you – nearly everything they make can be personalized!
Their backpacks fold down and zip into a small pouch, so they're a breeze to bring along on longer trips too.
Our pick: Fold-Up Backpack in Flatiron Grey
Built tough, and created for adventure, Stubble & Co's ethically made backpacks are ideal for work, travel, and outdoor adventures.
Their Roll Top waterproof backpack and Adventure Bag are made from recycled PET. And you'll rejoice at finally finding a backpack that can house your 16″ laptop with ease.
Stubble & Co's commitment to sustainable business practices sees them operating out of a carbon zero warehouse and having their own in-house repair service. One to watch!
Our pick: The Roll Top Backpack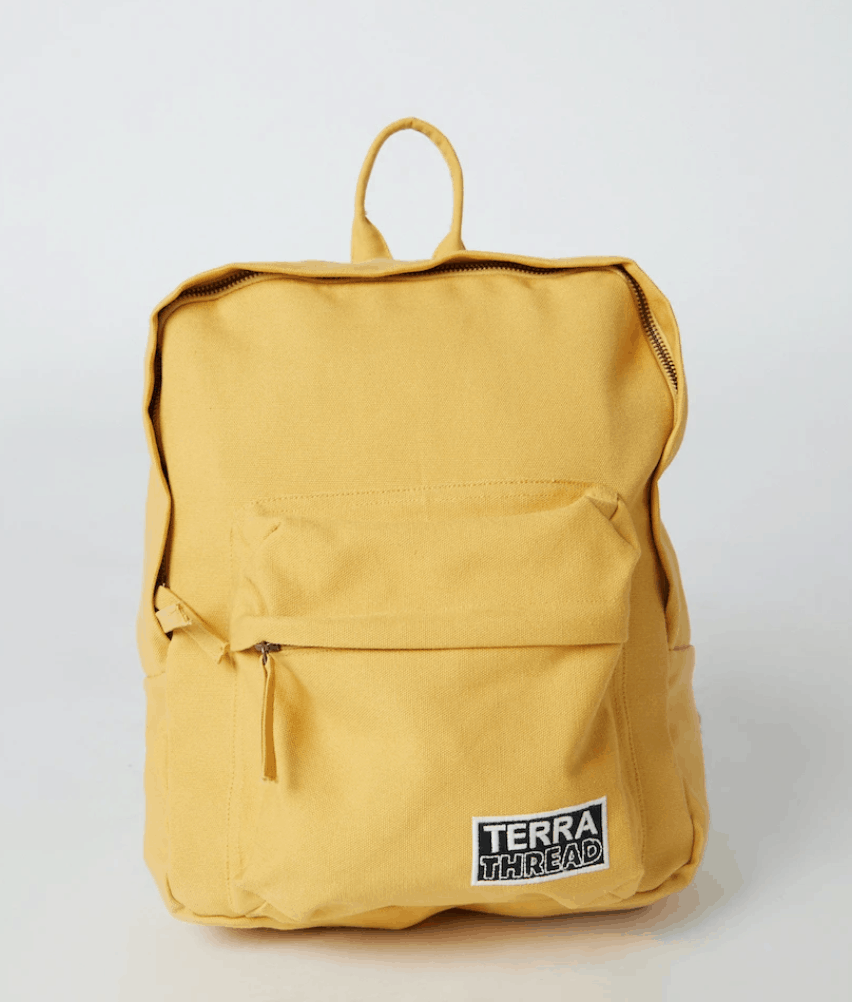 Terra Thread gets an A+ in ethical and sustainable business practices. Their fair-trade certified, ethically-sourced, organic cotton canvas backpacks have a sleek, minimal design for any occasion.
Each backpack also contributes 20 meals to Feeding America.
Our pick: Zem Mini Backpack in Mustard
Peak Design makes travel bags and on-the-go camera gear for the ethically conscious adventurer.
They offset their environmental impact by donating to social and environmental organizations and offsetting all carbon emissions.
Their eco-friendly laptop backpacks feature customizable organization and protective sleeves for all your gear.
Our pick: Everyday Backpack Zip in Black
State is a certified B corp that focuses their philanthropic efforts toward social justice.
For every backpack purchase, they donate packs and school supplies to children and families in need.
What's more, their range of recycled polyester and canvas eco-friendly bags can be personalized!
Our pick: Kane Kids Recycled Poly Canvas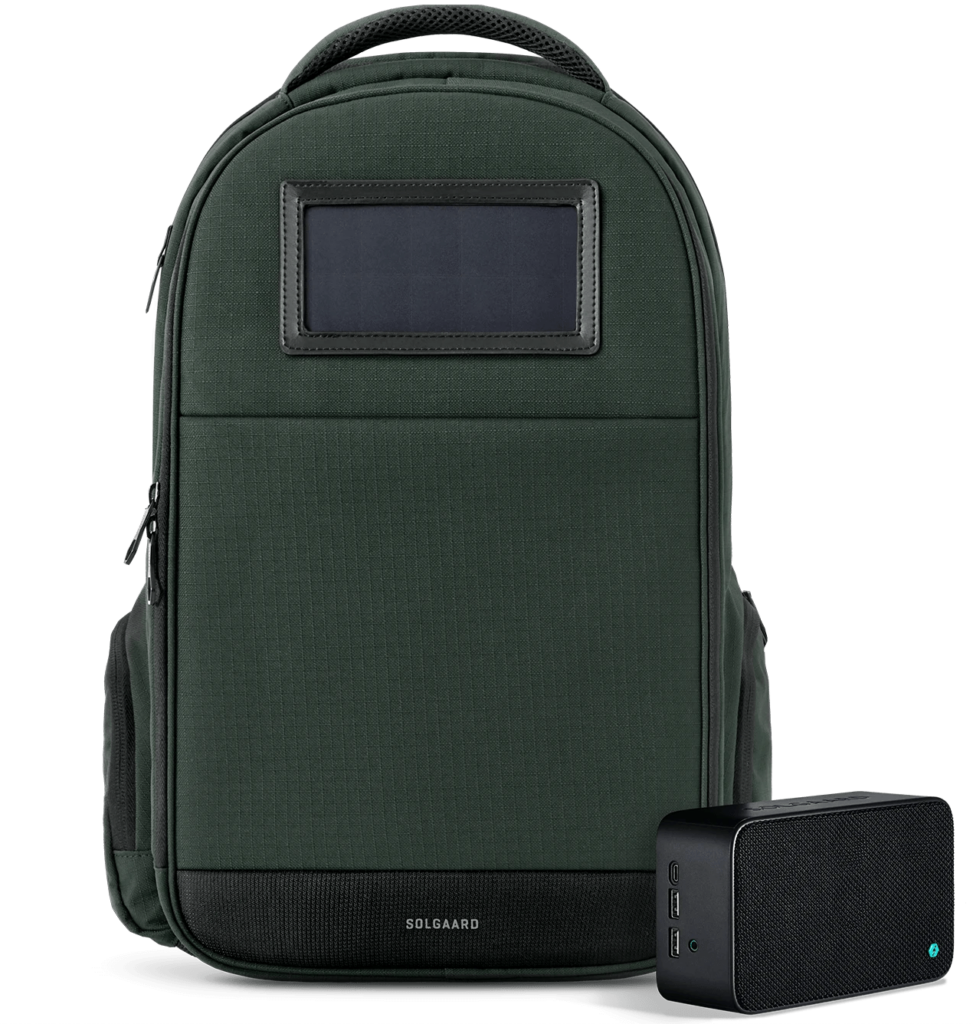 Solgaard makes high-quality, sustainable travel gear from plastic waste found in the ocean.
Their upcycled backpacks are sleek and easily organized, with interior compartments and pouches, and even a solar-powered power bank and bluetooth speaker!
Our pick: Shore-Tex Lifepack in Granada Green
Swedish outdoor brand Fjallraven is committed to sustainable design, materials, and production at each stage of their processes.
You're likely familiar with their very popular Kanken bag, but they have a whole collection of eco-friendly rucksacks in all shapes and sizes. Their core fabric is G-1000 Eco, a recycled polyester and cotton blend that is highly durable and can be waterproofed with fabric wax.
Our pick: Foldsack No. 1 Backpack in Navy
Kathmandu is a New Zealand-based outdoor brand and B corporation that takes sustainability seriously: from using recycled materials, to reducing their environmental footprint, and supporting the communities that supply their fabrics.
Their Federate collection of eco-friendly backpacks made from recycled materials is their latest step toward their goal of producing completely sustainable outdoor gear.
Our pick: Federate Adapt Pack in Black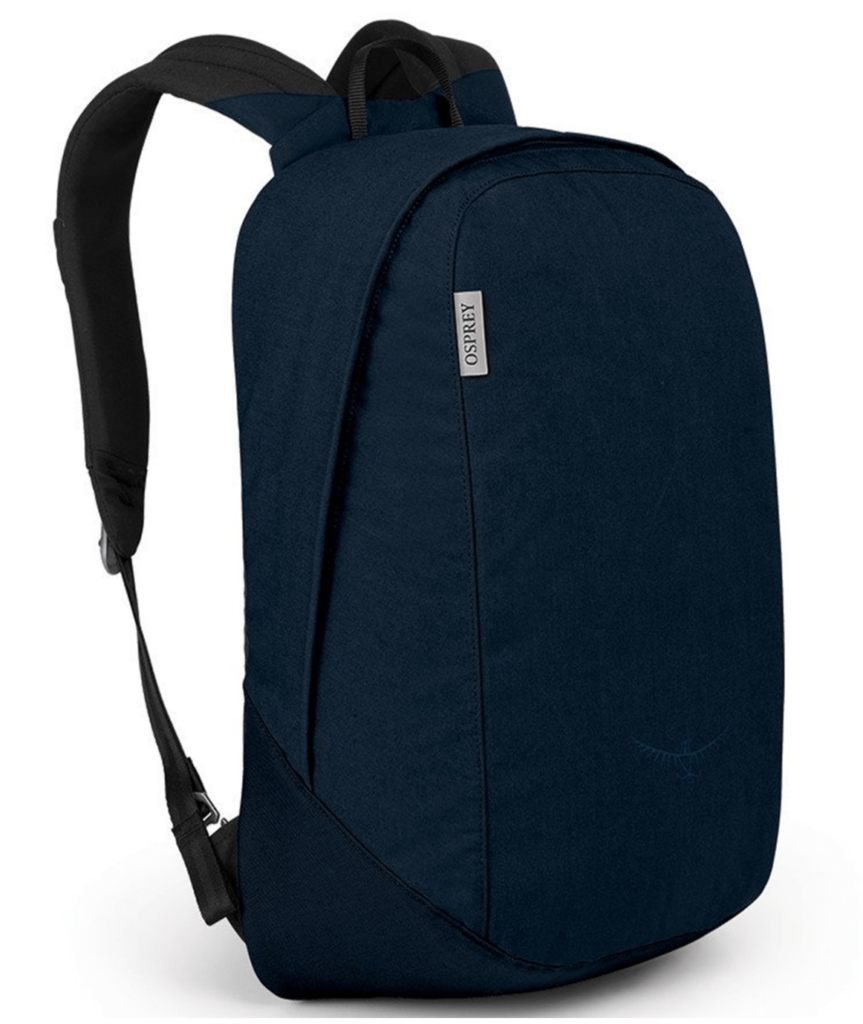 Osprey is known in the outdoor community for its superior packs with lifetime guarantees, and this commitment to excellence extends to their sustainable Arcane collection as well.
This collection of backpacks made from recycled plastic bottles or a recycled polyester/hemp blend make excellent work or travel bags and are designed to last a lifetime.
P.S. – Check out Osprey's collection of Renewed Packs.
Our pick: Arcane Large Day Pack in Dark Blue
United by Blue is the original outdoors brand committed to protecting our oceans and waterways. They use sustainable and recycled materials and ethical manufacturing to make their adventure-ready clothing and eco-friendly backpacks and use their profits to help remove trash from the ocean.
Their organic cotton and recycled polyester bags are the perfect combo of fun and functional.
Our pick: Westward 10L Convertible Tote Pack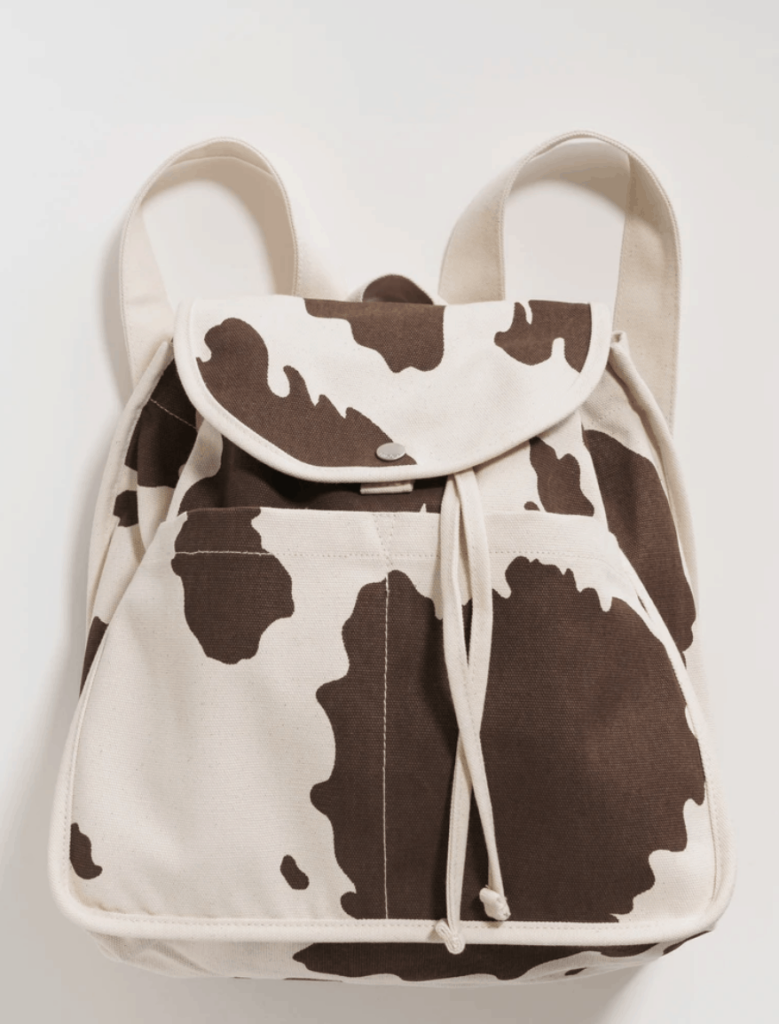 Baggu is known for its reusable totes, but they also make a range of just-as-cute ethical rucksacks and travel bags.
Made from recycled cotton canvas or recycled nylon, these bags are stylish, but also have laptop sleeves and organizational pockets galore.
Basically, they're the only bag you need for any occasion.
Our pick: Drawstring Backpack in Brown Cow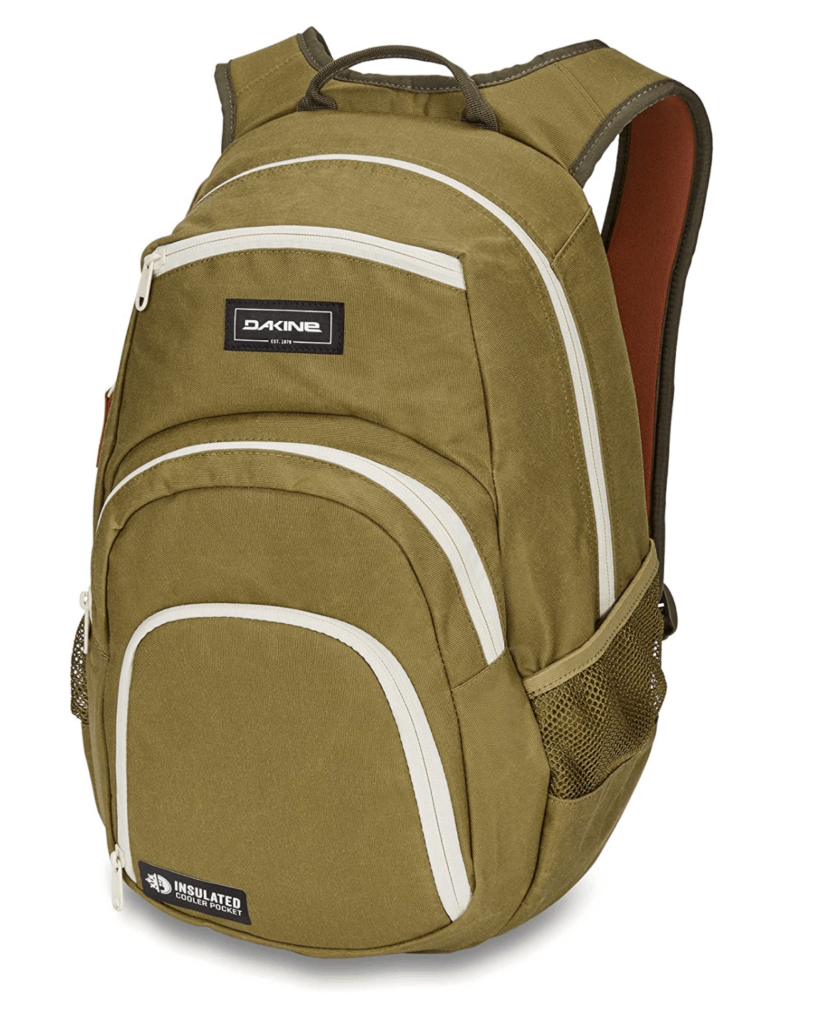 Dakine's eco-conscious line is made of recycled polyester with all the attention to detail and durability the bag and apparel brand is known for.
With lots of organization compartments and a back-friendly design, these backpacks are perfect for school, weekend adventures, or for keeping all your work-from-home supplies in one place.
Our pick: Campus M 25L Backpack in Pine Trees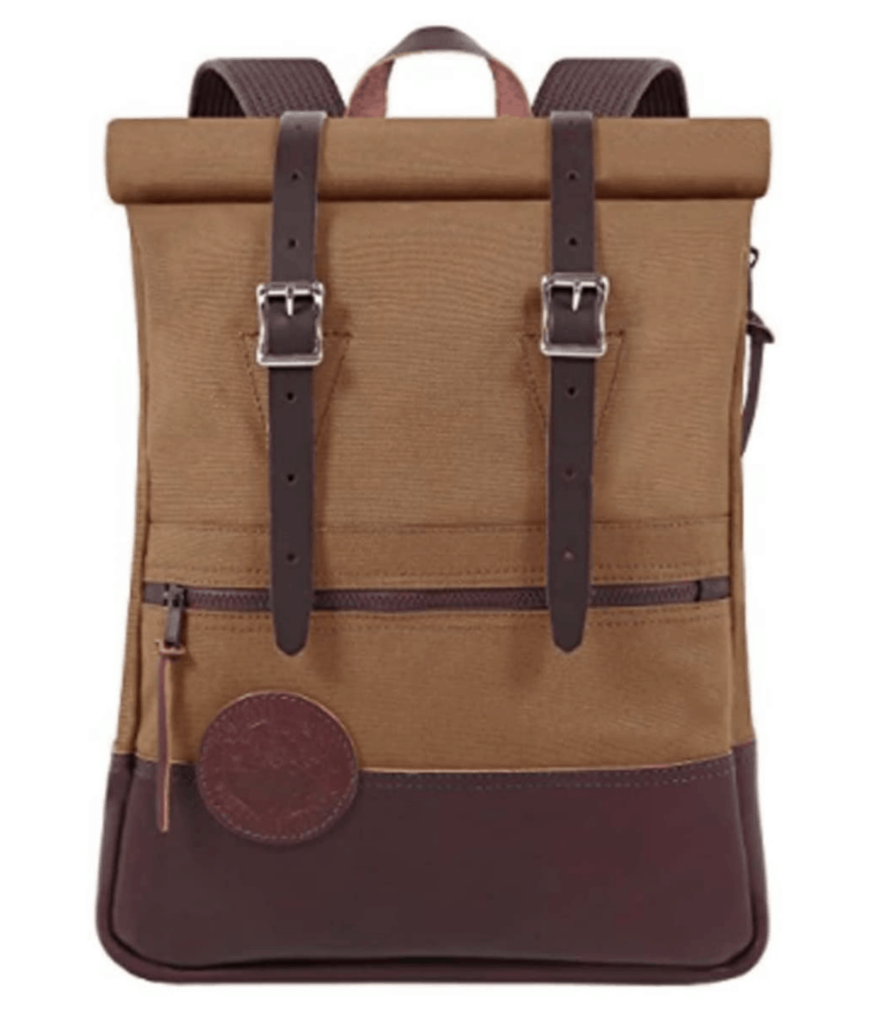 Duluth is the oldest backpack maker in the US (est. 1882!), and they're still making their vintage-looking classic canvas bags.
Their hand-constructed heavyweight canvas bags are durable, patchable, and eventually recyclable.
As repairable and durable as Duluth bags are, it's likely to be a piece you can pass along to the next generation.
Our pick: Roll-Top Scout in Waxed Khaki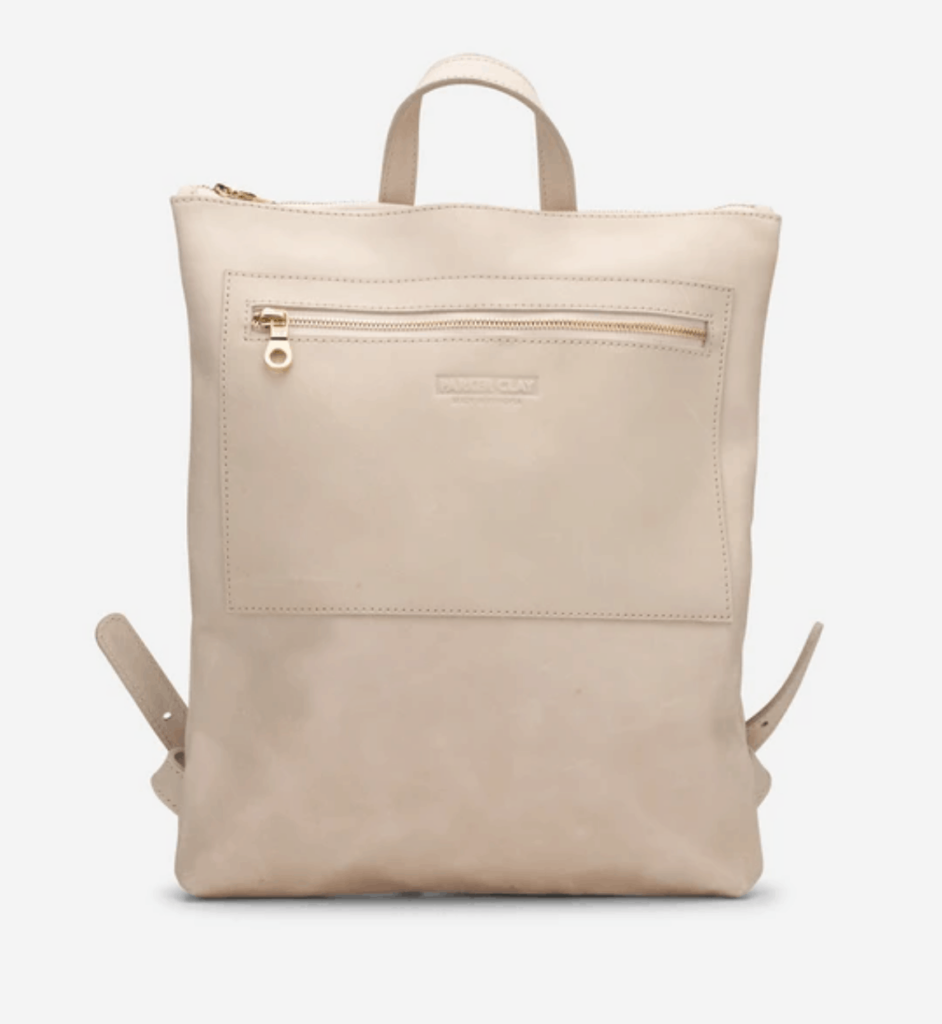 Certified B Corp Parker Clay uses its line of sustainable leather goods to support women and children in poverty in Ethiopia.
Through their ethical and fair-wage factories, they bring women out of prostitution and help them find empowerment and agency.
Their line of elegant totepacks make for elegant day bags for work or travel.
Our pick: Miramar Leather Backpack in Bone
Opus Mind founder Kathleen Kuo left the luxury fashion industry after seeing all the waste that was produced in the production of leather bags for Chanel.
She uses 100% recycled leather to make her chic, minimal bags and wallets – no plastic fillers or lining components.
Each design is meticulously engineered to generate as little waste as possible. Who says luxury can't be eco friendly?
Our pick: Medium Backpack in Terracotta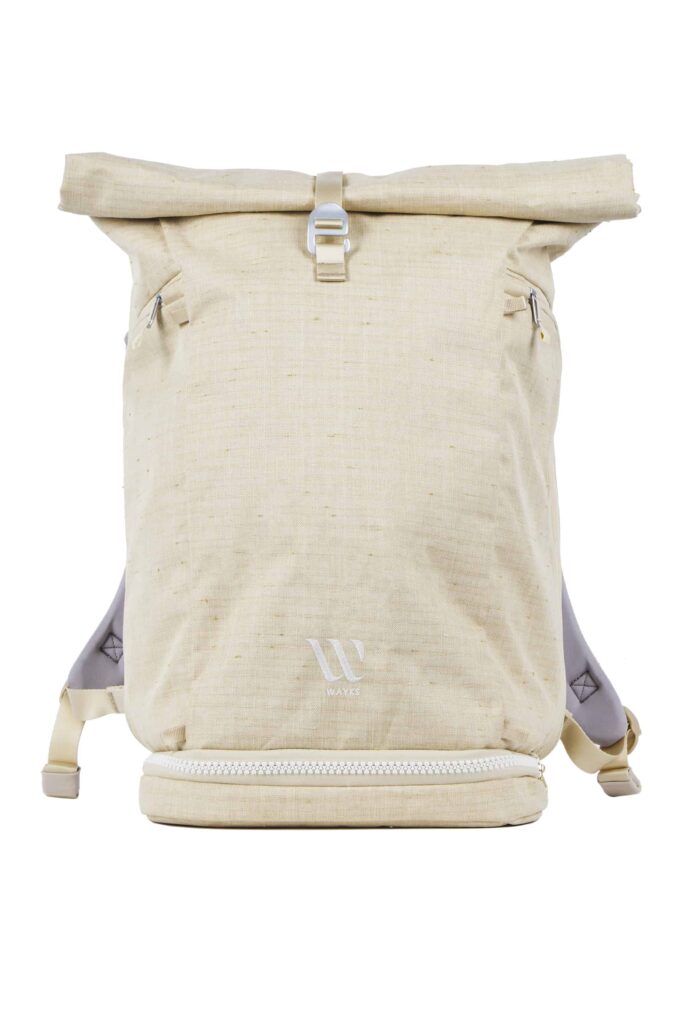 Wayks' do-it-all ethically made pack is the only travel bag you'll ever need.
Made of recycled polyester, it comes in a variety of sizes and two neutral colors, with several possible add-ons so you can build your own perfect environmentally-friendly backpack – just how you like it!
Our pick: The Day Pack Original
---
No matter your lifestyle or "new normal," everyone can use a bit of organization in their lives these days.
Do yourself (and the planet) a favor and shop one of these ethical and sustainable backpacks for this year and beyond. You're not only getting a durable, high-quality bag, you're also supporting small-scale makers, slow fashion, and social and environmental causes.
Did I miss one of your favorite eco-friendly backpack brands? Let me know in the comments!