While shower curtains are found in many households around the world, according to the Center for Health, Environment & Justice, some of them are quietly releasing chemicals into the air that could be harmful to our health.
Shower curtains that contain PVC have been found to release over 100 different volatile organic compounds into the air. These are chemicals that have been linked to damage to the central nervous system among other health impacts, according to the EPA.
Shower curtains that contain PVC or other types of plastic aren't just bad for your health, they're bad for the environment, too, considering the vast array of environmental impacts that come from plastic products (and because they aren't recyclable).
So if you want to protect your health and the environment, you'll want to opt for a plastic-free shower curtain. And, the good news is that you have several different options based on your budget and personal tastes.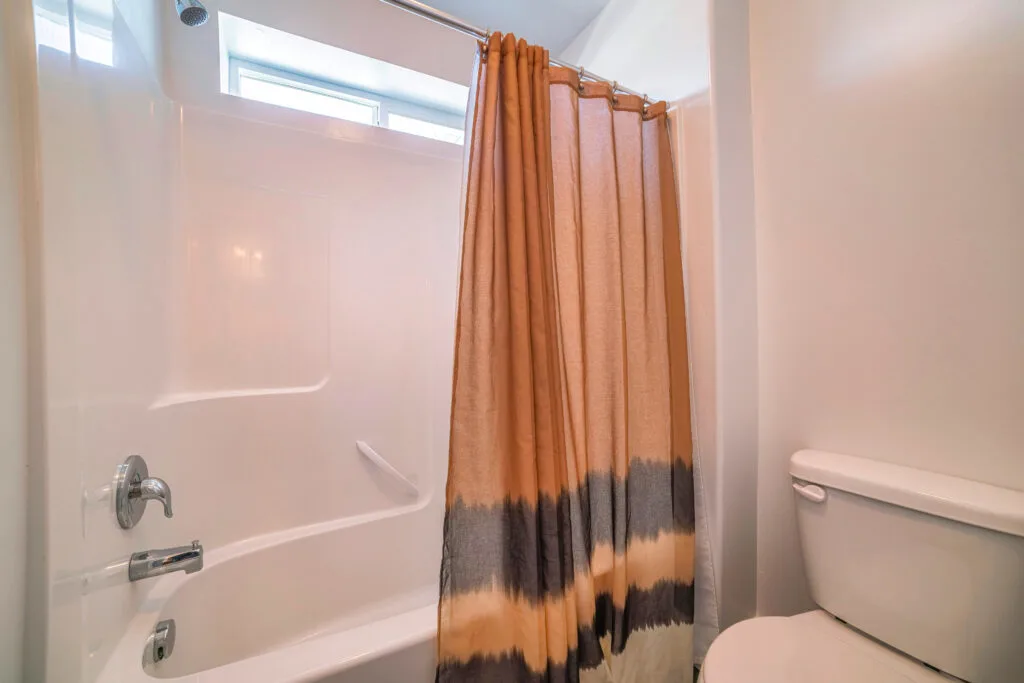 This article may contain compensated/affiliate links. See our full disclosure here.
---
Plastic Free Shower Curtain Options
A non-plastic shower curtain may sound like a strange concept at first, but in practice, there are plenty of alternatives that keep the water where it's supposed to be – and look a whole lot better while doing so!
Check out some of our preferred zero waste shower curtain options below.
HEMP SHOWER CURTAINS
If you want a truly zero waste shower curtain, you'll want to opt for one made from natural fibers like hemp, cotton, or linen.
Hemp is one of the most sustainable fabrics out there, due to the plant returning a high volume of nutrients to the soil when grown, and because it requires a lot less water to grow compared to fibers like cotton.
Hemp shower curtains aren't super easy to find in online stores (see below on where to buy), and they can be more expensive than traditional plastic shower curtains. But, they are biodegradable, don't emit toxic chemicals, and are mold and bacteria resistant.
They can also be machine washed regularly to stay fresh, and you don't need a shower curtain liner due to their heavy weight.
---
LINEN SHOWER CURTAINS
Like hemp and cotton, linen is a natural fiber that is biodegradable and free of toxic chemicals, making it a good zero waste, plastic-free, non-toxic shower curtain option. Linen curtains work similar to that of a cotton and hemp curtain and can also be on the pricier end.
However, they can sometimes be less water-repellent than cotton and hemp varieties, so it's extra important to make sure that after each use, excess water is squeezed out of the curtain and it's in a well-ventilated bathroom with plenty of space to fully dry between uses.
You can also opt to buy them with a liner, preferably a liner made with PEVA, if you are concerned about water soaking through the curtain.
---
COTTON SHOWER CURTAINS
Cotton is another natural fiber option for a plastic free shower curtain. They are biodegradable at end of life and don't emit toxic chemicals. But cotton is often grown with pesticides and fertilizers and large quantities of water, making them generally a less sustainable option than hemp.
Some varieties, like this one from YoKii Store, are made with organic cotton and naturally repel water, so you don't need a liner. Like hemp shower curtains, organic cotton shower curtains generally are more expensive than plastic, so they may not be an option if you're on a tight budget.
NON-TOXIC VINYL SHOWER CURTAINS
Vinyl curtains aren't plastic free, nor are they zero waste. However, they are a lot more affordable than natural fiber options and can still keep dangerous toxins out of your home.
Curtains made with PEVA, a type of vinyl, are a good option because of their affordability, lack of toxins, and ability to biodegrade at end-of-life. They are also machine washable, and will last longer than a typical plastic shower curtain.
However, it's important to note that some research suggests that PEVA can be harmful to some organisms, so environmentally speaking, natural fibers are still your best option if you want a fully eco-friendly shower curtain.
---
---
---
Shower Curtain Care
No matter which shower curtain option you choose, you're probably going to have to contend with mold and/or bacteria at some point.
However, there are steps you can take to keep the mold at bay so you can keep your plastic-free shower curtain fresh, clean, and long-lasting.
Keep your bathroom well ventilated
If you have a fabric shower curtain, machine wash it with your weekly load of laundry
Squeeze excess water out of the shower curtain after use
Hang the shower curtain over the bottom of the shower after use to ensure it dries
Optional: rub beeswax or linseed oil on the shower curtain to increase how water-resistant it is
---
Whether you want to save the earth or simply detox your home, swapping to a zero waste shower curtain can be a good, simple place to start. And if you can't afford to make the investment in a new curtain, you can always try finding one at your local thrift store, or you can try your hand at making your own with a used bed sheet and some linseed oil!
Interested in sustainable curtain options for other areas of your home? Be sure to read our article on eco-friendly curtains.